As soon as the Eagles acquired quarterback Sam Bradford on March 10, rumors began to swirl that the former Ram wasn't long for Philadelphia. Both St. Louis head coach Jeff Fisher and Eagles head coach Chip Kelly both claimed that they'd been offered a first-round pick for Bradford (the Browns were eventually revealed as the mystery club), and many assumed that the former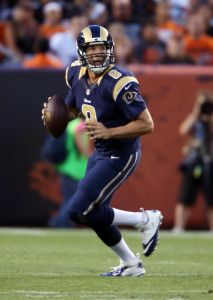 No. 1 overall pick was simply trade bait, an asset for Kelly to flip in an effort to acquire his former college QB, Oregon's Marcus Mariota.
As the draft approached, it appeared that Bradford was still on the table, as reports indicated that Kelly was attempting to deal some combination of draft picks, defensive lineman Fletcher Cox, cornerback Brandon Boykin, linebacker Mychal Kendricks, and Bradford in an effort to acquire either the No. 1 or No. 2 overall pick. Kelly later denied that he offered Bradford (or any other players) in trade negotiations, but Mike Freeman of Bleacher Report said the Eagles offering up Bradford "like he was a slice of pizza."
In the end, neither the Buccaneers nor the Titans accepted any of Philadelphia's rumored proposals, and ultimately selected quarterbacks Jamies Wintson and Mariota, respectively. The Eagles, meanwhile, stayed put at pick No. 20, and drafted USC receiver Nelson Agholor. Kelly & Co. now appear fully committed to utilizing Bradford as their starting quarterback in 2015, and apparently still have interest in extending him.
Even if Bradford and the Eagles agree to discuss a multi-year deal, there could be significant hurdles to clear. For his part, Bradford has indicated that he won't accept a "substandard" extension; rather, he'd prefer to play out 2015, hope for a strong season, and reassess his market value during next year's free agent period. So if Philadelphia has hopes of leveraging Bradford's injury issues into a team-friendly contract, it might be disappointed.
For Bradford, this mindset makes complete sense. As the final No. 1 overall pick under the previous contractual bargaining agreement, Bradford was able to sign a rookie deal that had no slot value, and offered significantly larger base salaries and guarantees than the current CBA allows for. Somewhat surprisingly given his injury history, Bradford will end up playing out the entirety of his six-year rookie contract, earning $78MM in the process. Provided he's managed his money correctly, Bradford has zero financial incentive to settle for a mediocre extension — he can simply wait out the Eagles until they offer a package that he likes, or head to free agency next March.
From the Eagles' perspective, a possible extension for Bradford carries risk for two opposing reasons. On one hand, Kelly's offensive scheme has the power to inflate quarterback statistics — take Nick Foles' 2013 season, or part of Mark Sanchez's 2014 season, for example. Bradford may not be the perfect fit for Kelly's system that Mariota was, but neither was Foles or Sanchez. It's not difficult to imagine Bradford posting an excellent 2015 season, and in the process significantly upping his contract demands. With that in mind, working out an extension now could save Philadelphia money in the long run.
On the other hand, it's difficult not to be wary of Bradford's lengthy injury history. He's now suffered two torn ACLs in his five-year career, and he's played in only 49 out of a possible 80 games since entering the league. The Eagles unquestionably field a better offensive line than the Rams, which should lead to a cleaner pocket for Bradford and in theory, less injury potential. But it could be tough for Philadelphia to commit a large sum of money to a player who might not be on the field too often.
Though Bradford may not be the perfect fit for Kelly's scheme, Kelly realizes that finding such a quarterback could prove difficult. Additionally, the Eagles plan to be in a constant state of contention, meaning they will reload, not rebuild, as Kelly explained to Derrick Gunn of CSNPhilly.com last week:
"[T]he one thing I can promise is that we're not going to just sit there and hopefully in a couple of years we're going to build this thing. We're not waiting for the draft of 2017 to turn this thing around.

"[I]f you want to play with the odds as we want to play, it's got to be with a quarterback situation and then the only way you're going to get a quarterback is you got to be really not very good so you finish in the top 1-2 in the draft. If we're not very good and we finish with the top 1-2 in the draft, I don't think I'm going to be here, so we better find another way to find a quarterback."
Kelly is clearly happy with Bradford as his starting quarterback, and Bradford seems to want to stay in Philadelphia, as reports last month indicated that he would only sign an extension that contained a no-trade clause because he wants to play for Kelly. Now that the draft has passed without him being dealt, Bradford probably isn't dead-set on such a clause any longer, but the sentiment remains.
Ultimately, I think a short-term extension makes the most sense for both sides. It's easy to forget that Bradford is still just 27 years old, so tacking on three years to his current deal would result in him hitting the free agent market at 31, when he could garner yet another large contract. Bradford could end up earning a somewhat surprising total — the fact the clubs were willing to part with a first-rounder to acquire him signifies his value in the current QB-scarce landscape.
A three-year deal that compares to that of Cardinals signal-caller Carson Palmer could make some sense — at age 35, Palmer is significantly older than Bradford, but he also has a more recent record of success. Palmer is scheduled to earn almost $50MM over three seasons, with $14MM in full guarantees. I'd guess that a Bradford extension would come in lower than that, maybe around $35-40MM, with roughly the same guarantees. It would also need to come with serious injury protection for the Eagles, and would probably contain quite a bit of money tied up in per-game roster bonuses — if Bradford isn't on the field, he wouldn't be earning those bonuses.
Whether or not Bradford would accept such a deal is the central question. Would he prefer to bet on himself, hope to perform well this season, and offer his services to the highest bidder next March? Or does he want to commit to a talented coach in Kelly and a team that is set up for success? The answer could provide the blueprint for the Eagles future for years to come.
Follow @PFRumors