Compiling arguably the best collection of drafts throughout the decade, the Seahawks have been proactive in keeping their cornerstone players together. This offseason elevates the two-time reigning NFC champions' investment stakes to another level, obviously, with Russell Wilson's contract now the centerpiece of the NFL financial dialogue.
But Seattle's lurking decision rests on defense, with Bobby Wagner entering his walk year. The Seahawks have an incredibly rare contingent of All-Pros, Pro Bowlers and other upper-echelon contributors that weren't selected in the first round, so they in a sense face expedited timelines on players like Wilson and Wagner, just as they did on Richard Sherman last summer without the luxury of the fifth-year option safety net. In Wilson's case, the debate on whether he's enabled the Seahawks or vice versa wages on, but Wagner's been a similar boon for the Hawks' defense and will command a contract that could eclipse all inside linebackers if he enters free agency next March.
Wagner, though, does not play a position that possesses the value that Sherman's or, obviously, Wilson's do, so his second contract will be a more reasonable accord than what Wilson's reportedly seeking. But with a resume that now includes first-team All-Pro, for a 2014 regular season that featured Wagner playing only 11 games, the 2012 second-round pick will receive a massive contract from either the Seahawks or a suitor desperate to pry a top-flight Seattle defender away from the figurative factory in the pacific northwest.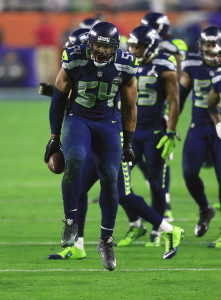 In April, it was reported Wagner could command a deal north of $8MM per year, but that figure rose to around $10MM by June. The latter report from CBS Sports' Jason La Canfora indicates the Seahawks and Wagner are closer to an agreement than Wilson is with the team he piloted to two Super Bowls, so the odds of Wagner surpassing Brian Cushing, Lawrence Timmons (league-high $9.6MM per-year average for inside linebackers) and NaVorro Bowman to become the highest-paid inside backer have increased. Wagner's pact would also be a breakthrough for 4-3 middle linebackers, with the bulk of the highest-paid second-level insiders coming from 3-4 defenses. James Laurinaitis' $8.3MM-per-year average with the Rams represents the only 4-3 backer currently in the top 5 among contract values, with Daryl Washington's potentially tenuous deal rounding out the quintet.
Entering his age-25 season, Wagner will undoubtedly ascend into this tax bracket soon, be it on an extension, the accepting of another team's offer, or playing on the franchise tag — which treats all linebacking spots the same and paid $13.2MM to second-level cogs in 2015 — in an unlikely scenario.
The Seahawks' defense molded back into an elite force once Wagner recovered from his turf toe injury last season, and the team slapped together a menacing eight-game win streak as a result en route to another NFC title. Wagner still cleared the 100-tackle plateau, helped elevate Seattle back to a top-2 perch in terms of DVOA for the third straight season and, in a strange show of respect considering Aaron Rodgers and J.J. Watt had seemingly more dominant slates, earned an MVP vote from Tony Dungy. Pro Football Focus has also bestowed two top-5 positional finishes (subscription required) on Wagner, for his 2012 (second) and '14 work (fifth), respectively.
Barring a season-altering injury, Wagner's value appears pretty clear. But the Seahawks keeping their latest defensive stalwart comes down to a few factors.
One being that while Seattle does a masterful job at keeping its own talent after extending Thomas, Sherman and Kam Chancellor in a span of 13 months, it may not be able to house that many highly paid players. Joining that trio as top-10 players in terms of overall contract value are Marshawn Lynch, who is not a homegrown performer but definitely a home-enhanced one, Jimmy Graham, left tackle Russell Okung and outside backer K.J. Wright, who quietly signed a $6.7MM-per-year extension last December.
That quartet is attached to contracts worth the second-, first-, 10th- and second-most money in terms of average per year at their respective positions, according to OverTheCap. And defensive ends Cliff Avril and Michael Bennett, PFF's second-best 4-3 end last year and a player who is already displeased with the deal he signed in March 2014, are banking $7MM per year and in the top 15 highest-paid performers at their position.
Seattle's currently able to get away with these allotments to its top athletes since it's paying mostly rookie-deal money to its offensive front and after freeing itself from the Percy Harvin contract, doesn't have a wideout making more than $4.5MM per year. Of course, the main reason the Seahawks have kept this core together and were able to take on the No. 1 tight end contract is because they don't have an upper-echelon quarterback salary anchoring their payroll.
Might Wagner be the one who suffers from Wilson being paid his due? Seattle has the 10th-most salary cap room in 2016 at $38.01MM, but that figure includes the following starters with expired deals: Wilson, Wagner, Okung, Brandon Mebane, Tony McDaniel, Jermaine Kearse, Bruce Irvin, J.R. Sweezy and Alvin Bailey. Wilson and Wagner are the highest priorities among this group, but their deals could flood the aforementioned free agent fund and induce potential cuts to other starters, especially if the franchise tag is involved.
Beyond Wilson's potentially historic demands overshadowing Wagner's extension talks, do the Seahawks believe Wagner is irreplaceable, or can they get by without him as they believe they can after allowing Byron Maxwell to hit the market? Unlike at cornerback where the team churns out able bodies, the Seahawks don't really have much depth behind Wagner, with only UDFA Brock Coyle present. This could strengthen Wagner's bargaining position, but it's not like a top-tier middle backer is a must-have for contenders, as nickel has become the new base. The Broncos managed to make the Super Bowl with former XFL cog Paris Lenon starting there, while the Patriots won the title mostly without Jerod Mayo's services.
Wagner is a three-down linebacker who does well in coverage, and those aren't the easiest to replace, however. Of the 11 spots on the first-team All-Pro squads during the 2010s, former first-round talents occupied seven of them, and of PFF's annual top-5 backers during the decade, 14 of those slots went to ex-first-rounders. So while teams shy away from spending prime draft capital on inside backers, affecting the position's value, the franchises who have done this have largely reaped rewards in recent years.
The Seahawks have shown a sublime track record at drafting stars, and a future featuring a potential $20MM-per-year salary to Wilson and $10MM/AAV to Wagner will potentially force cuts to key players in the next couple of years and further place a premium on extracting supreme value from first-contract performers. Because if the Seahawks can somehow make that work without suffering mightily at their lesser-compensated positions, they've figured out a way to establish long-term success without earning a heartless reputation the Patriots have regarding paying their own talent.
Judging by the reports coming out of Seattle, there is enough to indicate the Seahawks are serious in their efforts to keep Wagner at their defensive forefront. That will affect the ancillary talents that also are up for new contracts, but with the Seahawks' draft-and-develop track record, paying Wilson and Wagner while starting over at certain spots may be a worthy gamble.
Photo courtesy USA Today Sports Images
Follow @PFRumors