Over the last two offseasons, a handful of productive wide receivers have signed new contracts, including Jeremy Maclin, Randall Cobb, Jordy Nelson, Torrey Smith, Eric Decker, and DeSean Jackson. Out of that group, only Nelson has a strong case for being placed amongst the league's very best wide receivers, and the Packers star signed his extension well before reaching free agency, accepting a below-market deal.
In other words, it had been a while since a top wideout had signed a contract that reset the market for receivers, establishing a new baseline for the NFL's best players at the position. Mike Wallace's five-year, $60MM deal, finalized in March 2013, was the last signing that qualified up until last week, when Dez Bryant and Demaryius Thomas inked new extensions at the 11th hour before the franchise-tag deadline. The Cowboys' and Broncos' Pro Bowlers had their deals structured a little differently, but they look identical in terms of years and overall base value — five years and $70MM.
The per-year salaries for Bryant and Thomas fall well short of Calvin Johnson's $16.27MM annual average value, but that deal was an outlier, and the fact that the two franchised stars easily topped Wallace's $12MM annual average better reflects their place among the NFL's best wideouts. It also sets a clear baseline for the next crop of elite receivers who will seek new contracts, such as A.J. Green and Julio Jones.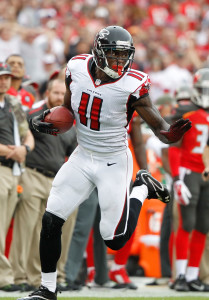 Green may sign an extension this year, but he has suggested that he doesn't mind playing out the 2015 season without a new agreement in place, and the Bengals seem content to wait as well. That leaves Jones as the receiver most likely to sign a lucrative new deal in the coming weeks, or even the coming days, with training camp just around the corner.
At the moment, Jones is set to play the 2015 season on his fully guaranteed fifth-year option, worth $10.176MM, which puts him in a slightly different situation that Bryant's or Thomas'. Atlanta will have the option of franchising the team's No. 1 receiver in 2016, meaning Jones' case could eventually play out like the ones resolved last week.
However, as we saw with Bryant's situation in particular, a prolonged negotiation can often result in some unpleasantness along the way. The Cowboys wide receiver was the subject of reports suggesting he was having money problems, and whispers about off-field concerns and a Walmart video tape that may or may not exist followed him for most of the offseason. If the Falcons could get Jones' contract situation squared away now, it could save both sides some unnecessary stress down the read, considering the team has made it clear the wideout is considered a key long-term piece in Atlanta.
Before we automatically place Jones in the same five-year, $70MM range as Bryant and Thomas, it's worth considering how he stacks up to the franchised duo. On paper, his 2014 numbers certainly compare favorably — in 15 games, Jones racked up 1,593 yards and six touchdowns on 104 receptions, setting a new Falcons team record for most receiving yards in a season. Pro Football Focus (subscription required) also ranked him right behind Bryant and Thomas, despite the fact that he played fewer snaps than either player.
Jones' ability to explode for huge yardage totals was on full display in Green Bay last December, when the 26-year-old went off for 259 yards on just 11 receptions in Week 14. His 106.2 receiving yards per game last season also topped the career-best marks for both Bryant and Thomas, and his eye-popping 116.0 mark during five 2013 games suggests last year's mark wasn't an aberration.
Still, there are some areas in which Jones doesn't match up to the league's other top receivers quite so favorably. He only appeared in five games in 2013 because of a fractured foot that brought his season to a premature end, and that's not the only time he has dealt with injuries. The former sixth overall pick missed a game in 2014 after suffering a hip pointer, and has had multiple hamstring-related issues since entering the league in 2011.
Not including that 2013 season that was cut short after five weeks, Jones has only missed four games in his three other years in the NFL, so it's not as if he's a major question mark to be on the field going forward. But considering neither Bryant nor Thomas has missed a game over the last three seasons, it's a factor the Falcons must take into account when they consider a long-term investment in their own No. 1 receiver.
Another factor worth considering for the Falcons is who Matt Ryan will be throwing the ball to for the next several years, if not Jones. The former first overall pick no longer has future Hall-of-Fame tight end Tony Gonzalez to rely on, and longtime slot man Harry Douglas is now in Tennessee. Roddy White is still in the mix, but White will turn 34 in November, and is no longer a perennial lock for 1,000 yards.
A quarterback like Ryan will post solid numbers no matter who's on the receiving end of his passes, but it's worth noting that in 2013, when Jones missed 11 games, the Falcons signal-caller threw a career-high 17 interceptions and averaged a career-low 10.3 yards per completion en route to a 4-12 season. It would be a significant blow to the Atlanta offense to be without Jones at any point over the next few years.
So what will it take for the Falcons and Jones to get a deal done before the 2015 season gets underway? In examining the situation for CBSSports.com, former agent Joel Corry suggests that an extension in the neighborhood of $15.25MM per year makes sense, based on the likely franchise-tag figures for 2016 and 2017. If we assume a five-year extension at that rate, tacked onto Jones' $10.176MM salary for 2015, it would work out to a total of six years and $86.426MM, an average of about $14.4MM annually.
Depending on the guaranteed money attached to such an offer, that looks like a pretty good deal for Jones, who could edge out Bryant and Thomas to become the league's second-highest-paid receiver in that scenario. However, I'm not sure whether the Falcons would sign on the dotted line quite yet, considering they still have the franchise tag at their disposal, and they may want to see Jones stay healthy for one more year.
Still, if the Falcons were to make such an offer, it wouldn't be the first time they've gone out on a limb for Jones — Atlanta parted with two first-round picks, a second-rounder, and two fourth-rounders to move up for the former Alabama wideout in 2011, and it's hard to imagine the team thinks any less of him now. After all, his career mark of 88.4 receiving yards per game places him atop the all-time NFL leaderboard, slightly ahead of Johnson, the league's current highest-paid receiver. I don't expect the Falcons to make an offer in the Megatron neighborhood to Jones, but it wouldn't be a surprise to see the club soon make him the league's second-highest-paid wideout.
Photo courtesy of USA Today Sports Images.
Follow @PFRumors