2:34pm: Henderson has issued a statement to accompany his ruling, and Albert Breer of the NFL Network has the full text:
"After consideration of all the record evidence and arguments, I conclude that the Commissioner acted within his authority and properly exercised his discretion in finding that Hardy violated the NFL Personal Conduct Policy.
"I find that the conduct of Hardy clearly violates the letter and spirit of any version of the PCP since its inception, and of the NFL Constitution and Bylaws long before then. The egregious conduct exhibited here is indefensible in the NFL.
"However, ten games is simply too much, in my view, of an increase over prior cases without notice such as was done last year, when the 'baseline' for discipline in domestic violence or sexual assault cases was announced as a six-game suspension. Therefore, the discipline of Mr. Hardy hereby is modified to a suspension of four games; all other terms of the discipline letter remain in place."
1:24pm: More than six weeks after the appeal hearing, arbitrator Harold Henderson has made his decision on Cowboys defensive end Greg Hardy. According to NFL PR man Brian McCarthy (Twitter link), Hardy's suspension has been upheld, but the penalty has been reduced from 10 games to four games.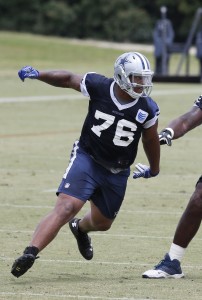 As Albert Breer of the NFL Network observes (via Twitter), Hardy's new suspension for violating the NFL's personal conduct policy appears to represent a compromise between the league's old policy and new policy. While the old policy called for a two-game ban, a domestic incident calls for a six-game suspension under the league's new guidelines.
The incident for which Hardy is being suspended occurred when the NFL's old personal conduct policy was still in place, but by the time the case was resolved and the league handed down its discipline, the new policy had been implemented, creating some confusion about how the case was handled.
While Henderson's ruling looks like a big win on the surface for Hardy and the Cowboys, the defensive end and the NFLPA could still choose to file a lawsuit, challenging the decision in court. Earlier this week, we heard conflicting accounts on Hardy's willingness to continue the fight, with one report suggesting he'd likely accept his suspension if it were reduced by a few games, while another report indicated he'd challenge the ban if it was for more than two games.
According to Adam Schefter of ESPN.com (Twitter link), agent Drew Rosenhaus said today that he'll confer with Hardy, the NFLPA, and his lawyers before deciding whether or not to proceed with legal action.
For now, assuming Hardy accepts the four-game suspension, he'll have the potential to earn up to about $10.628MM this season, as Joel Corry of CBSSports.com tweets. The 26-year-old's contract has a modest base salary, but features up to $9.25MM in per-game roster bonuses and about $1.8MM in incentives. By getting his penalty reduced from 10 games to four games, Hardy will have the opportunity to earn nearly $3.5MM in extra per-game roster bonuses.
As a refresher, Hardy allegedly assaulted and threatened to kill ex-girlfriend Nicole Holder in May of 2014. After being found guilty by a judge, Hardy was scheduled to get a jury trial, but due to a lack of cooperation by Holder, the charges against the defensive end were ultimately dismissed, as he reached a civil settlement with his accuser. While the case played out, Hardy spent the 2014 season on the commissioner's exempt list for the Panthers, missing all but one game. The Cowboys signed Hardy earlier this offseason before word of his suspension broke, and the new four-game ban is about what the team had initially expected.
With Hardy's case resolved – barring further legal action from his camp and the NFLPA – the next appeal to be addressed is Tom Brady's. A decision on Brady could reportedly come as early as next week, though I wouldn't be surprised if it took longer than that for Roger Goodell to make an announcement. Despite the drastic differences in their cases, the reduction of Hardy's penalty might bode well for the Patriots quarterback.
Photo courtesy of USA Today Sports Images.
Follow @PFRumors