The Buccaneers have signed linebacker Lavonte David to a five-year, $50.25MM extension, the club announced. $25.56MM of the deal is guaranteed. David is now locked up through the 2020 season.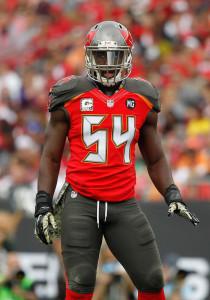 Talks between David and Tampa Bay had been heating up, but Getlin reported near the end of July that there was still a sizable gap between the two sides. As of last Wednesday, David and the Bucs were said to be "not close" in negotiations, with reports indicating that fellow outside linebacker DeAndre Levy's recent extension with the Lions would play a large role in discussions.
Assuming that the $50.25MM figure is in reference to new money — and doesn't include David's 2015 compensation — David will the new high-earner among 4-3 outside linebackers. His $10.05MM average annual value will be more than $1.5MM larger per year than that of Levy, who was the top earner at the position for about a week.
Per Ian Rapoport of NFL.com (Twitter link), David's target in contract talks was Patrick Willis' $10MM per year. David not only match that figure, but narrowly eclipsed it, and he'll not only become the highest-paid among OLBs, but he'll rank fourth among all linebackers, accounting even for 3-4 pass-rushers. Justin Houston, Clay Matthews, and Ryan Kerrigan are the only 'backers with larger AAVs than David.
We'll probably have to wait for the fully guaranteed portion of the deal — the $25.56MM number is likely guaranteed for injury only — but David figures to top Levy in that regard, as well. Levy received $13MM in full guarantees as a part of his $33.74MM extension. If David is able to match that percentage-wise, he should be looking at about $19.5MM in fully guaranteed money.
The 25-year-old David has been among the best linebackers in the league since being selected in the second round of the 2012 draft. The Nebraska alum has started 46 out of a possible 48 games for the Buccaneers, posting more than 100 tackles in each season. In 2014, David ranked as the No. 7 4-3 OLB in the NFL, according to Pro Football Focus (subscription required) — he finished sixth and second, respectively, in 2012 and 2013.
David becomes the second key member of Tampa's defense to earn a long-term extension, joining defensive tackle Gerald McCoy, who was drafted two years ahead of David. McCoy agreed to a seven-year, $98MM deal last October, meaning that the two defensive stalwarts are both locked up for the foreseeable future: David through 2020, McCoy through 2021.
Rand Getlin of the NFL Network (Twitter link) reported that the two sides had a struck a deal, and indicated that the length of the pact. Ian Rapoport of NFL.com (Twitter link) reported the total value and the guarantee. Photo courtesy of USA Today Sports Images.

Follow @PFRumors