Notable signings:
After years of uneventful offseasons in the 2000s, the 2010s Broncos again lived up to their penchant of making the spring and summer interesting. But while they scored a key win in signing Demaryius Thomas to a long-term deal, not much else went as smoothly. The offseason set Denver up for its most uncertainty since Peyton Manning's first months with the team.
The Broncos' reaching a deadline-induced pact with Thomas kept this offseason from being easily the worst in John Elway's five-year GM/de facto GM tenure. It not only made good use of the money freed up from the numerous talents allowed to leave in the past two offseasons, but it ensured the most statistically proficient wideout in franchise history would play in Denver for the bulk of his prime. Thomas does not have a slew of high-point grabs on 50/50 balls like Dez Bryant or Calvin Johnson, but that could be largely because Manning doesn't throw a lot of those. Instead, the Broncos kept a big wideout with speed that surpasses the former placeholder of "most talented wideout in team history" in Brandon Marshall and consistency that rivals Rod Smith's.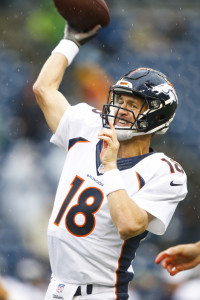 With Thomas and Emmanuel Sanders locked up for at least two years, the odds of Manning playing out his contract with the Broncos increased.
But the Thomas accord was critical on two other fronts. The first proving that Elway will pay his own players top dollar when they deserve it. It was becoming a pattern in recent years to see the Hall of Fame quarterback dole out the take-notice contracts to other organizations' talents while permitting Denver homegrown cogs' exits. That may be a short-term business model when Manning is present, but it's not one that should be deployed over a lengthy stretch.
The second ancillary consequence of Thomas' new pact comes in the form of a now-vacant franchise tag spot in 2016, one which is almost certainly destined for Von Miller. With this Thomas pact, the Broncos now have a future with their best offensive and defensive playmakers, one that seemed hazy after Miller's legal transgressions and ACL tear, and after Thomas' somewhat contentious negotiations that transpired the past two summers.
Although there's a blueprint for Miller with comparable, albeit slightly less well-rounded, pass-rushing monster Justin Houston signing his six-year, $101MM deal, don't expect expediency on the Miller front. This could well be Elway's fourth franchise tag deadline scenario, with his previous final-day deals coming in re-ups for Matt Prater and Ryan Clady in 2012 and 2013, respectively.
That said, Denver allowed a lot of key talent to exit again, with this offseason dwarfing 2014's in terms of impact players departing. Mostly supplemental players replaced these talents, with the Julius Thomas-for-Owen Daniels swap headlining these exchanges. Daniels is not close to the difference-maker Thomas is, with the Jaguars' new tight end catching more touchdown passes (24) the past two years than the 32-year-old Daniels has in his past six.
But the Broncos, who also figure to use Virgil Green more as they usher in a system featuring plenty of two-tight end looks, will gain in dependability and potentially consistency. Thomas was often absent for Manning outside of the red zone, while Daniels' nine years in Kubiak's system will help compensate for his athletic deficiencies.
Green's enjoyed scant opportunities in the passing game, hauling in a career-high nine receptions in 2013 while lining up in the backfield or at traditional tight end. The former Nevada seventh-round pick has shown his ability as a blocker, however, grading higher than Thomas last season on Pro Football Focus (subscription required) due to his 4.4 run-blocking figure that ranked fourth in the NFL.
Of course, PFF's tight end grades don't necessarily mirror what generates dollar value from the position, considering Thomas' megadeal in Jacksonville dwarfing Green's re-up figure. Regardless, Green will be a critical cog in Gary Kubiak's run-based attack, considering the level of inexperience the Broncos' offensive line could possess.
Daniels will likely start, as will Darian Stewart and, for at least four games during Derek Wolfe's performance-enhancing drug suspension, Vance Walker. However, after three splashy offseasons, the Broncos did not bring in the same kind of talent this year, as deals for Thomas and Miller loomed.
Stewart has a clear path to the starting free safety position, with the Broncos not having much of an alternative present. David Bruton's entering his seventh year and is possibly the team's best special-teamer, but he's rarely played on defense and when he has it's been as a strong safety. Since a rough introduction to a starting role in 2011 with the Rams, Stewart's improved into a solid back-line stopper, and he'll have more chances to make plays behind a Broncos defense built for muzzling the pass on its edges.
Walker's signing now looms fairly large, with the potential legal troubles of Antonio Smith and the forthcoming absence of Wolfe. For the Chiefs in 2014, Walker graded out as the team's best defensive lineman last season by a substantial margin, per PFF. But the 28-year-old played just 238 snaps, a figure he'll almost certainly surpass this year for a suddenly thin Broncos front.
A former Texans backup and starter for the Rams and Dolphins, Shelley Smith is currently behind both Max Garcia and Ben Garland at left guard. His reunion with Kubiak after a sluggish year in Miami last season is not off to a promising start.
Notable losses:
Until Demaryius Thomas' extension beat the July 15 deadline, this offseason was almost certainly about what the Broncos lost and how they were going to continue their reign atop the division amid large-scale changes. The strong 2011 draft class lost Orlando Franklin and Julius Thomas to big deals — and Moore to a modest one — and the Broncos replaced them with cheaper, inferior parts.
Counting Terrance Knighton, who could be the most significant of these defections considering what he meant to the Broncos' run defense, Denver lost seven starters.
Both Thomas and Franklin priced themselves out of Elway's plans, with Franklin's departure leaving the team scrambling up front. The versatile lineman appears to be sticking at guard after finishing strong at his new position in 2014, and the former right tackle's void is noticeable. Garcia, a 2015 fourth-rounder, and Garland, a military veteran who's been a backup since joining the team, are interesting potential solutions — sandwiched by first-time performers in Ty Sambrailo and Matt Paradis, for the time being — for a team with such a narrow Super Bowl window.
Montgomery's absence now leaves the center position in the hands of either Paradis, a practice-squadder last season, or Gino Gradkowski, who garnered PFF's worst center grade in 2013 before being benched for Jeremy Zuttah last season in Baltimore. Montgomery drew a league-average assessment from PFF, but helped the Broncos finish as the league's 12th-best unit in Football Outsiders' adjusted line yards metric.
As a result, the Broncos could deploy their worst offensive front in years as a result of the upheaval and the time it takes to gel in a zone-blocking system.
It's fair to wonder how much of Julius Thomas' success was Manning-buoyed and whether he'll be able to come close to achieving those benchmarks with the Jags. Letting the tight end go probably proved to be the right decision, considering the fifth-year standout's availability issues and his poor fit for a run-based offense featuring a lot of in-line tight end work. But Manning also might have lost the best playmaking tight end he's had, with Dallas Clark never putting together a two-year stretch where he caught more than 17 touchdown passes, let alone 24.
While it can be viewed as impressive that those 24 scores came in just 24 starts, Thomas missed 28 games in four Broncos slates due to nagging ankle trouble. Although the Broncos did reportedly get to $8MM per year in extension talks last summer, that was with the previous coaching regime. Doling out a $9MM-per-year accord is about paying for what's ahead, and Thomas' outlook probably didn't justify the price in this new era.
Although Brodrick Bunkley enjoyed a solid season in 2011 that earned him a lofty deal the Saints soon regretted, the Broncos have searched for defensive tackle stability since Trevor Pryce's mid-2000s exit. They found it in Knighton, a buy-low gem in 2013. The massive-but-deceptively agile run-stuffer did not draw a serious effort at a second Broncos contract, signing with Washington for just one year and $4MM as a result of weight concerns. Despite Knighton's market cratering, the Broncos are with Sylvester Williams as the heir apparent in a 3-4 defense that places a greater premium on defensive tackle talent.
Already almost 27 despite set for just his third season, Williams hasn't justified his first-round selection yet, regressing to the 66th-best defensive tackle grade (PFF) due to porous work against the run. In 279 snaps to Williams' 435, Marvin Austin received a positive grade and provides good depth here. But this is probably an otherwise-stout Broncos defense's biggest question mark entering the season.
Rahim Moore's market also cooled a bit, with the safety signing for just three years and $12MM after at one point being considered the second-best safety on the market after Devin McCourty. A safety of less than one season and one who graded worse than Moore in that season, Ron Parker signed for five years and $30MM. An above-average coverage player with substandard tackling ability – which is not exactly a big liability in a free safety – Moore should be easier to replace than his 2011 draft compatriots.
But this exodus of talent represents the most significant replacement test in Elway's five seasons running things in Denver.
Trades:
Acquired C Gino Gradkowski and a 2016 fifth-round pick from the Ravens in exchange for a 2016 fourth-round pick.
Acquired a 2015 first-round pick (No. 23; DE/OLB Shane Ray) from the Lions in exchange for a 2015 first-round pick (No. 28; G Laken Tomlinson), a 2015 fifth-round pick (No. 143), a 2016 fifth-round pick, and OL Manny Ramirez.
Gradkowski doesn't look promising in Denver after sputtering in Baltimore. Like Shelley Smith, Gradkowski's place on the roster is not a given. At the time of the deal, the Broncos swapping a fourth-rounder for a 2016 fifth-round slot didn't look too good, based on the player involved — it certainly doesn't look smart now. If it comes down to keeping one of these interior-line veterans to back up the rookies, Smith carries a $1MM dead-money tag, with Gradkowski costing Denver no money if they cut bait early.
Manny Ramirez enjoyed a strong season in 2013, rating as PFF's fifth-best snapper while playing next to star guard Louis Vasquez. That gave him the center job to start last season, but when the Broncos' line wasn't performing up to expectations, Ramirez moved back to the right guard position at which he began his Broncos tenure. The former Texas Tech cog's season didn't unfold as well, and Kubiak's zone scheme doesn't fit the slower, powerful veteran.
This made Ramirez's departure understandable, but the Broncos certainly aren't in as good shape at center as they were when Ramirez resided there.
With both of Denver's trades involving centers, it's interesting the Broncos didn't bring in Chris Myers, who has nearly a decade of seasoning in Kubiak's system, for a visit. Of course, the former Mike Shanahan draft pick will be 34 next month, and Kubiak probably knows what the recently released center has left more than just about anyone.
Draft picks:
With right tackle topping the Broncos' needs hierarchy entering the draft, Elway again opted for the best-defensive-player-available strategy he's used to make the Broncos' first selection in each of his five drafts (Von Miller, Wolfe, Williams, Bradley Roby and now Shane Ray). Of course, this represented the first time he traded up to select one of these talents, and doing so for a player who may not start until 2017 is interesting.
Following the trail blazed by Aldon Smith, Sheldon Richardson and Kony Ealy, Ray is the latest Missouri pass-rushing success story. parlaying a monster junior slate into a high NFL draft slot. Having the chance to play behind Miller and DeMarcus Ware should keep the QB-pursuer fresh and his block-shedding repertoire relatively hard to prepare for.
After opting to take Montee Ball over Eddie Lacy in the second round of the 2013 draft due to concerns about Lacy's injured toe, Elway may have learned from experience that a toe malady isn't something that should prevent pursuing a prospect. Ray plummeted into realistic Broncos trading range because of a nagging toe ailment. Of course, Ray was also available at No. 23 due to a marijuana arrest this offseason, so the former Tigers star's trajectory's endured some blips and isn't a lock to stabilize.
But Ray fits well in a 3-4 and should help the Broncos' pass rush stay productive after it faded last season, ideally serving as an off-the-bench energy to spell the 33-year-old Ware. He's already showing the first-step explosion that harassed SEC tackles.
Jeff Heuerman's torn ACL will keep Daniels and Green in their roles until at least 2016.
A power-based player who played guard, tackle and center in his time at Maryland and Florida, Garcia having shown enough to start over Smith and Garland in the Broncos' first preseason tilt is encouraging for a team that looked thin up front after free agency. Sambrailo's development becomes paramount after Clady's second season-ending injury in three seasons forced the finesse Colorado State product to the left side.
While Sambrailo seems a good bet to start in Week 1, having three first-time NFLers blocking for Manning is not just something new to the 39-year-old — Manning's never played behind more than one rookie starting lineman — it's extremely rare for a team with Super Bowl hopes. The Broncos last deployed two rookie linemen in 2010, when Zane Beadles and J.D. Walton started for a 4-12 team that ultimately saw its coaching staff gutted. To put three first-timers out there this in such a high-stakes spot serves as an incredibly bold strategy for the Broncos.
Although not progressing to a key depth chart perch like his aforementioned cohorts, Lorenzo Doss possesses big-play ability in holding Tulane's career interception-return yardage record. He should battle the overpaid Tony Carter, still on the roster at $1.5MM despite not rising higher than the Broncos' No. 5 corner the past two years, for the gig behind the team's top four corners (Chris Harris, Aqib Talib, Roby and Kayvon Webster).
Darius Kilgo has already risen to the No. 2 nose tackle spot, with previous occupant Austin still sidelined due to injury. Although Williams has drawn praise for his offseason development, this job is not exactly secured like most of the spots on the veteran defense are.
Other:
Britton Colquitt no longer will make the ninth-most money on the Broncos this year but after the team waived Karl Schmitz, the longtime punter looks to keep his job. Although Spencer Lanning arrived this week, the former Browns punter's place may be pushing for kickoff duty in case Connor Barth beats out the stronger-legged Brandon McManus for the kicker job.
While Clady didn't play up to his potential last season and he already may be on the decline due to myriad injuries, his latest setback proved costly. His ACL tear, which marks his second knee tear of the decade after he tore his MCL in 2010, leaves the Broncos' blind-side duties to Sambrailo and forces either Harris or Chris Clark to step in on the right edge. A zone-blocking veteran and former Broncos second-round pick under Shanahan, Harris had a respectable season for the Chiefs last year, and the Broncos made a solid move in re-signing him in this emergency circumstance. Clark had his moments at left tackle but sputtered on the right side last year.
A left tackle with no snaps paired with a journeyman right-sider, however, signals a potentially steep downgrade.
Clady's injury also could derail his future with the franchise. The longest-tenured Bronco is the third-highest paid player on the team and the third-highest-paid tackle in the game. But with just $1.8MM in dead money on the 2016 and 2017 sectors of his deal, Clady could reasonably be cut if the front office views him as unable to return to an appropriate semblance of his former Pro Bowl version.
I detailed in PFR's Offseason Outlook series how the Kubiak-Manning marriage could be a sketchy one, with the two offensive philosophies on opposing ends of the spectrum on about all fronts. Kubiak, to his credit, has noted he will incorporate some no-huddle and pistol elements into an attack that's been a huddle- and under-center-based operation since he first became an offensive coordinator in 1995. The thought of this version of Manning having to adjust his game behind an incredibly unseasoned offensive front to one that takes away some of his biggest strengths should concern Broncos fans, however.
Conversely, Manning having a proven offensive coach managing his workload, something that's already taken effect, with the signal-caller forced to skip practices and preseason Week 1 for rest purposes, could be a boon for his stability this season. Manning wore down considerably last year. Whether that was due exclusively to his quadriceps injuries or related to his age remains up for debate. But after serving under defensive-centric bosses in Jim Mora, Tony Dungy and John Fox, Manning hasn't had this kind of an offensive mind calling the shots in his career. That will help balance out some of the potential creative differences that could arise this season.
It won't receive the publicity of Deflategate, but the Manning-Kubiak partnership may be the most interesting storyline an AFC contender encounters this season. The Broncos' AFC title-pursuing brethren mostly stood pat, at least systematically. What Elway did to shake up this operation may not be the best thing for the team in the short-term.
Top 10 cap hits for 2015:
The Broncos still have the inside track on winning the AFC West, with top talent at enough spots to withstand what should be a persistent push from the Chargers and, if more things go well for them, the Chiefs. That gap that's been rather substantial since Manning arrived, however, appears to have narrowed.
In what could be Manning's last year, observing how this team coalesces and if it can do so in time to provide a serious threat to what looks like a fairly even AFC will be one of the season's most intriguing subplots. Because if this doesn't go well, the rebuilding job post-Manning will also prove interesting, only for the wrong reasons.
Contract information from Over the Cap and Spotrac was used in the creation of this post.
Follow @PFRumors