4:12pm: The actual deal has the 49ers trading Davis and a 2016 seventh-round choice to the Broncos in exchange for a sixth-round pick in 2016 and a sixth-round choice in 2017, Schefter tweets.
4:09pm: The Broncos have acquired Vernon Davis from the 49ers, as Adam Schefter of ESPN.com tweets. In the last year of his deal, the Broncos will owe Davis ~$2.3MM in salary plus $225K in per-game roster bonuses.
Suddenly, Davis has gone from playing for a 2-6 team at the bottom of the NFC West to a Broncos squad that is 7-0 after polishing off the Packers last night. Strangely enough, the Peyton Manning-led Broncos are actually undefeated in spite of their offense. Many have theorized that Manning has been missing a quality safety blanket option underneath, a role that was expected to be filled by Owen Daniels. Now, Manning has one of the game's top offensive tight ends to work with and things could turn around quickly for Denver's offense. In short, one of the league's scariest teams just got even scarier.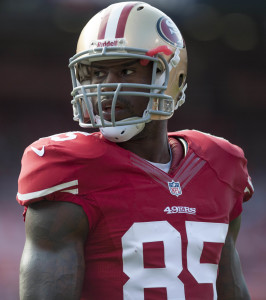 So far in 2015, Davis has appeared in six games, hauling in a total of 18 receptions and 194 yards. In his two outings, however, Davis has caught a total of 10 passes for 85 yards, no small feat given the difficulties that the 49ers have had on offense. The two-time Pro Bowler arguably enjoyed his best season in 2009 when he caught 78 passes for 965 yards and 13 touchdowns. He also shined in 2013 when he recorded 52 passes for 850 yards and 13 scores.
Davis has had his fair share of ups-and-downs in San Francisco, including a bit of off-the-field trouble. Most recently, Davis was said to have gotten into an altercation with teammate Joe Staley, though the tight end mostly denied that taking place.
"I don't recall that," Davis said of the report which alleged that the two got into fisticuffs during an argument concerning quarterback Colin Kaepernick. "I don't know where that's coming from. It's funny to me. He's been like a brother to me… We've had arguments in the past. My first year, I remember, I came here and we got into it. We got into right then and seconds later we were hanging out, laughing and drinking sodas together."
Photo courtesy of USA Today Sports Images.
Follow @PFRumors