6:14pm: The Browns have made the respective releases of Pettine and Farmer official. Haslam has issued a statement promising a "methodical" search to replace both (Twitter link via Tom Pelissero of USA Today). They'll get to work early in trying to fill the void of Pettine, according to ESPN's Dianna Marie Russini, who tweets Cleveland will interview Bears offensive coordinator Adam Gase.

4:53pm: Browns head coach Mike Pettine will meet with owner Jimmy Haslam at 7pm Eastern Time, at which point he is expected to be fired, according to Adam Schefter of ESPN (Twitter link). General manager Ray Farmer met with ownership prior to today's game, and he is also being fired, per Ian Rapoport of NFL.com (Twitter link).
It comes as no surprise that Pettine's tenure in Cleveland is over, as reports over the weekend indicated that his job was in severe jeopardy. The 49-year-old ends his two-year Browns career with a 10-21 record, and the fact that the club backslid from a 7-9 mark in 2014 to a 3-13 record this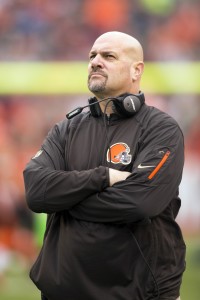 season can't have helped his case. Perhaps most striking was the club's defensive performance — Pettine, a former defensive coordinator with the Jets and Bills, oversaw a unit that finished 31st in defensive DVOA.
For the Browns, Pettine's dismissal only adds to the level of dysfunction and frustration that the club has experienced since the organization returned to Cleveland in 1999. Pettine is the fourth consecutive Browns coach to fail to last more than two seasons, and no Cleveland head coach has lasted more than four years since that '99 return. The team will now be hiring its fifth head coach since the 2009 season.
Farmer, 41, also leaves Cleveland after two seasons at the helm as general manager (he spent the 2013 season as assistant GM). It's hard to paint a positive picture of Farmer's time with the Browns, though some draft picks (Joel Bitonio) and free agent signings (Andrew Hawkins, Josh McCown) did work out. But for the most part, Farmer failed in both areas of player procurement, handing $9MM in guaranteed money to receiver Dwayne Bowe (who has five receptions on the year) and using first-round picks on Johnny Manziel and Justin Gilbert.
Cleveland's record of general manger hires is nearly as rocky as its success with head coaches. The Browns will now be hiring their sixth GM since the 2005 season, and have to hope that their next candidate has a longer tenure than Farmer. Ownership has given very little rope in terms of GMs, as George Kokinis and Michael Lombardi each lasted only one season, while Farmer last just two.
Follow @PFRumors