7:24pm: A deal for the Chargers and Rams to become partners in Inglewood exists, although it won't be as promising as the one that would've unfolded if the Chargers and Raiders' Carson project won the owners' vote, Bonsignore reports.
"The Chargers have to decide what exactly they want," a source told Bonsignore. "There is a deal to be made. One that will help the Chargers moving forward. But it might not be exactly what they envisioned when they set out on this journey. They have to decide if it's the one they want to pursue moving forward."
Sources indicated to Bonsignore the Rams are open to being friendly partners with the Chargers, even if the latter wound up in second place in this derby.
6:48pm: A Rams-Chargers union in Inglewood, Calif., could be coming within the week. Staffers from the two sides started talks Monday morning and are working to finalize a deal, Jason La Canfora of CBSSports.com tweets.
The NFL is monitoring this situation, according to La Canfora (on Twitter), and will mediate if necessary.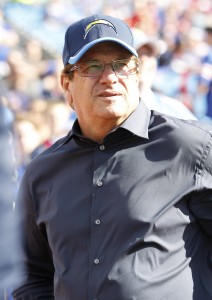 La Canfora expects this matter to be resolved this week. Expediency on the Chargers' part seems to be the mission, with the Rams already beginning to re-brand themselves in Los Angeles.
The teams announced a meeting did occur but aren't disclosing any details on it or subsequent summits, per 10News' Ben Higgins (on Twitter).
Conversely, Vincent Bonsignore of the Los Angeles Daily News reports (on Twitter) today's meeting was more of a "fact-finding" exercise as opposed to a negotiation on a Los Angeles partnership. The Los Angeles reporter also hears (Twitter link) no further talks are scheduled between the two franchises.
A Chargers decision on where they'll play in 2016 isn't due until March 23, but the sides are expected to reach an agreement soon. Though it will take a few days to hash out, as Bonsignore notes (on Twitter), since the sides are just now meeting face to face about this seminal matter.
Most owners expect the Chargers to opt to be the second team in Stan Kroenke's Inglewood stadium instead of going back to San Diego.
The Raiders could still play into this, with Mike Florio of Pro Football Talk pointing out Kroenke probably will see what kind of terms Mark Davis would agree to before reaching an accord with Dean Spanos. The PFT reporter argues against reported expediency projections, noting the Jan. 2017 deadline on the Chargers' ultimate decision on whether they'll relocate doesn't provide much incentive for these current talks to progress.
Photo courtesy USA Today Sports Images
Follow @PFRumors