MONDAY, 12:22pm: Reich is expected to join Pederson's staff in Philadelphia, tweets Ian Rapoport of NFL.com. Rapoport clarifies (via Twitter) that the former Chargers offensive coordinator is expected to hold the same position with the Eagles.
SUNDAY, 1:49pm: Now that his club has been eliminated from the postseason, Chiefs offensive coordinator Doug Pederson is expected to introduced as the Eagles' new head coach at a press conference early this week. But he's already at work filling out a coaching staff, and his first choice for offensive coordinator is former Chargers OC Frank Reich, reports Marcus Hayes of the Philadelphia Daily News.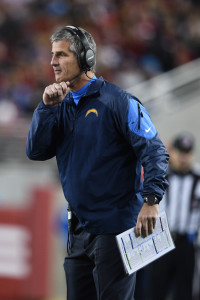 [RELATED: Eagles to hire Doug Pederson as head coach]
Reich, recently fired after three seasons leading San Diego's offense, interviewed for the same position on Adam Gase's Dolphins staff, but Miami ultimately chose Clyde Christensen as their new offensive coordinator. Reich wouldn't have called plays in Miami (Gase will do that), and it's unclear if he would handle that responsibility in Philadelphia — or if Pederson himself will take on that role.
Pederson is also interested in bringing a fellow Chiefs staffer with him, as Hayes reports that Brad Childress is on the Eagles' radar. It's unknown in what capacity Childress would serve — he's currently labeled as Kansas City's spread game coordinator — but he has a history with both the Eagles and Pederson. Childress worked with the Eagles from 1999-2005, and his time in Philadelphia overlapped with that of Pederson's (who was an active player) in 1999.
Incumbent Eagles offensive coordinator Pat Shurmur reportedly isn't out the picture quite yet, as Hayes indicates that Pederson isn't averse to keeping Shurmur on staff, perhaps even in his same role. Shurmur, of course, interviewed for the head coaching position in Philadelphia, and is respected due to his work with quarterback Sam Bradford in 2015.
On the defensive side of the ball, Pederson's top target for coordinator is Giants DC Steve Spagnuolo, per Hayes. That could prove difficult, as all indications have been that the Giants and new head coach Ben McAdoo plan to keep Spagnuolo on as coordinator.
Pederson, who has no head coaching experience himself and has only been an NFL assistant since 2009, is clearly targeting coaches who do have experience at the top. Between them, Childress, Shurmur, and Spagnuolo offer 10 years of HC experience, which would be valuable to a first-time head coach.
Follow @PFRumors