Texans linebackers coach Mike Vrabel is staying put. According to John Middlekauff of 95.7 The Game (via Twitter), Vrabel has turned down the 49ers offer to become the team's next defensive coordinator, and he'll be returning to Houston for the 2016 season.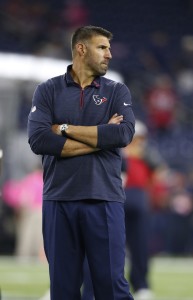 Vrabel emerged as a contender for the job earlier this week, even after reports emerged that coach Chip Kelly was considering sticking with incumbent coordinator Eric Mangini. Middlekauff's tweet indicates that the job was offered to Vrabel, so it will be interesting to see if the team now switches focus to Mangini or another candidate. As our own Luke Adams noted earlier this week, Vrabel was the first outside candidate to be connected to the gig.
The long-time Patriots linebacker joined the Texans coaching staff in 2014, and he's seen success in his two years on the job. The Texans finished the regular season third in the league in total yards allowed, and their 19.6 points allowed per game ranked seventh. Furthermore, some players absolutely flourished under Vrabel's watch, including Whitney Mercilus, who finished with 15 sacks. Prior to his tenure in Houston, Vrabel spent several seasons on the Ohio State coaching staff.
Mike Florio of ProFootballTalk.com wonders if Vrabel may have received a "wink-nod commitment" from Texans coach Bill O'Brien to become the team's future defensive coordinator. Romeo Crennel currently holds the position, but the 68-year-old is presumably nearing the end of his coaching career.
Eric Branch of the San Francisco Chronicle notes that Kelly's Eagles never ranked higher than 28th in total defense during his three season in Philly. However, the 49ers new head coach was quick to dismiss the assumption that his fast-paced offense impacts his defensive unit.
"We get into the time of possession question and we've been in games where it was identical play snaps for us and our opponent," Kelly said. "It was identical yardage for us and our opponent. It was identical first downs for us and our opponent. We won the game by seven, but they had the ball for 10 more minutes than we did.
"So all I learned is that they stand around better than we stand around. It's still plays run. I've also never met a defense player that says, 'Coach, I want you to possess the ball for the entire game so I don't have to play.'"
Follow @PFRumors