Finally, football is headed back to the city of Los Angeles. Rams owner Stan Kroenke, who is historically very camera shy, appeared in front of reporters on Tuesday night after NFL owners voted 30-2 in favor of his Inglewood, California project. After that, he chatted with Sam Farmer and Nathan Fenno of the Los Angeles Times about his team's impending move. Here's a look at some of the highlights: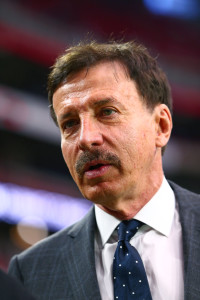 On his rationale for revamping the defunct Hollywood Park racetrack:
If we didn't have the perspective of 40 years of doing this, I don't think any reasonable, rational person would ever do this. But, because we look at it a certain way, we've been through so many of these projects, and we're long-term investors. That's why we did what we did and stuck our neck out that far.
On the importance of computer approximations of the new stadium in his proposal:
One of the most important things that nailed it (Tuesday) is that we just kept showing them pictures. People love pictures. And what those pictures showed was the thought and the development and the plan, and the depth of the thought.
On the attendance of Seahawks owner and Microsoft co-founder Paul Allen at the meetings in Houston and his support (Prior to Tuesday, Allen had not been in attendance for an NFL meeting in four years):
When I started working on this two years ago, I took Paul through the whole thing. I said, 'This is what I think we can do here. I'm not sure we can do it all, but here's what we're working on.' He was always interested. Then once we got to certain point, he definitely got it. He got how good it was.
Photo courtesy of USA Today Sports Images.
Follow @PFRumors