9:34pm: The Bills announced the hiring that will put Rex and Rob Ryan on the same staff. Rob Ryan's official title is assistant head coach/defense, per a team press release (via Joe Buscaglia of WKBW, on Twitter).
This move will give Rob Ryan a fair amount of power and not officially come as a career step backward for the veteran coordinator.
"I'm excited to have Rob join our staff, and I think he will be a great asset for our defense," Rex Ryan said in the release. "He has a tremendous working knowledge of our schemes, and I look forward to his input. On a personal note, it's been a number of years since we worked together, so we are both really excited about this opportunity." 
8:11pm: Rex Ryan and Rob Ryan will reportedly be reunited on the sidelines next season, according to Fox Sports' Alex Marvez (on Twitter).
The former Saints defensive coordinator will work under his brother with the Bills in 2016 as a defensive assistant, per Marvez, who doesn't note in what capacity.
Dennis Thurman is currently the Bills' DC, being hired on last January.
Tyler Dunne of the Buffalo News confirms Marvez's report (Twitter link).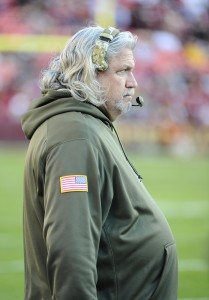 The gregarious 53-year-old twin brothers haven't worked as full-time coaches alongside one another since doing so under their father, Buddy Ryan, with the Cardinals in 1994-95. Rob Ryan coached the defensive backs on those teams, with Rex Ryan having front-seven responsibilities. Those jobs represented the Ryan twins' first NFL positions.
Fired from the Saints this season, Rob Ryan's served as defensive coordinator for the Browns, Raiders, Cowboys and Saints since 2004. Rob Ryan's defense was giving up 424.7 yards per game when the Saints fired Ryan and replaced him with Dennis Allen in mid-November, and that total would rank second-worst all-time in terms of per-game yardage.
The Saints ranked 31st in DVOA in 2014 and ranked last in Football Outsiders' top metric prior to Rob Ryan's dismissal this season.
Under Rex Ryan and Thurman, the Bills boasted the 14th-ranked defense in 2015.
Rob Ryan hasn't been a position coach since serving as the 2003 Patriots' linebackers coach.
Photo courtesy USA Today Sports Images
Follow @PFRumors