WEDNESDAY, 6:20pm: The Titans have officially hired Robiskie, according to Wyatt. They've also named Dick LeBeau their assistant head coach/defensive coordinator and Bobby April their special teams coach.
LeBeau's new role is a slight title change, as he was the Titans' assistant head coach/defense during the 2015-16 season. Ray Horton was Tennessee's D-coordinator, but he left Wednesday to join the Browns' staff. LeBeau was in charge of a Titans defense that finished an impressive 12th overall this past year, a big improvement over its 27th-place ranking in 2014. The 78-year-old has extensive experience working with defensive staffs, having begun his coaching career in the 1970s. He has served under Mularkey in both Buffalo and Tennessee.
April is familiar with both Mularkey and LeBeau, as the three were together with the Bills in 2004. April has been a special teams coach with eight different teams since 1991. He held that position with the Jets during the '15-16 campaign.
9:49am: Robiskie will indeed be the Titans' new offensive coordinator, according to Tiffany Blackmon of the NFL Network, who reports that the former Falcons wide receivers coach has accepted the job (Twitter links).
MONDAY, 1:45pm: Speaking to reporters today at a press conference, Mularkey said Robiskie remains in the interview process for the offensive coordinator job (Twitter link via Terry McCormick of TitanInsider.com).
With multiple outlets reporting that Robiskie will get the job, I expect it's just a matter of time until we get official word from the team, but Mularkey said he has three candidates for the position, per Jim Wyatt of TitansOnline.com (Twitter link).
Mularkey also said today that the offensive coordinator will call the plays for the Titans, tweets Paul Kuharsky of ESPN.com.
11:02am: With the Titans' new general manager and permanent head coach set to address the media later today, the team may also be set to announce its new offensive coordinator. According to Paul Kuharsky of ESPN.com (Twitter link), the club is hiring Terry Robiskie to fill that position.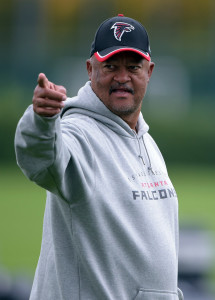 [RELATED: Titans name Mike Mularkey permanent head coach]
Robiskie, a longtime NFL assistant, served as the Los Angeles Rams' offensive coordinator from 1989 to 1993, then was the Browns' OC in 2004. In between those two OC stints, and in the year since then, he has primarily been a wide receivers coach.
Most recently, Robiskie has spent the majority of the last decade in Atlanta, having served as the Falcons' wide receivers coach since 2008. He and Mike Mularkey worked together in Atlanta for several seasons, with the new Titans head coach having been the Falcons' offensive coordinator from 2008 to 2011 before heading to Jacksonville.
[RELATED: Titans hire Jon Robinson as general manager]
In Tennessee, Robiskie will be taking over an offense that ranked 30th in the NFL in 2015 with an average of 311.8 yards per contest. The unit, led by Marcus Mariota and Zach Mettenberger, wasn't particularly productive passing or rushing the ball, ranking 25th in both categories.
That ineffective 2015 unit was led by Jason Michael, who is expected to stay put and become Tennessee's new quarterbacks coach, per Ian Rapoport of NFL.com (via Twitter). A Sunday report indicated that Michael would be hired by the Rams as either the tight ends coach or the passing game coordinator, but it appears that's not the case.
Photo courtesy of USA Today Sports Images.
Follow @PFRumors