Cardinals safety Tyrann Mathieu may have one year remaining on his rookie contract, but according to NFL.com's Ian Rapoport (article via Conor Orr of NFL.com) Arizona GM Steve Keim wants to sign the dynamic playmaker to a long-term deal this offseason, a deal that would presumably make Mathieu one of the highest-paid safeties in the league.
And Mathieu has certainly earned it. Despite missing the last two games of the 2015 regular season–and all of the playoffs–due to a torn right ACL, the Honey Badger earned First-Team All-Pro honors for the first time in his career. He tallied 17 pass breakups, 80 tackles, and a forced fumble this year to go along with five interceptions–one of which he returned for a touchdown–and he ranked as the league's best cornerback per Pro Football Focus' advanced metrics (subscription required).
[RELATED: Cardinals place Tyrann Mathieu on IR]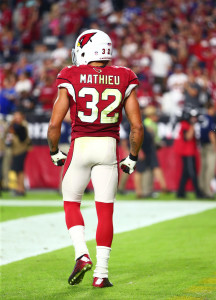 You read that right. PFF lists Mathieu as a cornerback, even though the Cardinals list him as a safety. In early December, PFF's Sam Monson explains why, an explanation that highlights Mathieu's value to his team. Arizona considers Mathieu a safety because that's the position he plays in the Cardinals' 3-4 base defense. However, the Cardinals run their base defense on only 33% of their defensive snaps. In all other sub-packages, Mathieu plays cornerback, usually serving as the slot corner. Because he excelled as a corner in college, Mathieu has had little trouble adapting to that role in the NFL. As Monson point outs, Mathieu has played every position in the back seven at some point this season.
It therefore does not take much to see one potential snag in the impending negotiations between Mathieu and the Cardinals. As Mathieu himself observed back in October, elite corners get paid more than elite safeties, especially in today's pass-happy league where teams have to pay a premium for corners who can cover. Seattle's Earl Thomas gets paid at the highest average annual value among safeties, at $10MM per year, whereas three cornerbacks–including Mathieu's teammate, Patrick Peterson–enjoy an AAV of at least $14MM. Mathieu's camp will therefore look to a contract like Richard Sherman's as a benchmark–four years, $56MM, with $40MM of guarantees–while the Cardinals are more likely to see Devin McCourty's recent five-year, $47.5MM deal (with $22MM in guarantees) as a more optimal starting point. But given that Mathieu is both a strong cover corner and a ball-hawking playmaker, I would expect that his next contract would pay him more like a top-flight corner, even if he doesn't quite reach Sherman/Peterson/Darrelle Revis territory (the fact that Mathieu tore his left ACL and LCL in December 2013 could also keep his price down).
It has been something of a bumpy road for Mathieu to get to this point in his career. He was dismissed from LSU in August 2012 for a violation of team rules, and just two months later, he was arrested for possession of marijuana. Those troubles caused Mathieu's draft stock to fall quite a bit, and he was ultimately selected in the third round of the 2013 draft. But not only has he put his off-field difficulties behind him, he has also become one of the Cardinals' emotional leaders. As Orr writes, "[Mathieu's] production alone is scary, but the emotional value Mathieu has brought to the team only increases his price tag this offseason." Mathieu has traveled with the team throughout the postseason, and the ACL tear he suffered in December was reportedly a "clean" tear, which means that he should be ready for OTAs. But whenever Mathieu steps on the field again, he may do so as a very rich man.
Photo courtesy of USA Today Sports Images
Follow @PFRumors