One of the offseason's most compelling storylines will be where Colin Kaepernick suits up this fall.
The 49ers will meet with Kaepernick's representatives at the NFL Scouting Combine, which will help determine if the polarizing quarterback will stay in San Francisco, Matt Barrows of the Sacramento Bee reports.
Although Barrows points out it's unknown what will be discussed at this upcoming summit in Indianapolis, it could be a key junction point in determining whether Kaepernick and the 49ers can mend fences. Or it could further lead to the sides dissolving their relationship, one that looked irreparable when the 49ers placed Kaepernick on IR in November.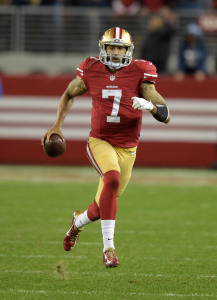 We've heard the 28-year-old Kaepernick could look to join the Jets, although that feeling may not be mutual, and that executives around the league are fearing what Chip Kelly's offense would look like with Kaepernick at the controls. But the sides haven't talked publicly about going forward together yet.
Kelly and Kaepernick met and spoke briefly at the 49ers' Santa Clara facility once Kelly agreed to become the team's next coach and have talked on the phone since, Barrows reports.
Entering the third year of his team-friendly contract, Kaepernick's status in San Francisco remains tied to being on the roster on April 1, when the 49ers would owe the sixth-year quarterback his full $11.9MM base salary.
The team's stated consistently it's unconcerned with this deadline, Barrows notes, and merely wants Kaepernick to recover from the three surgeries (to his left shoulder, left knee and right thumb) he's undergone since November. That's likely not the case considering Kaepernick's recent struggles and the sides' turbulent relationship.
The 49ers could attempt to trade Kaepernick before that date, and as Barrows points out, the deal that ultimately sent Alex Smith to the Chiefs spawned at the combine and commenced a couple of weeks later. A lack of buzz about a Kaepernick trade could mean the 49ers haven't sought trade partners for their signal-caller's services just yet and that Kelly would want him in San Francisco in 2016, Barrows suggests.
Barrows notes the 49ers' likely No. 1 item in these talks is whether Kaepernick wants to remain with the franchise that drafted him in the second round in 2011. The 49ers benched their struggling and injury-plagued starter for Blaine Gabbert last season, and Kaepernick elected to have his surgeries in Vail, Colo., and go through rehab in Colorado as well as opposed to doing so under the guidance of the 49ers' doctors.
Kaepernick would occupy a team-high $15.89MM cap hold if on the 49ers' roster this year. Gabbert, as of now, will take up only $2.25MM of San Francisco's cap.
Follow @PFRumors