The Bills will explore the possibility of extending cornerback Stephon Gilmore's contract this offseason, per general manager Doug Whaley. Asked by Sal Capaccio of WGR 550 SportsRadio if a new deal for Gilmore would be a priority, Whaley replied, "Absolutely."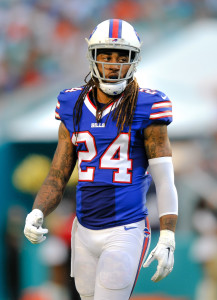 [RELATED: PFR previews the Bills' offseason]
"That's why (cap specialist Jim Overdorf) and his staff will be meeting with his representatives," Whaley said of Gilmore. "Not only will they be meeting with the unrestricted and restricted (free agents), but other guys on the team that we might want to extend."
Gilmore, the 10th overall pick in the 2012 draft, had another strong season in 2015, recording 36 tackles, three interceptions, and 18 passes defended. Despite only playing 12 games, the 25-year-old ranked as a top-10 cornerback, according to Pro Football Focus' grades (subscription required).
Extending Gilmore's contract beyond 2016 would require a significant investment from the Bills, but there's a good chance an agreement would also reduce Gilmore's cap charge for 2016, creating some much-needed cap space. The cornerback has a cap number of $11.082MM, the amount of the fifth-year option on his rookie contract. By giving Gilmore a signing bonus up front and bringing down his base salary, the Bills could shave a few million dollars from their cap.
The Bills have already create a chunk of cap room by restructuring tight end Charles Clay's contract, reducing his 2016 cap hit by $7.5MM. The team could also create significant savings by cutting defensive end Mario Williams, who is currently on the books for $19.9MM in 2016 — releasing him would open up nearly $13MM in cap space.
As such, it's possible that the Bills won't be in any rush to extend Gilmore, since there are other ways to create cap flexibility for the team's offseason spending. But with Cordy Glenn and Richie Incognito less than two weeks away from reaching the open market, Buffalo will want to do all it can to avoid letting those free agent offensive linemen get away. The team has also explored a possible extension for quarterback Tyrod Taylor, so every bit of cap space will help.
Photo courtesy of USA Today Sports Images.
Follow @PFRumors