With Pete Carroll's contract set to expire at the end of the 2016 season, the Seahawks are working on a new deal that would lock him up beyond this year, according to Ian Rapoport of NFL.com (via Twitter).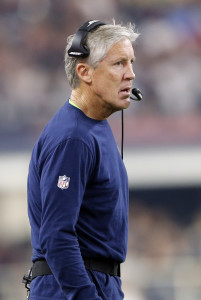 An extension for Carroll would avoid having him enter the 2016 campaign as a lame-duck head coach. It would also give both sides some added security — Carroll would be guaranteed a salary for a few extra years, and the Seahawks would mitigate the risk of their head coach eyeing another job.
While there has been no indication that Carroll would want to leave Seattle, one January report suggested that the former USC head coach may eventually have interest in a Los Angeles NFL job, with the Rams – and possibly Chargers – returning to L.A. An extended deal with the Seahawks would quiet those rumblings.
As Rapoport notes (via Twitter), Carroll's current contract is believed to place him among the NFL's top three highest-paid coaches, with an annual salary in the range of $7-8MM per year. Presumably, a new deal wouldn't involve a pay cut of any sort, so Carroll will continue to rank near the top of the salary leaderboard for coaches if and when he signs an extension.
Since taking over as the Seahawks' head coach in 2010, Carroll has led the team to a 60-36 regular-season record, with a 9-6 record and a Super Bowl win in the postseason. Seattle has won at least 10 games and made the playoffs in each of the last four seasons, winning at least one postseason contest every year and earning a spot in the Super Bowl twice.
Several NFC teams are believed to be working on new deals for their respective head coaches. In addition to the Seahawks and Carroll, the Panthers are discussing an extension with Ron Rivera, and Sean Payton suggested on Thursday that he's moving closer to an extension with the Saints.
Photo courtesy of USA Today Sports Images.
Follow @PFRumors