1:14pm: Cox took to Twitter today, and while he didn't directly address Shorr-Parks' report, his tweet is presumably a response to that story.
"Can the reporters please stop the nonsense nothing is true to what they are reporting," Cox tweeted. "SAD."
Without any details, it's hard to know what exactly Cox is disputing — if he's right that "nothing is true" about Shorr-Parks' story, that would mean the Eagles aren't even working on an extension for the defensive lineman, which seems unlikely.
It was Shorr-Parks who reported last month that the Eagles were making an effort to lock up Curry, Johnson, and Ertz, and those deals all came together within the next couple weeks, so there's no reason to think the NJ.com scribe is way off base here. So perhaps it's just the notion that an extension is "close" that Cox is denying. If that's the case, it remains to be seen whether Cox simply thinks no agreement is imminent or whether he feels there are major hurdles to clear before the two sides reach a deal.
For now, we're in wait-and-see mode, though I'd be a little surprised if the Eagles don't sign Cox to an extension at some point in the coming weeks.
8:16am: The Eagles have already locked up four players to contract extension since their season ended last month, but the team isn't done yet, and the next deal will likely be the biggest yet. According to Eliot Shorr-Parks of NJ.com, the Eagles and defensive lineman Fletcher Cox are getting close to an agreement that will lock up Cox for years to come.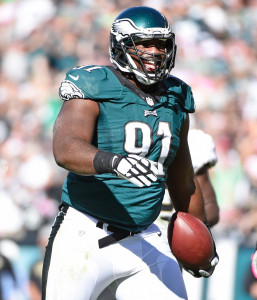 [RELATED: Vinny Curry, Eagles agree to extension]
Cox, 25, had arguably the best season of his four-year career in 2015, setting a new career high with 9.5 sacks. He also racked up 71 tackles, three forced fumbles, and a pair of fumble recoveries. The performance earned Cox his first Pro Bowl nod, along with a top-10 spot on Pro Football Focus' rankings of interior defenders — the Eagles standout placed ninth out of 123 qualified players.
As a first-round pick in 2012, Cox is currently under contract for one more season, with a fifth-year option for 2016 worth $7.799MM. However, if and when he and the Eagles get a new deal done, Cox will be in line for a sizable raise.
Citing two different people familiar with the extension negotiations, Shorr-Parks says that Cox could land a contract that features more than $50MM in guaranteed money, and it wouldn't be a surprise if his average annual cap hit exceeds $15MM.
As Jason Fitzgerald of Over the Cap tweets, Marcell Dareus' deal with the Bills will likely be a point of comparison in the Cox extension talks, and the Eagle could ultimately exceed that Dareus contract to become the second highest-paid defensive tackle in the league, behind Ndamukong Suh. Dareus' contract with the Bills averages $15.85MM per year, with $60MM in total guarantees ($42.9MM fully guaranteed).
If the Eagles do lock up Cox in the coming days or weeks – which it appears they will, unless talks fall apart in the late stages – he would be the fifth player this offseason to get a long-term deal from the team. Philadelphia has also extended tight ends Zach Ertz and Brent Celek, defensive end Vinny Curry, and offensive tackle Lane Johnson.
Photo courtesy of USA Today Sports Images.
Follow @PFRumors