12:32pm: He doesn't have a contract yet, but Vinatieri has finalized his decision to play for at least one more season, according to Zak Keefer of the Indianapolis Star. Keefer writes that Vinatieri wanted to weigh the decision with his wife and children before making it official, but now that he's had some time to regroup following the regular season, he has decided to keep playing.
"Not only a season, but Lord willing, a couple of years," Vinatieri said. "There will come a time when it's over for me. I don't think that time is yet. I enjoy playing. I enjoy doing my thing."
10:50am: Adam Vinatieri turned 43 in December, but he continued to perform well for the Colts in the final season of his most recent contract, and the team would like to bring him back on a new deal, if he's interested. As Mike Wells of ESPN.com writes, Colts owner Jim Irsay confirmed his club's interest in re-signing Vinatieri.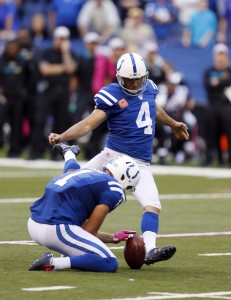 "We'd like to retain Adam," Irsay said. "We believe he's still kicking at a high level. He really takes care of himself…. (Vinatieri) and (punter) Pat (McAfee) really complement each other. That's been one of the strengths of our football team, those two guys. We do not underestimate what those two guys have meant to us."
Right around the time of Vinatieri's 43rd birthday, reports indicated that he planned on returning in 2016 for his 21st NFL season. So while it's possible that he ends up with another team, the Colts figure to have the inside track on re-signing him. The veteran kicker has spent the last decade in Indianapolis, after spending the first 10 years of his NFL career with the Patriots.
In 2015, Vinatieri connected on 25 of 27 field goal tries, for a 92.6% conversion rate. However, he did occasionally struggle with the longer extra point, missing three of 35 attempts. Still, there were few NFL kickers more reliable than Vinatieri, who is now third on the league's list of all-time leading scorers. With 2,253 points, Vinatieri could make a run at Morten Andersen (2,544) and Gary Anderson (2,434) if he decides to play for longer than just one more season.
Vinatieri's previous contract with the Colts, which he signed in March 2014, was worth $5MM over two years, with a modest $500K signing bonus. It wouldn't be a surprise to see him sign a similar pact this time around.
Photo courtesy of USA Today Sports Images.
Follow @PFRumors