After having announced last month that they intended to hire a new front office executive to serve as their head of player personnel, the Eagles have put that search on hold for now, reports Geoff Mosher of EagleScoutingNest.com. According to Mosher, the Eagles aren't expected to hire a personnel chief until sometime after the 2016 NFL draft.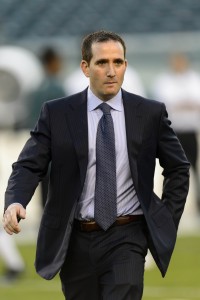 [RELATED: Eagles sign Lane Johnson through 2021]
Having parted ways with head coach Chip Kelly and top personnel executive Ed Marynowitz several weeks ago, the Eagles are seeking a high-ranking senior executive to lead the scouting department, but the timing of their search may have limited their list of potential candidates. As Mosher explains, most NFL teams are currently "knee deep in the pre-draft process" and would be hesitant about allowing a top personnel executive to leave.
The team did meet with several candidates, including Brandon Hunt, Morocco Brown, Dwayne Joseph, and Mark Dominik, tweets Jeff McLane of the Philadelphia Inquirer. And as Les Bowen of the Philadelphia Daily News tweets, it's possible that the team has already reached an agreement with a candidate who isn't free until after the draft.
For now though, Philadelphia looks poised to head into free agency and the draft with Howie Roseman making many of the key decisions. Tom Donahoe and new head coach Doug Pederson also figure to be involved in the process, but as McLane writes, Roseman will be the one making the final decision on roster moves.
Even if the team intends to resume its search after the conclusion of this year's draft, there's some skepticism around the league that the Eagles will be able to attract top candidates for the position, says Mosher. While Philadelphia doesn't currently have a general manager, the team's front office opening isn't exactly a GM position, and Roseman figures to maintain final say on personnel decisions, so rival executives may not view it as a significant promotion.
As Mosher notes, Kelly was in a similar position last year when tasked with replacing Tom Gamble, and had difficulty attracting an outside personnel exec — he ultimately promoted Marynowitz.
Photo courtesy of USA Today Sports Images.
Follow @PFRumors