12:44pm: It appears that Bowen's skepticism may have been well-founded. McLane says the Eagles have not yet made a decision on Bradford, and Foles' cap number ($8.75MM) and dead money hit ($8MM) would make a trade highly unlikely (Twitter links). In a full-length piece, Bowen says the same thing, writing that there is "no chance" that Philadelphia will reacquire Foles.
12:00pm: The Eagles are not expected to use the franchise tag on Sam Bradford if the two sides cannot reach an agreement on a new contract, according to ESPN's Adam Schefter (via Twitter). However, Schefter reports that Philadelphia does have "some" interest in re-signing Bradford.
Bradford, who came to the Eagles in the trade that sent Nick Foles to the Rams, struggled out of the gate in his first season in Philly, though he did play much better in the second half of the year as he grew more comfortable in Chip Kelly's offense. Kelly, in his capacity as head coach/personnel executive, was responsible for bringing Bradford to the Eagles, but Kelly was fired before the end of the season and the team hired Doug Pederson to take his place on the sidelines while displaced vice president of football operations Howie Roseman regained his authority over personnel matters. As such, two of the team's biggest decision-makers have no real commitment to Bradford.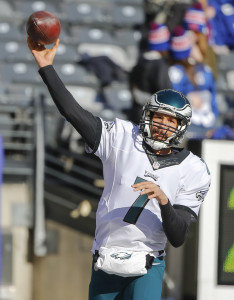 On the other hand, Pederson was on Philadelphia's staff when the team drafted Foles in the third round of the 2012 season, and he served as Foles' quarterbacks coach that year. In a second tweet, Schefter reports that Pederson is interested in bringing Foles back to the Eagles. Foles, for his part, was an abject failure in his first season with the Rams, completing just 56.4% of his passes and throwing seven touchdowns against ten interceptions in 11 games. He did, however, sign a two-year extension with the club prior to the beginning of the 2015 campaign, so he remains under contract through the 2017 season.
Neither Foles nor Bradford represents anything close to a perfect solution, but Bradford was clearly the superior player in 2015, and the fact that he managed to stay largely healthy and continued to improve down the stretch indicates that the team would be better off retaining him rather than attempting to reacquire Foles. That is especially true if Bradford can be had for a one-year deal, as former NFL agent Joel Corry suggested at the end of January. Even if the Eagles' decision not to tag Bradford is understandable–after all, a $20MM commitment is a steep price for an imperfect player with a considerable injury history, and Bradford could always hold out–any attempts to bring back Foles at the expense of Bradford would be considerably less justifiable.
Nonetheless, it is worth noting that Roseman is known for his intentional misdirection, as Jeff McLane of the Philadelphia Inquirer tweets, and now that he is back in charge of personnel matters, it is probably wise to take reports like this one with more than one grain of salt. Indeed, Les Bowen of the Philadelphia Daily News has made his skepticism on the matter quite plain in a series of tweets.
Photo courtesy of USA Today Sports Images
Follow @PFRumors