Joe Linta, the agent for quarterback Joe Flacco, tells Mike Florio of Pro Football Talk that he expects to meet with the Ravens this weekend at the draft combine in Indianapolis. While that doesn't mean any sort of restructuring or extension for Flacco is imminent, those topics will certainly be on the agenda if and when the Ravens meet with Linta.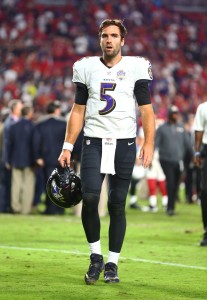 Flacco, who signed a six-year deal with the Ravens three years ago, is currently projected for a cap hit of $28.55MM in 2016, and that number will increase to $31MM+ in 2017. General manager Ozzie Newsome indicated at the start of the Ravens' offseason that the team has a plan to work around Flacco's massive cap hit, but it would obviously make things easier in Baltimore if the club can reduce that figure by $10MM or so.
Of course, as Florio observes, a simple restructure of Flacco's contract would only be a band-aid solution for the Ravens. Converting a portion of his base salary to a signing bonus could create more than $11MM in cap savings for 2016, but it would bump up his 2017 hit to more than $36MM. So, in all likelihood, if the two sides get something done this offseason, it will involve tacking at least a couple more years onto the contract to spread out a signing bonus.
As of last week, the Ravens and Flacco reportedly hadn't discussed reworking his deal, so if the two sides do meet this weekend at the combine, it figures to be the first time they engage in any real negotiations. For his part, Flacco has said he would be interested in working something out with the club.
"I know it's a huge number," Flacco said last month, referring to his cap hit. "I'm open to doing something. I want to be here for a while."
Photo courtesy of USA Today Sports Images.
Follow @PFRumors