FEBRUARY 11: During an appearance on Big Blue Kickoff Live, Tuck said he plans to sign a one-day contract to retire as a Giant, tweets Lance Medow of the Giants' Radio Network.
FEBRUARY 1: After playing 11 NFL seasons, veteran defensive end Justin Tuck has decided to call it a career, according to Mike Garafaolo of FOX Sports, who reports that Tuck will be retiring. The 32-year-old confirmed his decision on Facebook, and in comments to Garafolo.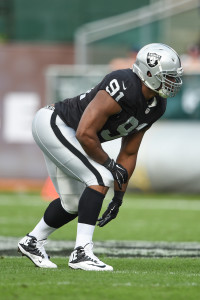 "It's been like a tug of war, and finally the rope broke," Tuck said of his decision on whether or not to end his playing career. "And where I fell was retirement."
Tuck's final NFL season in 2015 was cut short due a torn right pectoral muscle, which landed him on the injured reserve list last October. Unlike Ravens wideout Steve Smith, who reconsidered his plan to retire once he suffered a season-ending surgery, Tuck isn't determined to play one more healthy season before moving on to the next stage of his career — even though he thinks he's capable of doing it.
"Physically, I feel like I can play with the best of them," Tuck said. "It's hilarious I got hurt on the most fluky play ever, but it's part of it and maybe that was God trying to tell me something. I'm looking forward to being able to do something else."
A third-round pick back in 2005, Tuck didn't play much for the Giants during his first two seasons, but racked up 10 sacks as a part-time player in 2007, and then earned All-Pro honors in 2008, when he recorded 12 sacks and three forced fumbles. The Notre Dame product, who won two Super Bowls with the Giants, contributing to a pass rush that helped limit Tom Brady and the Patriots' offense during those games, spent nine years in New York before spending the last two with the Raiders.
For his career, Tuck appeared in 147 total regular-season games, including 127 for the Giants. He totaled 66.5 career sacks, getting into double-digits in four separate seasons, including his final year with the Giants in 2013. The two-time Pro Bowler also picked up 5.5 sacks in the postseason, with four of those sacks coming in Super Bowls against the Pats.
Despite enjoying his time in Oakland, Tuck, who would have been a free agent this offseason, admitted that a return to the Giants might have been the only scenario in which he continued his career in 2016. However, the Giants made his decision easier when they made a coaching change at season's end.
"If Coach (Tom) Coughlin would've come back another year, I probably would've (considered) coming back," Tuck told Garafolo. "I didn't even venture down that road. I think I would've given a lot of consideration to it."
Photo courtesy of USA Today Sports Images.
Follow @PFRumors