3:00pm: A source confirms to Adam Schefter of ESPN.com that Manziel showed up to a team meeting on that Wednesday in Week 17 looking disheveled, while another source says the quarterback, wasn't drunk, but was "heavily hung over on something."
"He was not drunk that day, but he was (recovering) from being on something," the source said. "I don't know what he was doing the night before, but something was wrong with him.
"This wasn't some massive cover-up," the source added. "What are you going to do? You have to put him in the (concussion) protocol."
2:15pm: In a series of tweets, Silver followed up on his earlier report, walking it back a little. Although he stands by his original report that Manziel showed up drunk to practice, Silver says he'll take the Browns at their word if they say they didn't lie about Manziel's diagnosis, adding that he regrets using that term ("lied").
1:45pm: Mary Kay Cabot of Cleveland.com (Twitter links) has also been told by the Browns that the team didn't lie about Manziel's concussion.
12:13pm: It's just a matter of time until the Browns part ways with Johnny Manziel, a move that is expected to happen when the new league year officially begins on March 9th. In the meantime though, new details are surfacing relating to Manziel's final days with the team.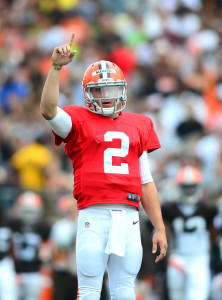 [RELATED: Police investigating Johnny Manziel]
According to Michael Silver of the NFL Network (video link), Manziel showed up drunk to a Browns practice late in the season, and the team lied about it in an effort to cover it up, saying that the quarterback was in the concussion protocol. The report echoes one from Tony Grossi of ESPNCleveland.com last month – Grossi didn't go so far as to say the Browns lied about Manziel having a concussion, but said the quarterback showed up at a Wednesday practice "disheveled and inebriated."
While Manziel's alleged actions are hardly shocking at this point, considering all the off-field headlines he has made in recent months, Silver's report reflects particularly poorly on the Browns. If it's accurate, it means the team played a significant part in enabling Manziel's behavior as recently as about a month ago. The Browns could also be in hot water if it turns out they lied about Manziel's health on their injury report.
For what it's worth, a Browns spokesman tells Nate Ulrich of the Akron Beacon Journal (Twitter link) that Manziel was, in fact, in the concussion protocol and wasn't cleared until January 12th, well after the club's season ended. Meanwhile, NFL spokesman Greg Aiello declined comment when Ulrich asked whether the NFL is investigating the Browns, referring the reporter to the team (Twitter link).
[RELATED: Agent no longer representing Johnny Manziel]
Whether or not the Browns' old regime, including head coach Mike Pettine and GM Ray Farmer, tried to protect Manziel, it appears the team's new decision-makers won't be giving him that same treatment. Sashi Brown recently issued a statement which strongly suggested Cleveland will be moving on from Manziel, and subsequent reports suggested that would happen next month, for salary cap reasons.
Earlier today, Mike Florio of Pro Football Talk questioned whether the possibility of Manziel landing on paid leave might hinder the Browns' plan to waive him, but in a post published several hours later, Florio clarified that the QB won't be placed on paid leave anytime soon.
"The players are off per the CBA and not being paid now," NFL spokesman Brian McCarthy told PFT. "It would serve no purpose and is not what paid leave was designed to accomplish."
As such, the Browns shouldn't have to worry about the league's investigation into Manziel hindering their plan to cut him.
Photo courtesy of USA Today Sports Images.
Follow @PFRumors