MONDAY: Contrary to Klis' report of a contract offer worth ~$12MM per year for Jackson, the Broncos are slightly under the $11MM mark, writes Troy Renck of The Denver Post. Further, while previous reports stated that Jackson is looking for $12MM annually, the number is closer to $14MM, per Renck.
SUNDAY, 5:59pm: The last known offer the Broncos extended to Jackson was worth approximately $10MM AAV, but the team has reportedly upped its terms for the fifth-year end. The Broncos have sent an offer for nearly $12MM per year to Jackson, according to Mike Klis of 9News.
That would make Jackson the second-highest-paid 3-4 end behind J.J. Watt's $16.66MM AAV accord, moving the ascending talent past Cameron Jordan and Calais Campbell, who each make $11MM AAV.
Cole notes Jackson seeks a deal worth at least $12MM per season, but according to Kils, the sides are still far apart. Signs continue to point to Jackson reaching the open market.
Categorized currently as a 3-4 end, Jackson's proven a threat to pressure passers from three spots, and Klis puts the 26-year-old Jackson in the same potential earnings bracket as Marcell Dareus or Gerald McCoy due to his consistency rushing quarterbacks from the interior. Citing Jackson's 49.5 quarterback sacks, hits and hurries combined in 2015 compared to McCoy's 39.5 when fusing these stats and Dareus' 20, Klis argues Jackson can pursue a contract commensurate with the top tier of 4-3 tackles and possibly earn $15MM annually. Dareus' AAV number sits at $16.1MM, with McCoy's residing at $15.9MM.
Although the Broncos have upped their offer, their limited cap space ($8.4MM before Peyton Manning's salary comes off the books, should he retire or be released) and notable other free agent commodities could make going much higher difficult.
SATURDAY, 1:49pm: The Broncos' quest to keep Malik Jackson off the market continues, with Jason Cole of Bleacher Report hearing (video link) the Super Bowl champions "desperately" want to keep the fifth-year defensive end.
Despite not getting too far with Brock Osweiler yet, whom John Elway told media is not a franchise tag candidate as Von Miller is likely to receive the designation, Denver is working to keep Jackson from becoming one of free agency's most sought-after players.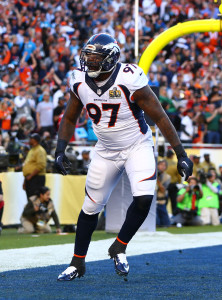 But Jackson's agent, Jack Sharp, informed Cole his client currently plans to test the market to gauge the potential offers of other teams. Although Jackson, per Cole, still has interest in re-signing with the Broncos, he prefers to see what's out there during the legal tampering period process, which begins March 7.
Cole reports Jackson is seeking a deal that pays at least $12MM per season. The Broncos' top offer so far is worth $10MM AAV.
Denver already signed its starter at left end, Derek Wolfe, to a four-year, $36.7MM accord before its playoff run commenced. A 2012 fifth-round pick, Jackson's been the more consistent player across his career, excelling at three positions in the past three years — 4-3 defensive tackle, 4-3 defensive end and 3-4 five-technique end — for the Broncos, respectively since breaking into the team's rotation in 2013.
Elway did not rule out tagging Jackson, which would be worth $15.7MM, but that would mean signing Miller to a long-term deal by Tuesday. Given the Broncos' recent history with franchise-tagged players signing extensions in July, this seems incredibly optimistic, especially considering Miller's push to be the league's highest-paid defender.
Photo courtesy USA Today Sports Images
Follow @PFRumors