11:30am: Mike Garafolo of FOXSports writes that the Eagles upped their offer to Bradford during the team's meetings with Condon last week. Although the terms of the offer remain unknown, sources indicate that the offer is "at the top of [Bradford's] expected range on the open market and…should help get him under contract before that market opens on March 9."
10:00am: In keeping with other reports we have heard this month, Jeff McLane of The Philadelphia Inquirer and colleague Bob Ford of The Philadelphia Inquirer confirm that the Eagles' "Plan A" for the quarterback position is to re-sign Sam Bradford. However, the team is not committed to Bradford to the extent that it would be willing to use the franchise tag on him, leading Ford to write that Bradford would be welcomed back with open arms, but not necessarily an open wallet.
[RELATED: Negotiations between Eagles and Bradford are ongoing]
If Bradford does choose to test the free agent waters, McLane believes that he may not have as many suitors as he and his agent, Tom Condon, once thought. Indeed, McLane's informal poll of league executives, coaches, scouts, and agents strongly suggested that Bradford will test the market only to realize that his best option will be to remain in Philadelphia. Negotiations between Bradford and the Eagles are still ongoing, but it remains unclear how much of a gap the two parties will need to bridge.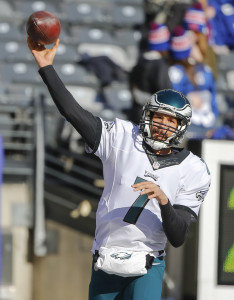 Ford, for his part, looks at some of the options Bradford could have if he and the Eagles are unable to strike a deal. The teams with both an unsettled quarterback situation and a significant amount of cap space include the Rams, Browns, and 49ers. There is no way Bradford returns to the Rams, the team that originally drafted him, and while the 49ers make some sense as a potential landing spot–assuming San Francisco parts ways with Colin Kaepernick–Ford is skeptical that Bradford would voluntarily sign up for "another chance to get killed in a Chip Kelly offense." At this point, it is even harder to imagine a quarterback with any alternatives choosing to play for Cleveland.
Ford describes the Texans as having a tighter cap situation than the three above-referenced clubs, but Houston does have over $31MM in cap room, as Aaron Wilson of The Houston Chronicle writes. The Texans are looking for a fresh start at the quarterback position, and a competent quarterback like Bradford, along with the team's excellent defense, could allow them to make a deep playoff run. As of now, though, the fit between Bradford and Houston is merely a speculative one.
Outside of those possible destinations, teams like Washington, the Broncos, and the Jets are currently engaged in mating dances with their own signal-callers, and if one or more of those negotiations break down, Bradford could have that many more suitors, but that does not seem especially likely at the moment.
As such, Bradford could, as McLane's poll suggests, end up needing the Eagles. But Condon, of course, will also say the Eagles need Bradford. There are no "can't-miss" quarterback prospects in the draft, and the free agent crop of QBs is predictably underwhelming. New head coach Doug Pederson has been touting free agent Chase Daniel as a starting-caliber player, but that may be as much a negotiating ploy as a legitimately-held belief (although Pederson, who coached Daniel in Kansas City, does appear to truly believe in Daniel's skill-set).
McLane writes that the Eagles do have a backup plan if Bradford walks, which would likely be to use the team's No. 13 overall pick on one of the consensus top three quarterbacks in the draft: Carson Wentz, Jared Goff, or Paxton Lynch (assuming, of course, one of them falls to the Eagles). And even if Bradford returns, the team is likely to use a late-round selection on a developmental project. But at the moment, it appears that Bradford and the Eagles will end up back together. The question is when that will happen, and at what price.
Photo courtesy of USA Today Sports Images
Follow @PFRumors