Lions owner Martha Ford is now 90 years old, and though the club hasn't been forthcoming with its plans for a potential ownership transition, the Fords has no interest in selling the team, as team president Rod Wood told 105.1 WMGC on Thursday.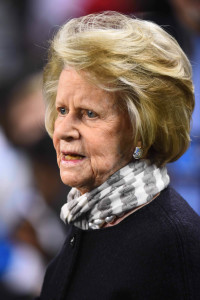 "I'm very involved in the plans to succeed Mrs. Ford within the family and the ownership, and beyond that I'd rather leave all that to those who are in the room as opposed to talk about it outside the room," said Wood, according to Dave Birkett of the Detroit Free Press. "But I can assure the fans and the community that the Ford family's committed to owning the Lions long term."
[RELATED: PFR previews the 2016 Detroit Lions offseason]
The Fords have been the sole owners of the Lions franchise since Martha's husband, William Clay Ford, bought the club in 1963 — when William passed away in 2014, Martha became the controlling partner. Per Birkett, Ford's daughter Sheila Ford Hamp has taken on a more substantive role in the organization since William's death, so it's possible that she is (privately) next in line to lead the team.
The NFL expressed concern earlier this year that the Titans did not have a clear succession plan in place following the passing of Bud Adams, so it's fair to wonder if the league will have similar worries about the Lions. But for the time being, Martha Ford's actions in Detroit have been praised by other owners, as Colts owner Jim Irsay said Ford is "very engaged and alert" in NFL business.
Photo courtesy of USA Today Sports Images.
Follow @PFRumors