THURSDAY, 12:26pm: Despite Williams' public comments about considering a pay cut, Tim Graham of The Buffalo News (Twitter link) hears that the defensive end is just waiting to be released, with a source suggesting "the sooner the better" for Williams.
WEDNESDAY, 1:22pm: Speaking today to reporters, Bills head coach Rex Ryan said he'd love to have Williams on his team in 2016, but added that it remains to be seen how realistic that is (Twitter link via Vic Carucci of the Buffalo News).
12:35pm: No Bills defensive player was more vocal about his frustrations adjusting to the team's new defensive system in 2015 than Mario Williams, who saw his sack total dip from 14.5 in 2014 to just five in 2015. However, Williams told ESPN's Josina Anderson that he is open to the idea of discussing a pay cut to remain in Buffalo (link via Mike Rodak of ESPN.com).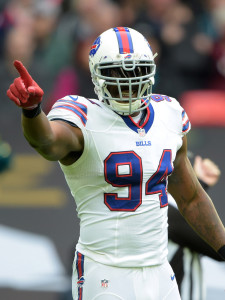 [RELATED: Pro Football Rumors previews Bills' offseason]
"Yeah, I mean, it all depends on what is happening," Williams said. "My thing is this: Obviously, I've had big contracts, but once you get on a team and you get around the guys, it becomes family. The guys on defense, we laugh and talk about anything. We do a bunch of stuff together and off the field, obviously. It's bigger than just numbers.
"But at the same time, as far as what you said about [a pay cut] being feasible, a [salary-cap] crunch is a crunch," Williams continued. "Obviously there's two great players on the other side of the ball [pending free-agent left tackle Cordy Glenn and left guard Richie Incognito] that need to be back. Like you said, I'm not an accountant, either. I don't even know how you can go about making it where it makes at least some type of sense."
While Williams is saying the right things in regard to his contract, it seems unlikely that he and the Bills will work something out. A late-December report indicated that the team plans to cut Williams at some point this offseason, in a move that would clear $12.9MM from Buffalo's cap. Considering the Bills are currently the most cap-strapped team in the league and need to find a way to make viable offers to Glenn and Incognito, the club could use the flexibility that releasing Williams would create.
Additionally, even though Williams is willing to explore a pay cut, he still isn't entirely on board with the Bills' defensive approach. He told Anderson that if he does return, he hopes the coaching staff would be willing to compromise somewhat on his role.
"Last year I feel like we were way more blitz-happy than anything," Williams said. "I'm just saying we can meet halfway, so the guys who get after the quarterback can get more opportunities to do that, and set up your fill with the players inside you and make it happen like that. That's all I ask. I'm not saying throw the scheme out. That's what I was saying before. I never said anything was wrong with the scheme."
Photo courtesy of USA Today Sports Images.
Follow @PFRumors