MONDAY, 2:43pm: Lynch's agent, Doug Hendrickson, confirmed the running back's plans to retire to Tim Booth of the Associated Press.
SUNDAY, 8:52pm: You had to know that Seahawks running back Marshawn Lynch wouldn't retire in a typical way. On Sunday night, the unique athlete posted an image of green cleats hung up over a wire, likely signifying that he is retiring this offseason. Lynch has also told people close to him that he intends to retire, according to ESPN's Adam Schefter.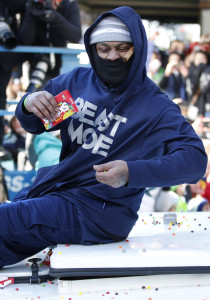 Lynch, of course, has contemplated retirement the past several seasons, but this year appears to be the year he finally hangs up the cleats. Seattle GM John Schneider indicated several weeks ago that Lynch was "leaning towards retirement," and Lynch's injury-plagued 2015 may have been enough for the enigmatic back to call it quits.
Due to a hamstring injury early in the season and abdominal surgery in late November, Lynch was limited to just seven games in 2015. So while the bevy of reports from recent years indicating that Lynch was mulling retirement will make fans skeptical that he really means it this time, there are some key differences between Lynch's situation now and then. During his first four years in Seattle, all Pro Bowl seasons, Lynch never ran for less than 1,200 yards or 11 touchdowns. In 2015, he was limited to 417 yards and three TDs in his seven games, and was barely used in Seattle's playoff loss to the eventual NFC champion Panthers, as the Seahawks quickly fell behind 31-0 and needed to revert to a primarily aerial attack.
Lynch may stand to lose a great deal of money if he retires. As Jason Fitzgerald of OverTheCap.com observes (Twitter links), if Lynch does not have a retirement forfeiture clause in his contract, the Seahawks could recover $5MM of the $7.5MM bonus they paid to Lynch last year as part of his new contract (of course, Seattle may not pursue that money, and Mike Florio of Pro Football Talk reported when that contract was signed that he did not believe the Seahawks would do so).
Financial considerations aside, Lynch has nothing left to prove on the field. The former California Golden Bear is a five-time Pro Bowler, he was named a First-Team All-Pro in 2012, and he has a Super Bowl ring (had he received one more carry in last year's Super Bowl, he may well have two rings). If this is it for Lynch, he will end his career averaging 4.3 yards per carry with 83 total touchdowns. Seattle, meanwhile, has 2015 revelation Thomas Rawls ready to step into the starting role if Lynch retires, and the team would suddenly have considerably more cap flexibility, as Lynch is scheduled to count $11.5MM against the cap in 2016.
Photo courtesy of USA Today Sports Images.
Follow @PFRumors