Pending free agents:
Top 15 cap hits for 2016:
Jay Cutler, QB: $17,000,000
Jermon Bushrod, T: $8,700,000
Pernell McPhee, OLB: $7,675,000
Lamarr Houston, OLB: $6,990,000
Martellus Bennett, TE: $6,310,000
Eddie Royal, WR: $4,500,000
Robbie Gould, K: $4,100,000
Kevin White, WR: $3,764,329
Matt Slauson, G: $3,405,000
Willie Young, OLB: $3,166,668
Antrel Rolle, S: $2,718,750
Kyle Fuller, CB: $2,641,909
Kyle Long, T: $2,641,212
Tim Jennings, CB: $1,500,000 (dead money)
Eddie Goldman, DT: $1,292,344
Notable coaching/front office changes:
Offensive coordinator: Promoted QBs coach Dowell Loggains to replace Adam Gase, who left to become Dolphins' HC.
Quarterbacks coach: Hired Dave Ragone to replace Dowell Loggains.
Draft:
No. 11 overall pick
Acquired sixth-round pick from Patriots in deal for LB Jon Bostic.
Acquired conditional sixth-round pick from Panthers in deal for DE Jared Allen.

Conditions aren't known, but likely were met.
Other:
Current projected cap room (via Over the Cap): $51.6MM
Must exercise or decline fifth-year option for 2017 for T Kyle Long.
Overview:
2015 was largely billed as a rebuilding year for the Bears, and while a 6-10 record is certainly indicative of such a process, you'd be hard-pressed to find Chicago fans who weren't — at the least — encouraged by last season's outcome (and are now more enthused about the future). And a large chunk of that excitement, undoubtedly, is due to the successful '15 campaign of quarterback Jay Cutler.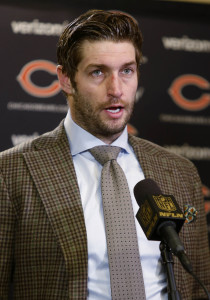 If you'll think back to last season, Cutler's fate with the Bears seemed to be sealed — he was benched by the previous Chicago regime at the end of the 2014 season, and subsequently, was anything but endorsed by new head coach John Fox and new general manager Ryan Pace. Speaking at last year's combine, neither decision-maker fully committed to Cutler, and he was widely reported to be on the trade block.
But with the help of new offensive coordinator Adam Gase, Cutler rebounded, posting the lowest full-season interception total of his career, tossing 21 touchdowns, and finishing as a top-10 quarterback in Football Outsiders' DYAR metric. Gase has since departed to become the Dolphins head coach, but with Cutler confidant Dowell Loggains having been promoted to play-caller, the quarterback position in Chicago seems to be set, at least for the time being.
On the other side of the ball, the Bears defense finished 14th in yards, 20th in scoring, but 31st in DVOA (they were 28th in weighted DVOA — which places more emphasis on the team's most recent games — meaning the unit got slightly better as the year progressed). The numbers aren't great, but given that Chicago is somewhat devoid of talent of talent on defense, they actually speak pretty well of defensive coordinator Vic Fangio.
It's an important offseason for Pace and the rest of the Bears front office, so let's take a look at what lies in store for Chicago over the next several months.
Key Free Agents:
Topping the list of Chicago's free agents is receiver Alshon Jeffery, who despite missing seven games with nagging injuries, still managed to have a very productive season (at least on a rate basis). He caught four touchdowns in his starts, and managed nearly 90 yards receiving per game, good for eighth in the league. Jeffery will turn just 26 years old on Valentine's Day, and as the best receiver available on the open market — and the No. 2 overall free agent in our most recent power rankings — he's certainly set up for a big payday.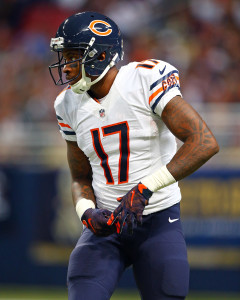 Threatening that contract potential, of course, is the Bears' option to tender Jeffery the franchise tag, and retain him on a one-year deal at a cost of $14MM+. The incentives for a extension are obvious for both parties — financial security for Jeffery, retaining its best offensive weapon/lower initial cap charges for Chicago — but it's not a certainty that a deal gets done. For their part, the Bears sound amenable to a long-term contract, but speaking last month, Jeffery didn't sound quite as enthusiastic about such a pact.
Comps are available whether Jeffery seeks a five-year deal (like Demaryius Thomas, Dez Bryant, and Julio Jones) or a four-year contract (like A.J. Green). Green, at $15MM annually, received a higher AAV than did the five-year deal cadre, but garnered a much lower guarantee. His $26.75MM in guarantees pales in comparison the five-year trio, each of whom received at least $30MM in guaranteed money. Personally, I'd guess that Jeffery would push for the longer contract and thus the higher guarantee — with his injury history, he should probably secure as much money as he can immediately.
Staying among the offensive skill positions, we come to running back Matt Forte, the longest-tenured Bear on the roster with the exception of kicker Robbie Gould. Forte, who turned 30 in December, failed to top 1,000 yards rushing for the first time since 2011, and as he announced earlier today, he won't be returning to Chicago for a ninth season.
"Despite my wishes, my days as a member of the Chicago Bears have sadly come to an end," Forte said in an Instagram post. "I was informed earlier this week from the GM that they will not be attempting to re-sign me in free agency. I will remain forever grateful for my time spent in Chicago and being able to play for an organization with such a rich history.
It makes sense that the Bears want to get younger on offense, and the duo of Jeremy Langford and Ka'Deem Carey will likely handle the load in 2016. It could be good news for Forte, as well, as he can seek to latch on with a surefire contender — he'll probably find a short-term deal with a new club, and the Patriots look like one early suitor.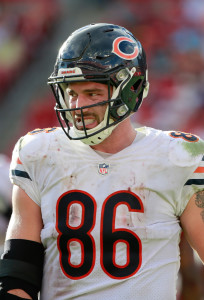 Elsewhere on offense, tight end Zach Miller is said to be targeting a $5MM average annual value after a breakout campaign that saw him post career-highs in receptions, yards, and touchdowns. But as PFR's Luke Adams wrote in that linked post, $5MM could be a tough sell — the Browns' Gary Barnidge, for example, had better numbers and failed to reach that mark. More likely, the 31-year-old Miller will settle for a lower salary, whether it be with the Bears or another club.
Receiver Marc Mariani — largely a return man to this point in his career — saw his largest role in an offense since 2011, playing on almost 50% of Chicago's offensive snaps. He's still a viable special-teamer, but a strong offensive unit probably doesn't use someone of Mariani's caliber quite as often. Along the line, Vlad Ducasse started 11 games, and was predictably disappointing, grading as the league's No. 47 guard, according to Pro Football Focus — the Bears should seek an upgrade.
Let's move to the defense, where, as noted above, coordinator Vic Fangio didn't really have the horses, but still coaxed a somewhat respectable performance. Along the defensive line, two ends who saw significant playing time — Jarvis Jenkins and Mitch Unrein — are heading for free agency. Neither was spectacular, and given that I expect the Bears to target line help via either free agency or the draft, I wouldn't anticipate either being retained as anything more than depth pieces on the veteran's minimum.
Former first-round pick Shea McClellin has bounced around to several positions along the front seven during his career, but despite all the positional changes, he never seems to find success. He graded out as the league's No. 88 linebacker among 97 qualifiers, per PFF, and despite McLellin expressing interest in re-signing, it's time for the Bears to move on. Conversely, Chicago should look to re-sign Sam Acho, who was not only a valuable contributor on special teams, but saw action on 43% of the club's defensive snaps. He's always been a personal favorite of mine, and the Bears can once again keep him around via the minimum salary benefit, they should jump at the opportunity.
In the secondary, Tracy Porter spent the entire season as a starting corner opposite Kyle Fuller, but wasn't overly effective, and the Bears should definitely look for an upgrade. Alan Ball, Chris Prosinski, and Sherrod Martin (the latter of whom was recently singled out by Jeff Dickerson of ESPN.com) can all be replaced by younger, cheaper options. Meanwhile, Dickerson did advocate for Chicago to re-sign cornerback Sherrick McManis, who is a special teams ace.
Possible Cap Casualties:
Fresh off the beast season of his career in 2014, tight end Martellus Bennett disappointed in 2015 for a number of reasons. He was never fully healthy, and he missed five games while posting his lowest yards per reception since 2010. Additionally, there were reports that Bennett was unhappy not only with his contract, but with his role in the Bears' offense (claims that his agent and GM Ryan Pace have since denied).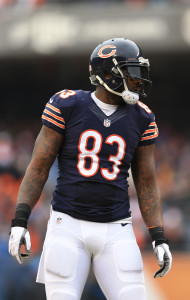 Assuming that Alshon Jeffery is retained and Matt Forte is not, Bennett figures to be the second-best weapon on the Chicago offense, and his 2016 cap charge of $6.31MM is more than reasonable. So his status really comes down to his relationship with the club, something that's hard for us to judge. Jeff Dickerson of ESPN.com recently argued for the Bears to trade Bennett, and if the reports of the rift are accurate, and another club is willing to part with draft compensation, I suppose that's an option. Releasing Bennett would save Chicago $5.185MM against the cap, and if that happens, it would be clear the relationship had soured.
Left tackle Jermon Bushrod will almost certainly be released after a 2015 campaign that saw him lose his starting job to former seventh-round pick Charles Leno. Designating Bushrod as a post-June 1 cut would make some sense, as that move would spread his dead money out over two seasons ($2.2MM in both '16 and '17). But given that the Bears are flush with cap space, I'd expect them to bite the bullet and take the full $4.4MM hit immediately.
Having played in only seven games due to injury issues, 33-year-old safety Antrel Rolle would make sense a release candidate. However, Rolle's contract was structured in such a way that his cap numbers for both 2016 and 2017 are quite low (~$2.71MM next season). The deal has no dead money remaining, so Chicago would clear his entire cap hit, but the secondary is so devoid of talent that I'd expect the club to take another chance with Rolle, a former first-round pick and Pro Bowler. Larry Meyer of ChicagoBears.com last month profiled Rolle and his determination to rebound in 2016.
Defensive end/linebacker Lamarr Houston was rumored to be on the trade block last season, and I wonder if that thought could cross the Bears' decision-makers' minds once again. Houston wasn't great in his transition from 4-3 defensive end to 3-4 outside linebacker, so a switch back to a 4-3 scheme might do him good. A trade (or a pre-June 1 cut) would give the Bears more than $4MM in cap savings, so it's a move they'll probably consider.
Positions Of Need:
The Bears enter the 2016 offseason with $51.6MM in projected cap space, good for fourth in the NFL (for now), and I expect the team to be active in free agency. General manager Ryan Pace has said as much, noting that his club will need to use free agency to augment their roster due to team needs. However, Pace has also said that he doesn't expect Chicago to use its excess cap room to pursue a high-profile free agent, preferring to spread the wealth and bring in several players at reasonable values.
Most every area of need in Chicago comes on the defensive side of the ball, so let's go ahead and get the offense out of the way. Presuming Alshon Jeffery and Martellus Bennett are retained and 2015 first-rounder Kevin White comes back healthy, the Bears should be mostly set on offense. They will need to replace Vlad Ducasse at left guard, but I don't expect them to spend at the top of the market to do so. If Alex Boone's price comes down, I could see him landing in Chicago, and the recently-released Geoff Schwartz could also make some sense.
The most pressing needs are on defense, starting with linebacker. The most obvious candidate to help at that spot is Broncos free agent Danny Trevathan, who has already stated he expects interest from the Bears based on his relationship and familiarity with John Fox. Fellow Denver linebacker Brandon Marshall is also a free agent, albeit one of the restricted variety. The Broncos will likely place a first- or second-round tender on Marshall, making Trevathan the preferred option.
Trevathan alone probably won't cut it, as Chicago could use two new starting inside linebackers. It's a cheap position, so if the Bears want to use free agency for both replacements instead of using a draft pick, they can. Veteran Joe Mays shouldn't cost much on a one-year deal (and like Trevathan, has a history with Fox), while the Browns' Craig Robertson or the Titans' Zach Brown — each of whom excels in pass coverage — could also be targeted.
Adding another edge defender also wouldn't hurt, and while the dream scenario is luring Super Bowl MVP Von Miller to Chicago, that simply is not going to happen, as Miller will either re-sign with Denver or get the franchise tag. The Bears could take a flyer on someone like Nick Perry or Courtney Upshaw, each of whom were relatively high draft picks who have failed to live up to their billing. The draft could also aid here, as Matt Miller of Bleacher Report has the Bears selecting Georgia's Leonard Floyd in the first round of his most recent mock draft.
Along the defensive line, Chicago is probably set at nose tackle with Eddie Goldman, though the 49ers' Ian Williams has a history with defensive coordinator Vic Fangio. Williams could conceivably shift to end in the Bears' scheme, but he'll be expensive, as he's just 26 years old and is coming off a ver solid season.
At end, Muhammad Wilkerson will likely be franchised, and while he's thought to be a trade candidate, I don't think the Bears would (or should) give up their first-round pick – and pony up the extension money – for Wilkerson, who is coming off a broken leg. Instead, I expect Chicago to target Malik Jackson based on his history with Fox. Jackson won't be cheap, and given the recent extensions inked by 3-4 defensive ends, he's surely targeting a $11MM yearly value.
Ideally, the Bears would use the majority of their cap space on improving their front seven, and then use the draft and/or the second and third waves of free agency to solidify the back end. Chicago can make do with Kyle Fuller, Tracy Porter (if re-signed), Antrel Rolle, and Adrian Amos in the secondary, but adding another piece at either corner or safety wouldn't be a bad idea. Josh Robinson could be intriguing at corner, while Rashad Johnson could be a target at safety.
Extension Candidates/Contract Issues:
Kyle Long has been named to the Pro Bowl in each of his three seasons in the league, and having transitioned from guard to tackle prior to the 2015 campaign, he's now been to the all-star game at two positions. His 2017 fifth-year option will be exercised, and the Bears can begin working towards an extension immediately.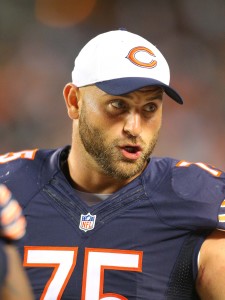 Long's extension case is an interesting one given his recent positional change, but there is a recent example that is somewhat similar to Long's situation — Eagles tackle Lane Johnson. Johnson, of course, has spent the entirety of his career on the right side, but his new five-year, $56.26MM contract was clearly negotiated with the assumption that he'll replace Jason Peters at left tackle in due time.
It's not clear if the Bears plan to move Long to the left side at some point, but as John Mullin of CSNChicago.com wrote last week, Long is set up for a big payday regardless. He should be able to surpass every other right tackle besides Johnson in terms of yearly value and guarantee, and if the plan is to eventually move Long to the blind side (and that plan is communicated to Long's representation), he could match – or surpass – Johnson's extension.
Overall Outlook:
The Bears can't afford regression from their offense, as their defense – barring a complete turnaround – figures to once again be a weak point. Retaining Alshon Jeffery and investing more in the offensive line will only buoy Jay Cutler's production, and if the defense can finish as, say, a top 20 unit by DVOA, Chicago probably won't go 6-10 again. The NFC North is a tough division, and Green Bay and Minnesota once again look like the favorites, but pending a solid offseason, it's not out of the question that the Bears could compete for a Wild Card spot.
Information from Over The Cap was used in the creation of this post. Photos courtesy of USA Today Sports Images.
Follow @PFRumors