Pending free agents:
Top 15 cap hits for 2016:
Notable coaching/front office moves:
Draft:
No. 24 overall pick
No traded draft picks.
Other:
Overview:
Five consecutive playoff appearances. Five consecutive first round exits. The beat goes on in Cincinnati, but the 2015 postseason loss was perhaps the most painful of the bunch. After a frantic comeback led by backup quarterback A.J. McCarron, the Bengals appeared poised to win their first playoff game since 1991. But after allowing Ben Roethlisberger to drive the Steelers offense down the field, Vontaze Burfict and Adam Jones committed two astonishing personal fouls, allowing kicker Chris Boswell to set up for the game-winning field goal as time expired.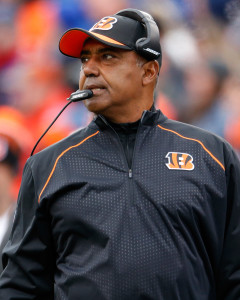 As deflating as that loss was, the Bengals' season still has to be viewed as a success. The club posted its fourth consecutive 10-win season, and with a final mark of 12-4, the 2015 team is certainly in the running for the best Cincinnati squad in the history of the franchise (at least, in the regular season). Quarterback Andy Dalton was outstanding, completing 66% of his passes for than 3,200 yards, 25 touchdowns, and just seven interceptions, and may have garnered MVP consideration if not for a late-season injury. And after dipping to 14th in DVOA in 2014, the Bengals' defense rebounded and once again finished inside the top 10.
It was a season of what-ifs in the Queen City: what if Dalton hadn't suffered a broken thumb on a freak play? What if Burfict and/or Jones don't commit those personal fouls? What if the team had won one more regular-season game and secured a postseason bye? Could Dalton have returned for the divisional round? And although those questions frustratingly will never be answered, the fact remains that a large portion of the NFL would instantly trade places with a franchise that has made the playoffs for five consecutive seasons and is sitting on a young core of talent.
Head coach Marvin Lewis, owner/GM Mike Brown, director of player personnel Duke Tobin, and the rest of Cincinnati's front office have made their bones in past offseasons, combining smart free agent decisions with solid draft classes. Several key Bengals pieces are set to hit unrestricted free agency if deals aren't reached, and while Cincinnati has plenty of cap space with which to work, the team will still have to make a few tough calls in the coming weeks.
Key Free Agents:
Most of the Bengals' top free agents are on the defensive side of the ball, but the club does have several offensive players who are heading for the open market, including its No. 2 and No. 3 receivers — Marvin Jones and Mohamed Sanu. There's no question that Jones is the more talented of the two, and while that makes it more critical that Cincinnati re-sign him, it also means that more clubs will show interest if he reaches free agency (and reports are that he plans to test the market).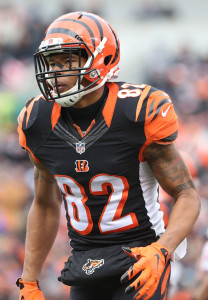 In two full NFL seasons, Jones, who turns 26 in early March, has averaged 58 receptions for 764 yards and seven touchdowns — not star numbers, to be sure, but certainly productive, especially in a run-based offense that funnels targets to A.J. Green and (last season) Tyler Eifert. Jones may ask for more than $7MM annually, and while I question whether the Bengals will go that high, I still think there's a better chance Jones is retained over Sanu.
Sanu is expected to garner interest from the Browns, Falcons, and Giants, and isn't likely to return to Cincinnati. That isn't surprising, as Sanu is a prime candidate to be overpaid on the free agent market. The Bengals stick to their evaluation of their players and won't budge from their price, so there's little chance they'll match whatever offers Sanu is able to garner from other clubs.
Cincinnati drafted offensive tackles with each of its first two picks in last year's draft, and the selections put the final nail in incumbent right tackle Andre Smith's Bengals coffin. Smith is still under 30 years old, and he'll get paid by someone else, but there's little chance he returns to the Queen City. 2016 first-rounder Cedric Ogbuehi is expected to take over on the right side of the offensive line.
As at wide receiver, the Bengals have a pair of free agents-to-be at the safety position, as both Reggie Nelson and George Iloka's contracts are expiring. Reserve Shawn Williams is ready to take over as a starter, so it's not imperative that Cincinnati re-signs both Nelson and Iloka, and of the duo, Iloka should probably be the higher priority simply based on his youth.
The 26-year-old Iloka had another solid season in his third year as a starter, grading as a top-15 safety according to Pro Football Focus. The free agent safety market is relatively flush, so perhaps Iloka's price gets driven down due to the sheer number of available alternatives, but I'd still expect him to target at least $7MM per season. After Jones, Iloka should be second on the Bengals' free agent priority list.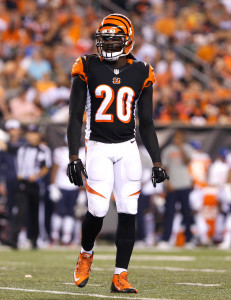 Now entering his age-33 season, Nelson posted the best campaign of his career in 2015, earning Pro Bowl honors after leading the league in interceptions with eight. He's clearly still a productive player even heading into his 10th NFL season, and if Iloka doesn't return, the Bengals should look into a short-term deal with Nelson. But Cincinnati has been wary of committing to players who might be past their prime, so the team might not feel the need to overpay to keep Nelson (despite his public declaration that he'd like to stay).
Elsewhere in the secondary, Cincinnati has two veteran free agents who have very different futures with the Bengals. Adam Jones, despite the mercurial nature that was fully on display during the club's playoff loss, is widely expected to be re-signed by the Bengals. He's a solid cornerback even at age 30, he has been in the Bengals system for six seasons, and he shouldn't be all that expensive, as I don't get the sense that many other clubs would be too keen to invest in a player with his attitude problems.
Leon Hall, on the other hand, is not expected to be retained, and it's possible that he may decide to leave the NFL altogether. Retirement is an option for any player over the age of 30, and it's certainly on the table for someone with Hall's injury history. The ultimate trooper, Hall has suffered two torn Achilles and dealt with a myriad of other injuries, quietly accepting his transition to slot corner, and even experimented at safety. While he may not be back for a 10th season in Cincinnati, but Hall's contributions over the past decade shouldn't be overlooked.
Linebacker Vincent Rey is probably the most likely of all the Bengals' free agents to be re-signed — Aaron Wilson of the National Football Post recently reported that the club plans to make a "major push" to keep the 28-year-old, and will use Maualuga's three-year, $15MM contract as a template for Rey's new deal. On its face, that total might seem like an overpay, but Rey has become a stalwart in Cincinnati's front seven, and played the most snaps of any Bengals linebacker last season, so the team isn't going to let him get away. Fellow linebacker Emmanuel Lamur, a sub-package pass-game specialist, should also be re-signed.
Of Cincinnati's three free agents on the defensive line — Pat Sims, Brandon Thompson, and Wallace Gilberry — Sims probably has the best chance of returning, as the 30-year-old was a valuable reserve nose tackle in his first season back in Cincinnati after two years in Oakland. Thompson, meanwhile, is recovering from a torn ACL and might not latch on with another team until the summer, but I wouldn't be surprised if the Buccaneers (who employ former Bengals DL coach Jay Hayes) show interest. Gilberry has shown an ability to play both inside and outside, and posted 14 sacks from 2012-13 as the club's third end. Given that he has garnered only 3.5 sacks over the past two seasons though, I'd expect Cincinnati to try to get younger at the position.
One point that needs to be made: I'd guess that Hue Jackson and the Browns are going to target quite a few of the Bengals' free agents. In fact, Bengals defensive coordinator Paul Guenther confirmed as much on Friday, when he told reporters that he expects the former Cincinnati offensive coordinator to go after his old players. It seems obvious, but coming from the Cincinnati system, Jackson obviously values continuity, so bringing in some free agents whom he knows well would make for a good start in Cleveland. As such, Bengals director of player personnel Duke Tobin's plan to be "proactive" when signing internal free agents needs to come to fruition.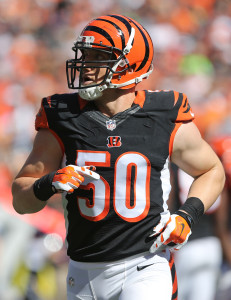 Possible Cap Casualties:
After nine seasons in Green Bay, linebacker A.J. Hawk returned to his home state of Ohio on a two-year deal, but it's doubtful that the 32-year-old will get the chance to play out the full contract. Buried on the Bengals depth chart, Hawk played on only 26.3% of the team's defensive snaps. Cincinnati can save $1.4MM without incurring any dead money by cutting Hawk, and that's probably the route they'll choose.
Kicker Mike Nugent — a high school and college teammate of Hawk — doesn't cost much in 2016, as his cap figure is just $1.55MM. However, his potential release wouldn't be financially motivated, but rather based on performance. Nugent missed five field goals last season, including three from inside 50 yards and one from inside 40 yards. Given that he also ranked 25th in kickoff touchback percentage, I'd expect the Bengals to at least bring in kicking competition, and strongly consider making a change.
A rare whiff by the Bengals' scouting department, defensive end Margus Hunt has failed to live up to his second-round billing in three seasons in Cincinnati. The 6'8″ Estonian hasn't played in more than 20% of the team's defensive snaps during any season of his career, and he was inactive for nine Cincinnati contests last season. The Bengals have seen enough of Hunt to know he isn't the answer, and I don't expect him to return (though his being waived would only save the club about $900K).
Two veteran defenders — linebacker Rey Maualuga and defensive tackle Domata Peko — are seemingly talked about as candidates for release nearly every offseason, but the pair has constantly survived on the roster, and have now been Bengals for a combined 17 years. Both players actually played pretty well in 2015 (Peko, notably, had been near the bottom of Pro Football Focus' tackle grades for years), and Cincinnati coaches are always confident the duo is in the right place at the right time.
Cutting Maualuga would save the Bengals in excess of $4MM in 2016, while releasing Peko, who is entering the final year of an extension he agreed to in 2014, would bring Cincinnati $3.25MM in cap relief. Perhaps the duo's roster spots would be in jeopardy if the club brought in younger options along the front seven, but I think each is probably safe.
Positions Of Need:
Many of the Bengals' possible areas of focus this offseason will be determined by what happens with their internal free agents, and wide receiver is the most obvious example of that cause-and-effect. If Marvin Jones and Mohamed Sanu both leave via free agency, Cincinnati's receiver depth chart behind A.J. Green would look perilously thin (and realistically, even if only one of Jones or Sanu signs elsewhere, the Bengals' receiving corps would need outside help).
Cincinnati, somewhat surprisingly, didn't use a high pick in last year's draft to address the receiver position, and with a glaring list of possible defensive holes, I once again doubt they'll sacrifice a Day 1 or 2 pick to the offensive side of the ball. So aside from re-signing their own, the Bengals' likely route for pass-catching improvement is low-cost free agent additions. One option that might make some sense is Dolphins' receiver Rishard Matthews, who not only would offer a different, more possession-based element than Green, but also has a relationship with former Miami OC Bill Lazor, who is now the Bengals' quarterbacks coach.
Quarterback, running back, and tight end are all filled positions on Cincinnati's roster, and though the Bengals used their first two picks last season on offensive lineman, it's possible that they could target interior help in the later rounds of this year's draft. Right guard Kevin Zeitler is only signed through 2016, while the one weak spot along the front five was center Russell Bodine. Finding a collegiate player late in the draft capable of playing both spots — as something of an insurance policy — wouldn't be a bad idea.
On defense, the Bengals rebounded from a ghastly 2014 in which they finished last in the league with only 20 sacks — they finished 2015 ranked 12th in adjusted sack rate. But Michael Johnson is not a prototypical pass-rushing defensive end, and with Domata Peko aging, Cincinnati needs to add an infusion of youth to its defensive line, possibly in Round 1. Louisville's Sheldon Rankins looks like a poor man's Geno Atkins, Alabama's A'Shawn Robinson could be a replacement at nose down the line, and Baylor's Andrew Billings — whom Chris Burke of Sports Illustrated has going to the Bengals in his latest mock draft — could play either nose or three-technique.
New Bengals defensive line coach Jacob Burney worked in Washington for the five years, and while I don't think any of Washington's free agent lineman would be of interest, I could see the Bengals going after Jason Hatcher if he were to be released. Cincinnati values versatility along the line, meaning Robert Ayers, George Selvie, and Tyrunn Walker are among the lineman that might intrigue the club.
If the Bengals don't use their first-round pick on a defensive lineman, I fully expect the club to select a corner on Day 1 instead. A look at Cincinnati's secondary from the past few years indicates how much it values pedigree in the defensive backfield — Leon Hall, Dre Kirkpatrick, Adam Jones, Darqueze Dennard, and former longtime Bengal Terence Newman were all first-round picks. If Florida's Vernon Hargreaves III or Ohio State's Eli Apple falls to pick No. 24, Cincinnati would run to turn in its card. More likely, they'll end up with someone like Clemson's Mackensie Alexander (the Bengals won't be scared off by his lack of height like other clubs will be).
Like wide receiver, safety is a position that could be on the Bengals' radar pending the outcome of several free agent decisions. However, I fully expect the team to re-sign at least one of Reggie Nelson or George Iloka, and as noted above, Shawn Williams can start in the NFL right now. Additionally, second-year defensive back Josh Shaw can play safety, so I don't think this is an area where Cincinnati will expend resources.
Finally, the Bengals are probably set at linebacker if Vincent Rey re-signs as expected, but Vontaze Burfict has dealt with injuries lately and will now miss the first three games of the season due to suspension, so it wouldn't hurt to bring in some depth. Zach Brown is a former second-pick with an immense amount of athleticism who never broke out with the Titans, and Cincinnati might take a chance hoping they can bring out the best in him. Keenan Robinson could also be a fit, especially given that former Washington coordinator Jim Haslett is the new Cincinnati linebackers coach.
Extension Candidates/Contract Issues: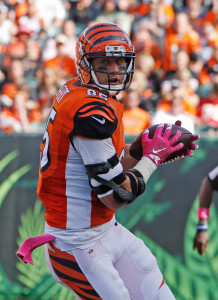 The Bengals hold a fifth-year option for 2017 for tight end Tyler Eifert, and the Notre Dame alum made it an easy call with a spectacular 2015 season during which he caught 52 passes for 615 yards and led all tight ends with 13 receiving touchdowns. The recent extensions handed out to fellow tight ends Travis Kelce and Zach Ertz should set a baseline for talks, as each received more than $8.5MM annually and between $10-15MM in guarantees. Both of those players were heading into the final year of their respective contracts, however, while Cincinnati controls Eifert for two more seasons, so perhaps the team can use that leverage to bring down the total outlay.
Like Eifert, running back Giovani Bernard was a member of the Bengals' 2013 draft class, and while he hasn't had a single standout season like Eifert's 2015, Bernard has been extremely consistent, posting roughly 700 yards rushing and 450 yards receiving during each of his first three years in the NFL. But Bernard is the type of back that often doesn't get paid much on the open market (as noted by Bill Barnwell in a 2014 Grantland article), so it might behoove the Bengals to let Bernard play out his rookie deal rather than trying to extend him now.
Dre Kirkpatrick and Kevin Zeitler will each play out the 2016 season under the terms of their fifth-year options, so the Bengals have roughly one calendar year to work out extensions with each player. As noted above, I'd expect Cincinnati to add another corner early in this year's draft, so Kirkpatrick might be the odd man out. He's been a disappointment for the most part in his four seasons with the club, and if he doesn't show marked improvement this year, the Bengals might let him walk.
Zeitler, on the other hand, has been a revelation at right guard, and graded out as the league's No. 11 guard in 2015, per Pro Football Focus. A report last April indicated that Cincinnati wanted to work out an extension with Zeitler (and Kirkpatrick for that matter) before making a decision on his fifth-year option, and while that obviously didn't happen, there's no reason a deal can't happen now. Fellow Bengals guard Clint Boling's four-year, $26MM deal could be used as a guideline in negotiations.
Overall Outlook:
It would be easy for Bengals fans to get frustrated with the club's lack of postseason success during the past five years. But Cincinnati is one of the most stable franchises in the NFL, and the club need only look north up I-71 to Cleveland to see what an organization in disrepair looks like. The Steelers are always a threat, and the Ravens may bounce back from a horrid 2015 to once again contend, but the Bengals should be the favorites in the AFC North. They probably won't spend money or make any splashy moves this offseason, but with a roster full of talent, the Bengals are among them most enviable teams in the league.
Information from Over The Cap was used in the creation of this post. Photos courtesy of USA Today Sports Images.
Follow @PFRumors