Pending free agents:
Top 15 cap hits for 2016:
Notable coaching/front office moves:
Defensive staff: LBs coach Mike Vrabel reportedly turned down offer to become 49ers' DC to stay with Texans.
Special teams coordinator: Hired Giants assistant ST coach Larry Izzo to replace Bob Ligashesky.
Draft:
Other:
Overview:
The Texans snuck into the playoffs last season, winning the AFC South with a record of 9-7 before losing to Chiefs in the Wild Card round. 2015 can be labeled a success in Houston, to be sure, but the division title has to be taken with a grain of salt, as the Colts stumbled to a 8-8 record while relying on 40-year-old Matt Hasselbeck, and the Jaguars and Titans were still in the midst of rebuilding (each own top-five picks in the 2016 draft).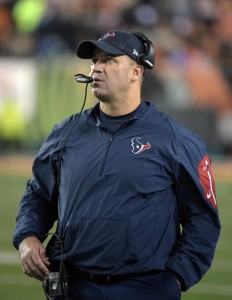 It was a tale of two halves in Houston, and the club's postseason berth can be tied to its improved level of play — at least, on the defensive side of the ball — after the bye week in early November. The Texans defense allowed just 270 yards per game from Week 10, as opposed to 350 yards per contest before the break. The numbers improved in each phase of the game, as the club's passing yards allowed per game dropped from 231 to 193 after the bye, and its rushing yards allowed per game dropped from 104 to just 76. During the season's final three games (all Houston victories), the Texans gave up just 112 (!) total yards on the ground.
The club was least successful on offense, thanks in part to injuries suffered by star running back Arian Foster — the 29-year-old sustained a groin injury in training camp that caused him to miss the first three weeks of the season, and he played in just four games before tearing his Achilles. We'll get into Foster's long-term status with the Texans a bit later, but his absence was certainly felt throughout the season.
Houston's passing game was pretty ineffective all season (22nd in DVOA), but Brian Hoyer was actually competent, posting career-highs in completion percentage and passing touchdowns. He only started nine games, however, due both to injury and head coach Bill O'Brien's waffling between Hoyer and Ryan Mallett, and both T.J. Yates and Brandon Weeden were forced to make starts.
The Texans' roster boasts legitimate stars in J.J. Watt and DeAndre Hopkins, above-average players like Duane Brown and Kareem Jackson, and intriguing youth at important positions in Jadeveon Clowney and Kevin Johnson. The core is certainly there, but can Houston find its long-term signal-caller?
Key Free Agents:
The three most important Texans free agents play on the line, and two of them — guard Brandon Brooks and center Ben Jones — take their stances on the offensive side of the ball. Of the pair, Jones is probably more likely to return in 2016. In his first season transitioning from guard to center, Jones acquitted himself well, grading as the 18th-best at his position, per Pro Football Focus. Jones is the best available free agent center, however, so the Texans might face competition for his services if they aren't able to re-sign him before March 9.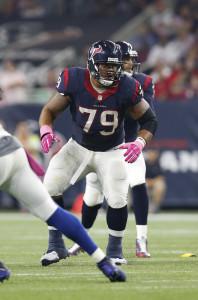 Brooks, meanwhile, will certainly attract other suitors around the league, as Aaron Wilson of the Houston Chronicle reported earlier this month that Brooks will be in "heavy demand" if he reaches free agency. Brooks, 26, has been a stalwart at right guard during the past three years, starting 44 games during that period. He should be able to land a four-year deal on the open market.
The third key free agent lineman is a defender, defensive end Jared Crick. The 26-year-old Crick has started all but one game for Houston over the past two seasons, lining up at end opposite J.J. Watt. He has expressed his desire to remain with the Texans, but if he's looking for a big payday in his first trip to free agency, he's unlikely to find it. Not only would Houston likely balk at paying two defensive lineman hefty salaries, but Crick simply isn't in the same class as other 3-4 ends like Mike Daniels or Cameron Heyward.
Elsewhere on defense, safety Quintin Demps was a surprise contributor, starting 13 games despite not being signed until August. He wasn't great, but he was solid in the back end, and though he's entering his age-31 season, I wouldn't be shocked if Houston brought Demps back on a low-cost deal, especially if they don't plan on spending capital on safety in either the draft or free agency.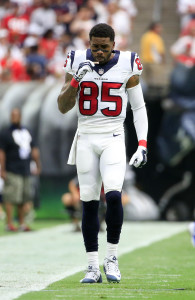 Like Demps, Nate Washington offered more in 2015 than most expected, posting 47 receptions and four touchdowns while starting 14 games. But the Texans need to add a more accomplished (and younger) wideout to compliment DeAndre Hopkins, something I've outlined below. At 32 years old, Washington may not have a place on a contending team's roster.
As part of the cavalry that filled in for Arian Foster, Chris Polk played in 22.5% of Houston's offensive snaps, but averaged just 3.4 yards per carry on the ground. Polk was hyped as something of a passing game specialist, and though he did manage 16 receptions, I expect the Texans to move on, and go forth with Alfred Blue and either a draft pick or a free agent addition.
Chris Clark filled in at left tackle during Duane Brown's absence, and started four games in total along the offensive line. He'd make a fine swing tackle for another season in 2016, but the Texans shouldn't overpay to keep him. If another team wants to offer more money to make Clark their starting right tackle, Houston should let him leave.
Shane Lechler finished just 26th in net punting average, and was in the bottom half of the league in dropping punts inside the opponents' 20-yard line. The veteran punter will be 40 years old when the season starts, and the Texans might need to look elsewhere. The same might hold true at kicker — Nick Novak only missed three kicks (all from 50+ yards), but he did also fail to convert two extra point attempts. Houston also finished 29th in kickoff touchback percentage, so perhaps the club can find a kicker with a more powerful leg.
Possible Cap Casualties:
The most obvious candidate for release on the Texans roster is running back Arian Foster, who, as noted above, missed all but four games last season after suffering multiple injuries. He'll be 30 years old when the season begins, and he has averaged just eight games played over the past three years. Due to count almost $9MM against the cap in 2016, Foster is likely to be cut — saving Houston about $6.6MM — or at the very least, restructured. Owner Bob McNair said last month that the club would like to see how Foster progresses from his Achilles injury before making a decision.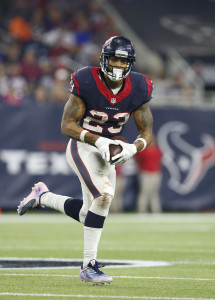 Houston's hunt for a quarterback is covered in detail in the next section, but the status of incumbent signal-caller Brian Hoyer is very much up in the air. Ultimately, Hoyer is more than capable as a backup QB, and his ~$4.89MM salary is right in line with Jaguars signal-caller Chad Henne, another recently-signed reserve quarterback. Whether he's competing for the starting job again next year, or relegated to backup duty, Hoyer's cap charge is palatable.
Two players making decent money — tight end Garrett Graham and safety Rahim Moore — were effectively written out of the Texans' game plan down the stretch, as each was a healthy scratch for much of the second half of the season. Houston will almost certainly cut both, saving nearly $7MM in the process.
Finally, linebacker Brian Cushing could be in danger of being released, or at least being asked to accept a pay cut. Owner of the third-highest 2016 cap number of the Texans roster, Cushing graded as just the 70th-best linebacker among 97 qualifiers, per Pro Football Focus. The 29-year-old Cushing would probably have to be designated as a post-June 1 cut, which would save Houston $6.25MM next season.
Positions Of Need:
One question is likely on the mind of every Texans fan: Where could this club have gone with an above-average starting quarterback? Finding a franchise signal-caller is item No. 1 on the team's offseason docket, and until the Texans find such a passer, their upside — despite their dominant defense — is limited.
Texans owner Bob McNair indicated earlier this month that his team would seek a quarterback upgrade, and heavily implied that such addition would come through the draft. At pick No. 22, Houston is unlikely to be in a position to select either of the two top QBs in this year's draft class, Cal's Jared Goff or North Dakota State's Carson Wentz. But using the classic NFL trade value chart, we can see the approximate costs if the Texans wanted to move up (I used mid-round values for future years, so 16th and 48th overall in the first and second rounds, respectively):

Each package listed is steep, to be sure, but the prices generated by the value chart might be shortchanging what the Texans would have to give up. The theoretical Titans haul, you'll notice, is identical to what the Rams received from Washington in 2012 — and that deal was only allowing Washington to move from No. 6 to No. 2, as opposed to Houston's hypothetical 21-spot jump.
Still, that Rams/Washington trade is largely though of as overpay (especially considering how Robert Griffin III's career panned out), and the wider point stands: it would take quite a slew of draft picks to convince one of the Titans, Browns, or Chargers to move down. So if the Texans are forced to wait until pick No. 22 — or a later round — to select a quarterback, they may have to settle for Memphis' Paxton Lynch (if they're lucky), Michigan State's Connor Cook, or Penn State's Christian Hackenberg (a former charge of Bill O'Brien).
Of course, the draft isn't the only avenue the Texans might take in the search for a quarterback, as free agency is an option, too. No club is ever likely to find an elite option on the open market, but there are some competent starters who will be available, starting with the Eagles' Sam Bradford. Bradford is not expected to see the franchise tag in Philadelphia, but he will still probably command $18MM annually; with more than $32MM in projected cap space, Houston could make that figure work.
Elsewhere in free agency, the Texans could make a play to reunite with Ryan Fitzpatrick, but he's widely expected to stay in New York. The Broncos, meanwhile, are expected to use their franchise tag on linebacker Von Miller, meaning Brock Osweiler could be available for the taking. Osweiler is said to be comfortable in Denver and likely wants to stay there, but Houston could try to change his mind with a hefty contract.
In exhausting all options, Houston might also look to the trade market to find a new QB. The best choice via that route is probably Colin Kaepernick, who is known to want out of San Francisco, but the Jets' Geno Smith is also thought to be a trade candidate. Other available quarterbacks — of varying trade cost — might be A.J. McCarron, Zach Mettenberger, and Mike Glennon (who is perpetually not on the trade block).
Finally, at least one reporter — in this case, Tania Ganguli of ESPN.com — believes 2014 fourth-round pick Tom Savage could be fighting for the Texans' starting job. The ESPN scribe opines that Savage could fight it out with a yet-to-determined rookie for the starting job, with the loser falling to third on the depth chart, and Brian Hoyer sticking around as the No. 2.
While quarterback is an obvious area of need on the Texans' roster, many of their other potential areas of focus could depend on decisions the club has yet to make. At running back, for example, the release of Arian Foster would create a large hole in the backfield, one that could be filled either by a mid-round draft pick, or by signing a bell-cow like Chris Ivory or Doug Martin. I don't see the Texans investing enough at running back to lure a big-name free agent, so perhaps drafting a back and pairing him with a lower-cost signing (Bilal Powell? James Starks?) could be one way to go.
Similarly, the offensive line is set at three spots with Duane Brown, Derek Newton, and Xavier Su'a-Filo, but center and right guard are up in the air pending the outcome of Ben Jones and Brandon Brooks' free agency. If the Texans do need to bring in reinforcements, one option might be the Patriots' Marcus Cannon, who is thought to be a candidate for release in New England. The 27-year-old Cannon, who played under O'Brien with the Pats, has spent a decent chunk of time at tackle, but can also play guard, so he could act as a valuable reserve who could be pressed into starting duty if need be. Another low-cost option at guard could be Willie Colon, a free agent who spent time under offensive line coach Mike Devlin with the Jets.
Another point of concern on Houston's offense is at wide receiver — while Cecil Shorts and Nate Washington were actually pretty productive behind DeAndre Hopkins, the veterans are 28 and 32 years old, respectively, so the Texans might want to get a bit younger. New receivers coach Sean Ryan comes to the club from the Giants, so it's logical to connect the Texans to Rueben Randle (who is a young free agent at just 24). I also think this is a spot where Houston could use an early draft pick, and they also have last year's third-round pick Jaelen Strong waiting in the wings.
On defense, the only area that could obviously use improvement is safety, where each of the four players who saw significant time there — Andre Hal, Quintin Demps, Rahim Moore, and Eddie Pleasant — posted middling Pro Football Focus marks (all graded between Nos. 47 and 66 among 88 qualifiers). Hal, a former seventh-round pick, looks to be a find, but Houston could probably aim for another contributor at the position. Eric Berry would certainly be a nice addition — and has experience playing under defensive coordinator Romeo Crennel — but he's likely to stay in Kansas City. Luckily, the safety market is flush with free agents, so Rodney McLeod or Tashaun Gipson could be options if Houston wants to spend at the top of the market, as could Isa Abdul-Quddus or Dwight Lowery if it doesn't.
Lastly, the Texans might need a replacement for defensive end Jared Crick if he leaves via free agency. Simply by connecting coaching dots, free agent Randy Starks — experienced with line coach Anthony Weaver — could make sense as a successor. And on special teams, the recently-released Andy Studebaker, who was a special-teams stalwart and reserve linebacker under Crennel (and alongside Houston coach Mike Vrabel), might come on the cheap.
Extension Candidates/Contract Issues:
A no-brainer if there ever was one, the Texans will exercise their fifth-year option on receiver DeAndre Hopkins, ensuring that he'll remain in Houston through at least 2017. He's now eligible for an extension, and after a season in which he ranked second in both receptions and receiving yards, and scored 11 touchdowns, Hopkins is set up to ask for the moon.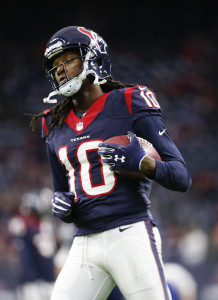 Calvin Johnson's $16MM+ annual rate probably won't be topped any time soon, but Hopkins has every right to ask for A.J. Green's $15MM per year figure. And while Green only garnered a four-year term, and thus a lower guarantee, Hopkins figures to ask for five years and more than $35MM guaranteed, on par with Julio Jones, Dez Bryant, and Demaryius Thomas. Hopkins has made it clear he'd like to be a Texan for life, so perhaps negotiations won't be too difficult.
Outside of Hopkins, the 2013 draft was largely a failure for the Texans, so most of the other extension-eligible players from that class either aren't on the roster anymore or aren't worth extending. The only exception might be tight end Ryan Griffin, who was selected in the seventh round of that draft. He has overtaken Garrett Graham on the depth chart, and if Bill O'Brien feels that Griffin is a good fit for his offense, now could be a good time to look at a long-term deal.
Overall Outlook:
If the Texans don't find a long-term answer at quarterback, any other move they make this offseason is essentially moot. Yes, Houston won the division last season, and even without a QB upgrade, they should be competitive again. But with Andrew Luck expected back with the Colts at full strength, the path to the AFC South title will get a lot more challenging. The Texans have other items on their to-do list — make a decision on Arian Foster, extend DeAndre Hopkins, find a legitimate No. 2 wideout — but the search for a top-flight signal-caller should take precedence over all else.
Information from Over The Cap was used in the creation of this post. Photos courtesy of USA Today Sports Images.
Follow @PFRumors