Pending free agents:
Top 15 cap hits for 2016:
Jared Odrick, DE: $8,000,000
Julius Thomas, TE: $7,300,000
Luke Joeckel, T: $6,745,963
Jermey Parnell, T: $6,500,000
Davon House, CB: $6,000,000
Blake Bortles, QB: $5,633,128
Zane Beadles, G: $5,500,000
Dante Fowler Jr., DE: $5,338,691
Sen'Derrick Marks, DT: $4,675,000
Paul Posluszny, LB: $4,604,166
Chris Clemons, DE: $4,000,000
Roy Miller, DT: $3,975,000
Dan Skuta, ILB: $3,600,000
Toby Gerhart, RB: $3,500,000
Tyson Alualu, DL: $3,000,000
Notable coaching/front office changes:
Draft:
No. 5 overall pick
Acquired sixth-round pick from Steelers in deal for K Josh Scobee.
Other:
Overview:
During a season in which it seemed like no AFC South team wanted to win the division, the Jaguars hung around for most of the year — with three weeks left in the 2015 campaign, Jacksonville was 5-8, just a single game behind the 6-7 Texans and Colts. Houston won its final three contests, while the Jags lost their final three, so the final AFC South standings show 11 losses and another third-place finish for Jacksonville. However, the team took some promising steps forward.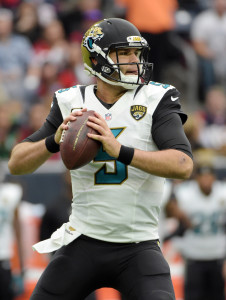 On the offensive side of the ball, 2014 first-rounder Blake Bortles showed that he may just be capable of being the Jaguars' long-time answer at quarterback. In his sophomore year, Bortles racked up 4,428 yards and 35 touchdowns. Of course, he also led the NFL in interceptions and sacks, so it's probably a little early to be penciling him into the Hall of Fame, but there's some reason for optimism for the former third overall pick going forward.
While the Jaguars made strides on offense, the defense continued to struggle. 2015 first-rounder Dante Fowler Jr. didn't play a single snap in the preseason or regular season during his rookie year, having torn his ACL on the first day of rookie minicamp. With Fowler on the way back, and the Jags expected to make additional moves this offseason to shore up the defense, head coach Gus Bradley earned another shot to turn around the club's fortunes in 2016.
Although the Jags extended Bradley's contract through 2017, that was mostly a ceremonial move, meant to avoid having him enter a lame-duck season. If he's unable to get the team into playoff contention, or at least to .500, Caldwell likely won't finish out that contract in '17. So it's a crucial offseason for general manager Dave Caldwell, who will also be on the hot seat if the Jaguars don't make further progress on the field this fall.
Key Free Agents:
Fortunately for the Jaguars, none of the team's key players are eligible for free agency. In fact, there are no free-agents-to-be that would leave the club with a huge hole if they departed this winter. Jacksonville heads into March with such a huge chunk of cap room that the team shouldn't have a problem re-signing anyone it wants to though, even if it has to overpay by $1MM or $2MM to make it happen.
Veteran center Stefen Wisniewski is one player the Jaguars figure to explore bringing back if the price is right. Wisniewski was the full-time starting center in Jacksonville in 2015 and was adequate, particularly as a pass blocker. Considering Bortles has been sacked more than 100 times in his first two NFL seasons, the Jaguars ought to be aiming for more than "adequate" along the offensive line this offseason, but if the team can't bring aboard an impact center, there's nothing wrong with re-signing Wisniewski, who is at least familiar with the system now.
Marcedes Lewis took a pay cut last year to remain with the Jaguars, and even though he led the team's tight ends in offensive snaps in 2015, his role in the offense continued to diminish. Despite not missing a game, Lewis grabbed just 16 balls for 226 yards and a touchdown, making it his least productive season since his rookie year. Unless the Jaguars highly value Lewis' blocking abilities and he's willing to further decrease his salary, the two sides could go their separate ways this offseason, with the Jags seeking out a blocking specialist to complement Julius Thomas.
Many teams wouldn't consider a punter one of their top free agent priorities of the winter, but considering Jacksonville used a third-round pick on Bryan Anger back in 2012, the team will likely try to get him locked up to a new deal. Veteran quarterback Chad Henne could also be re-signed, if he's comfortable continuing to back up Bortles. Assuming the Jaguars like the work Henne has done as a veteran mentor for Bortles in his first two years, they'll probably be willing to continue paying him like one of the league's top No. 2 QBs.
The Jaguars' restricted free agents, Ryan Davis and Abry Jones, will likely continue to be part-time players on the defensive line, so assigning them low-end RFA tenders makes sense, especially since those salaries aren't fully guaranteed.
Possible Cap Casualties:
As one of two NFL teams below the spending floor heading into the 2016 season, the Jaguars don't really need to cut any players, particularly given their incredible amount of cap room.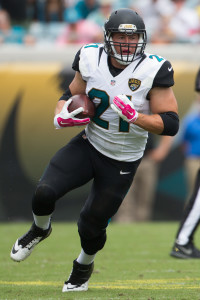 However, that doesn't mean the team should simply hang onto well-compensated players who won't necessarily earn those salaries.
Running back Toby Gerhart has carried the ball just 121 times since signing with the Jaguars as a free agent two years ago, and with T.J. Yeldon and Denard Robinson solidly in the mix, Gerhart likely won't have much of a role going forward. The team could clear his entire $3.5MM cap charge from its books by cutting him this offseason.
On the defensive side of the ball, Chris Clemons and Dan Skuta are in a similar boat to Gerhart — neither player has any dead money left on his deal, so the Jaguars could create $4MM and $3.6MM in respective cap savings by releasing them. Clemons will turn 35 in October and wasn't productive in 2015. His three sacks were his lowest total since he became a starter in 2010, and Pro Football Focus ranked him dead last among 110 qualified edge defenders.
As for Skuta, he was a little more effective, especially against the run, and it wouldn't surprise me to see the Jaguars hang onto him, since $3.6MM isn't an exorbitant cap hit, particularly for a team with so much flexibility. But he didn't play a ton of snaps in his first year in Jacksonville, and if the club adds linebacker depth that further marginalizes Skuta, he could become a cap casualty.
Positions Of Need:
Bortles had plenty of weapons at his disposal in 2015, with Allen Robinson and Allen Hurns both racking up 1,000-yard seasons, while Thomas and Yeldon caught their share of balls as well. The club could use a blocking tight end, and it wouldn't be a bad idea to add a receiving back — Yeldon did well as a pass-catcher out of the backfield in his rookie season, but a dedicated third-down back capable of bailing out Bortles would be a nice addition. Lance Dunbar might be a good fit in free agency.
The majority of the Jaguars' offensive upgrades should happen along the offensive line rather than at the skill positions. On paper, the offensive line doesn't look bad. At tackle, Luke Joeckel was the second overall pick in the 2013 draft, and Jermey Parnell was a significant free agent investment a year ago. At guard, A.J. Cann was a day-two pick in 2015, and Zane Beadles was the team's big free agent addition on the line two years ago. Wisniewski, who is facing free agency, was solid, if not spectacular, during his first season with the Jags.
Still, Beadles and Parnell haven't played quite as well as the Jaguars were hoping for when they rewarded them with nice paydays. Joeckel, meanwhile, isn't the kind of stalwart left tackle you'd expect to land with a top-two pick. Even if the Jags plan to keep their 2015 starters around, the club should look to bring in at least one or two more viable options to challenge those incumbent starters.
One option, with Wisniewski a few weeks away from reaching the open market, could be Browns center Alex Mack. Though he's technically not a free agent yet, Mack can opt out of his contract, a fact that the Jaguars know very well — it was Jacksonville that included that opt-out clause in the offer sheet Mack signed with the club two years ago. If he opts out, Mack will be an unrestricted free agent, so the Browns won't have the option of matching Jacksonville's offer this time around.
Another potential target in free agency could be Seahawks left tackle Russell Okung. Before becoming the head coach in Jacksonville, Gus Bradley saw first-hand as an assistant in Seattle what Okung was capable of, and the veteran lineman – who is representing himself – appears interested in testing the open market, having emailed all 32 teams recently about his potential availability.
Although the Jaguars could look to shore up their offensive line, most of their work in free agency and the draft figures to focus on the defensive side of the ball. Fowler's debut will help improve the pass rush, but that's still an area the club should look to improve. One free agent that should be of particular interest to the Jags is Seahawks linebacker Bruce Irvin, who was a first-round pick in 2012, Bradley's final year as Seattle's defensive coordinator. Irvin recorded eight sacks in his rookie year under Bradley, a number he hasn't matched or exceeded since, and would be a nice fit in Jacksonville.
In the secondary, the Jaguars added Davon House a year ago, but still lack any real impact defensive backs, making the position group a top priority this winter. Armed with a ton of cap space and a pressing need in the secondary, the Jaguars can afford to be significant players on the top defensive backs available.
At cornerback, that means perhaps targeting players like Sean Smith and Janoris Jenkins, assuming Josh Norman is franchised or re-signed by the Panthers. If the Jags feel like going after another ex-Packer, Casey Hayward is another worthwhile option. At safety, Eric Weddle, Tashaun Gipson, Rodney McLeod, Walter Thurmond, and others might be among Jacksonville's targets.
Considering the team potentially needs to add two or three starting defensive backs, it would make sense to use the fifth overall pick on cornerback Jalen Ramsey, if he's available. ESPN's Mel Kiper and Todd McShay both have Ramsey going to the Jags in their latest mock drafts, citing his athleticism and his ability to play either cornerback or safety as reasons why he's worthy of being a top-five pick this spring. Heading into the 2016 season with Fowler rushing the passer and Ramsey roaming the secondary wouldn't entirely fix Jacksonville's defense, but it would be a great start.
Extension Candidates/Contract Issues:
While the Jaguars will have to spend some money within the next 12 months or so to reach the 89% floor for NFL teams, that doesn't mean the team has to go crazy in free agency this year. Teams don't have to reach that spending floor until March 2017, so extensions for players like Bortles and Robinson could factor into the equation. Of course, as members of the 2014 draft class, those players aren't eligible for new contracts until next winter, so the Jags won't be focusing on those extensions quite yet.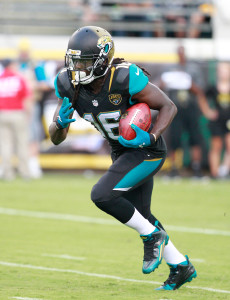 The Jaguars' 2013 draftees are eligible for extensions immediately, but that year's draft class wasn't exactly a strong one for the team. Joeckel probably hasn't earned a big-money deal, and second-round safety Johnathan Cyprien ranked as Pro Football Focus' second-worst safety out of 88 qualified players this past season. A mid-round pick like Denard Robinson could sign an extension this winter, but as a part-time running back, he'd be in line for a pretty modest second contract.
As for contracts that could be restructured, Zane Beadles' deal jumps out as an obvious candidate. His performance in his first two seasons in Jacksonville has been underwhelming, and now that he has no dead money left on his contract, the Jags have some leverage to ask him to take a pay cut in exchange for keeping his roster spot and getting some guaranteed money up front. If he refuses, the Jaguars have the cap flexibility to cut him and simply add guard to the list of positions they'll be looking to upgrade in free agency.
The Jaguars' huge amount of cap space and lack of immediate extension candidates really puts the team in a strong position heading into the 2016 offseason. Obviously, the club doesn't want to hand out a bunch of extravagant contracts this winter and put itself in a position where it can't afford to pay players like Bortles, Robinson, Hurns, and Fowler down the line. However, those players are still so far away from breaking the bank that the Jaguars can afford to roll the dice on several free agents this winter, structuring those contracts in such a way that by the time Bortles and others start getting expensive, this winter's signees can be cut or restructured at a minimal cost, if necessary.
It's what we saw the team do last year with players like House, Skuta, and Parnell, and while none of those players really had the sort of breakout season the Jags were hoping for, the team still has so much flexibility that it could try its luck on another round of potential impact players this year.
Overall Outlook:
The Jaguars haven't made the postseason since 2007, and their 14 combined wins over the last four years were fewer than the 2015 Panthers put up in one year. Still, this looks like it could be a team on the rise. With Bortles continuing to develop, another top-five pick debuting along with Fowler this season, and a truckload of cap room for the Jags to make a splash or two in free agency, fans in Jacksonville can start to glimpse the light at the end of the tunnel. If they can make a few savvy moves this offseason, there's no reason to think that the Jags can't be a potential dark-horse playoff contender in 2016.
Information from Over The Cap was used in the creation of this post. Photo courtesy of USA Today Sports Images.
Follow @PFRumors