Pending free agents:
Alvin Bailey, T (RFA)
Bryce Brown, RB
Marcus Burley, CB (ERFA)
Chase Coffman, TE
Derrick Coleman, FB (RFA)
Demarcus Dobbs, DE
A.J. Francis, DT (ERFA)
Cooper Helfet, TE (ERFA)
Bruce Irvin, OLB
Fred Jackson, RB
Tarvaris Jackson, QB
Jermaine Kearse, WR
Jeremy Lane, CB
Patrick Lewis, C (RFA)
Ricardo Lockette, WR (RFA)
Anthony McCoy, TE
Brandon Mebane, DT
Christine Michael, RB (RFA)
Nick Moody, OLB (RFA)
Mike Morgan, OLB
Eric Pinkins, S (ERFA)
Ahtyba Rubin, DT
Jon Ryan, P
Mohammed Seisay, CB (ERFA)
DeShawn Shead, S (ERFA)
J.R. Sweezy, G
Steven Terrell, S (ERFA)
Will Tukuafu, FB
Jesse Williams, DT (ERFA)
Top 15 cap hits for 2016:
Notable coaching/front office moves:
Draft:
Other:
Overview:
The 2015-16 campaign represented a step back in bottom-line results for the Seahawks, who won the fewest regular-season games of the four-year Russell Wilson era (10) and were unable to extend their streak of consecutive Super Bowl appearances to three.
Still, the Seahawks clinched a wild-card berth and made the playoffs for the fourth straight time — an accomplishment only four other clubs have matched during the same span. They also racked up top-five finishes in total offense, defense and point differential, and ranked first in Football Outsiders' regular-season DVOA metric. Add all of that up, and it doesn't look as if the Seahawks' championship window closed when the NFC-winning Panthers ended their season in the divisional round.
On the other hand, the window apparently has closed on the 10-year career of running back Marshawn Lynch, one of the best, most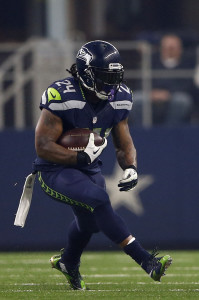 iconic players in Seahawks history. Lynch and his agent have both made it known that he's retiring, and general manager John Schneider spoke in the past tense about "Beast Mode" on Wednesday (link via The Seattle Times' Bob Condotta).
"When you talk about when we got here (in 2010) it was all about establishing this toughness, this bully mentality with our acquisition, and he really helped us do that — on the defensive side of the ball, too — it wasn't just about how he ran the football," Schneider said.
Originally acquired from Buffalo for pennies on the dollar (two late-round draft picks), Lynch made four Pro Bowls in Seattle and was the driving force behind its offense for most of his five-plus-year career there. In each of his four 16-game seasons as a Seahawk, Lynch finished with at least 280 carries, 1,200 yards and 11 rushing touchdowns. The 29-year-old went out with a whimper, though, as injuries limited him to career lows in games (seven), carries (111), ground yards (417) and per-rush average (3.8) last season.
In hindsight, it's possible Lynch's anticlimactic going-out party was a blessing in disguise for the Seahawks, who are now accustomed to life without him and may have found an excellent successor in Thomas Rawls. As a rookie last season, the undrafted free agent from Central Michigan burst on the scene with 830 rushing yards on a sterling 5.6 YPC average. However, Rawls succumbed to a fractured ankle in December and Schneider indicated Wednesday that the soon-to-be 23-year-old will have to earn a starting job in 2016.
"He definitely has the talent to do it," said Schneider. "But we're going to get a couple of people in there to compete with him."
Running back is one of several positions Schneider will focus on this offseason as he tries to improve the already formidable Seahawks. And once Lynch is officially in the club's rear-view mirror, Schneider will have an extra $6.5MM with which to work.
Key Free Agents:
The Seahawks are chock-full of unsigned players (31), but 14 of those individuals are either exclusive rights free agents or restricted free agents. That means the team isn't necessarily in danger of losing any of them (the ERFAs will automatically stay under team control if they're tendered an offer). However, the same isn't true in regards to the Seahawks' pending unrestricted free agents, several of whom have played important roles for the club in recent years and could be weeks from finding new homes. Left tackle Russell Okung and linebacker Bruce Irvin are the most integral of the bunch.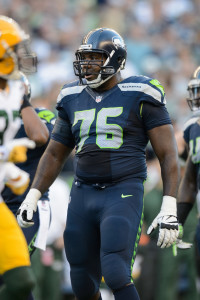 Since the Seahawks drafted him sixth overall in 2010, Okung has started in all 72 of his career regular-season appearances and earned a Pro Bowl berth (2012). The problem is that injuries have caused the 28-year-old to miss a quarter (24) of 96 possible contests. He also hasn't played a full 16-game season and is currently on the mend from recent left shoulder surgery. Okung has been effective when healthy, though, and is aiming to cash in as one of the top tackles in this year's free agent class.
Okung, who is acting as his own agent, called staying in Seattle "very possible" earlier this week, but he added, "I know my value, and I'm not going to settle for anything less than that." As neither an elite tackle nor a durable one, Okung probably isn't in line for the $13.706MM franchise tag. That means a multiyear deal is likely the only way for Seattle to keep Okung, whose next contract shouldn't greatly exceed his expiring one.
Okung entered the league before the rookie cap was in place and signed for $48.5MM total, netting just over $8MM per year. Those marks currently rank seventh and 11th, respectively, among left tackles. A reasonable benchmark for Okung's next accord could be the five-year agreement Branden Albert inked with the Dolphins as a free agent in 2014. Albert is now a top-10 left tackle in total value ($47MM, eighth), yearly value ($9.4MM, ninth) and guaranteed money ($20MM, seventh). Of course, with the cap having risen more than $22MM since Albert signed, there's a chance Okung will surpass those marks.
Irvin, meanwhile, is only scheduled for free agency because the Seahawks chose last spring to decline his fifth-year option for 2016. Had they exercised it, Irvin would have made $7.8MM this year. The Seahawks' decision initially upset Irvin, who went on a Twitter tirade, though head coach Pete Carroll's response was, "We expect him to be here for a long time and we will work to get that done" (link via Sheil Kapadia of ESPN.com).
Despite Carroll's confidence then and Irvin's declaration in January that he'd be amenable to a hometown discount, there hasn't been any known progress toward a new deal. Assuming the Seahawks don't franchise Irvin at $14.129MM, he could find as much as $10MM annually on the market, as Mike Florio of Pro Football Talk reported earlier this month. For his part, Schneider seems resigned to the departure of Irvin, who has recorded 22 sacks in four years since Seattle selected him 15th overall in 2012.
"I love Bruce… but it really, truly is a big puzzle that we have to work through," Schneider said last week (per Kapadia). "And I've met with Bruce individually. He knows how we feel about him as an organization. He knows that we're either going to be able to make it work or we're just going to give him a big hug and congratulate him."
In addition to Irvin, the Seahawks' front seven is in danger of losing defensive tackles Brandon Mebane and Ahtyba Rubin, who finished third and fourth, respectively, among the team's D-linemen in snaps last season. The two also started in all of their appearances (16 for Rubin, 15 for Mebane), but neither garnered much praise from Pro Football Focus – the site graded Mebane 70th and Rubin 80th among 123 qualifying D-linemen. It's worth nothing, however, that the pair played mostly run snaps and the Seahawks' defense surrendered the fewest rushing yards in the league.
If the Seahawks don't re-sign Mebane, it would end his tenure with the team after nine years. The 2007 third-round pick is coming off a five-year, $25MM deal, but he's highly unlikely to approach either of those numbers on his next contract as he enters his age-31 season. Rubin, on the other hand, signed with Seattle for $2.5MM last winter after seven years in Cleveland. Another short-term deal in that price range could keep the soon-to-be 30-year-old in Seattle.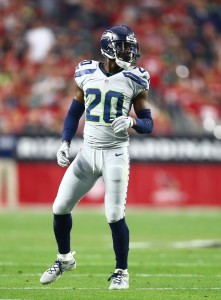 The Seahawks' only other noteworthy UFA defender is cornerback Jeremy Lane, who sat out the club's first 10 games last season after breaking his arm and tearing his ACL on a Super Bowl XLIX interception. Lane also missed nine games in 2014 and has accumulated a mere six starts in four years. Still, he recorded the first two regular-season INTs of his career and ranked 51st out of 111 qualifying corners at PFF last year, and will be a strong candidate to start opposite Richard Sherman if he stays with the Seahawks. Lane, 25, is hoping to do exactly that.
"If the situation was right, I would love to go back to the Seahawks," he told SiriusXM earlier this month (link via Stephen Cohen of the Seattle Post-Intelligencer). "They were the team to give me my first opportunity to showcase my skills in the NFL, and I appreciate them. They would be my No. 1 choice I would go to if they were the right choice for me and my family."
On the other side of the ball, receiver Jermaine Kearse could finally exit his native Evergreen State, in which he played college football (University of Washington) and has spent the first four years of his pro career. Kearse — whom the Seahawks signed as an undrafted free agent in 2012 — has increased his production each year, notching personal bests in catches (49), targets (68), yards (685) and touchdowns (five) last season. Kearse indicated in January that his top priority is securing his family's financial future, not settling for a hometown discount. With that in mind, Kearse might be able take advantage of a thin pool of free agent wideouts and ultimately price himself out of Seattle. It's quite possible he'll land a deal in the neighborhood of $4MM to $5MM a year.
Like Kearse, right guard J.R. Sweezy became a Seahawk in 2012 (as a seventh-round pick) and is now inching closer to hitting the open market. Sweezy has appeared in and started 45 games over the last three years, including 15 last season. Although PFF wasn't impressed with Sweezy's contract-year performance, ranking him 66th out of 81 qualifying guards, Rand Getlin of NFL Network tweeted earlier this month that there's "plenty of buzz" around Sweezy as free agency nears. Sweezy could use the four-year, $19MM deal that ex-Seahawks guard James Carpenter got in free agency from the Jets last year as a yardstick, according to CBS Sports' Joel Corry.
The rest of the Seahawks' free agents are role players and/or RFAs, including center Patrick Lewis, backup quarterback Tarvaris Jackson, offensive lineman Alvin Bailey, reserve running backs Christine Michael and Fred Jackson, fullback Derrick Coleman, linebacker Mike Morgan and punter Jon Ryan.
As RFAs, Lewis, Bailey and Michael seem the likeliest to stay in Seattle. Lewis, who took the center job from Drew Nowak midway through last season and ultimately started in all nine of his appearances, is presumably in the Seahawks' plans going forward.
Bailey appeared to expressed frustration with his situation in October, but with Okung and Sweezy possibly on the outs, odds are the team will tender him a contract.
Carroll said in January he'd like for the Seahawks to bring back Michael, whom they traded to Dallas last September and then signed late in the season after the Cowboys waived him. In his second stint as a Seahawk, Michael averaged 4.9 yards per carry on 39 attempts. Given Michael's familiarity with the Seahawks' offense and his solid performance with the club in 17 career games, it would make sense for them to tender the 25-year-old and give him an opportunity to keep his job behind Rawls.
Tarvaris Jackson, 32, has spent most of the last half-decade with the Seahawks, but he'll test the market, per Jessamyn McIntyre of 710 ESPN Seattle (Twitter link).
It will be a surprise if the Seahawks re-sign Fred Jackson, the oldest running back in the league (35), after he amassed only 26 carries in 16 games last season. Jackson does want to continue his career, though, according to Ian Rapoport of NFL.com (Twitter link).
Coleman, who's restricted, isn't a lock to get a tender considering the legal issues he's facing stemming from an October car accident. Coleman mostly played on special teams last season, as did Morgan – who was third on the team in ST snaps (284). Morgan is unrestricted, but he shouldn't be difficult to retain if the Seahawks want him back.
Ryan, the Seahawks' punter since 2008, has been mediocre to below average in yards per punt and net average in recent years, so that's a position the club could try to upgrade.
Possible Cap Casualties:
Unless Lynch has a change of heart on his retirement, the Seahawks are devoid of players they're likely to release for cap reasons. If Lynch does a 180 and decides to keep playing, the Seahawks might not be receptive to keeping him. As mentioned earlier, they'll open up $6.5MM without Lynch in the picture. If they were to designate him a post- June 1 cut, they'd save $9MM.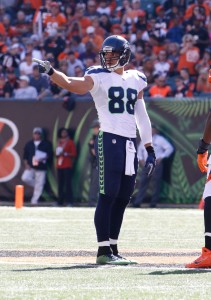 Releasing three-time Pro Bowl tight end Jimmy Graham would also clear $9MM, whether before or after June 1, but Schneider has no intention of doing it.
"No, I don't, I really don't," he told 950 KJR-AM in January (per Kapadia). "I understand why people would say that based on the salary and what some people have … people on the outside may perceive as a lack of production. But really, truly, the guy is a special player. We gave up a No. 1 draft choice for him."
In addition to sending a first-rounder to the Saints for Graham last winter, the Seahawks also parted with center Max Unger. Graham then had an underwhelming season in Seattle, catching 48 passes and two touchdowns in 11 games, before suffering a torn patellar tendon in November. The 29-year-old is currently recovering from the injury, and Schneider is encouraged by his progress.
"Jimmy is doing great," Schneider said last Wednesday. "He's down in Miami working with some people down there, and he's doing great. He's got a great attitude about it. Obviously it was a devastating injury for us at the time, but he's a great guy, got a great attitude about it, and he's ready to get after it.'"
Positions Of Need:
Even with Okung and Sweezy in their lineup for the lion's share of last season, the Seahawks' offensive line still had major pass-blocking issues for a good portion of the campaign. The unit surrendered the sixth-most sacks in the league (46) and ranked 30th in Football Outsiders' adjusted sack rate metric. Those numbers are somewhat deceiving overall, though, as the group fared well during the second half of the season. Amid their 6-2 post-bye week run, the Seahawks gave up a paltry 13 sacks. Still, with Okung and Sweezy facing uncertain futures, Seattle might have to find two new O-line starters (including an all-important left tackle), and that's assuming Lewis, left guard Justin Britt and right tackle Garry Gilliam stay in place.
If Okung walks and the Seahawks are willing to spend to replace him, a couple of high-end free agent possibilities are the Raiders' Donald Penn and the Ravens' Kelechi Osemele.
Unlike Okung, Penn has been the picture of durability throughout his career, having missed zero games in his nine years in the league. He has also started 16 games in eight straight seasons (as mentioned earlier, Okung has never done that). Both Penn's reliability and performance (he was PFF's No. 11 tackle last season, 20 spots above Okung) should lead him to an appreciable raise over the $4.8MM per year he made on his prior deal. Penn is much older than Okung (33 compared to 28), which means he's unlikely to get more than a two- or three-year commitment. That could appeal to the Seahawks.
Osemele doesn't have Penn's track record as a left tackle, having moved there from guard last season, but he's on the cusp of a substantial payday. We learned earlier this week that the Ravens have been "aggressive" in their attempt to retain Osemele, whom they could offer more than $10MM per season. Osemele is two years younger than Okung, which is a plus, but he has gone three seasons in a row without playing all 16 games.
In the event the Seahawks would rather fill the left tackle spot by less expensive means, Jermon Bushrod – who has made 96 starts since 2009 – is on the market after the Bears released him a couple weeks ago. Bushrod wouldn't cost the Seahawks much, but he comes with obvious warts. The 31-year-old battled injuries last season and made only four starts – his fewest since 2008 – and Chicago cut him with a failed physical designation. He has since undergone shoulder surgery and is facing a four-month recovery. Okung aside, Schneider hasn't been one to funnel huge money into the O-line, so it's not totally far-fetched that he'd take a chance on Bushrod as a cheap stopgap. Of course, Bushrod would first have to get a clean bill of health.
Guard features far more viable options than left tackle when it comes to prospective free agents, and the Seahawks should be able to find a competent one without breaking the bank. At the moment, Richie Incognito (Bills), Ramon Foster (Steelers), Alex Boone (49ers), Jeff Allen (Chiefs), Brandon Brooks (Texans), Mike Harris (Vikings), Chris Chester (Falcons) and Evan Mathis (Broncos), whom the Seahawks visited with last summer but chose not to sign, are all without deals.
If the Seahawks want to use their first-round pick (26th overall) on an offensive lineman, the likes of Taylor Decker (tackle, Ohio State), Shon Coleman (tackle, Auburn) and Cody Whitehair (guard, Kansas State) could be available.
The Seahawks have other holes to fill offensively, but they're less pressing. As noted above, Schneider will try to augment the team's running back group. Free agent Joique Bell — who should come at a bargain rate — would add a pass-catching element to the Seahawks' backfield, which Rawls didn't provide last season. Speaking of catching passes, with Doug Baldwin and Tyler Lockett in the fold, the Seahawks are well-equipped to move on without Kearse next season. They're likely to fill Kearse's soon-to-be vacated spot by drafting a wideout in the fourth round or higher, according to Kapadia.
With Irvin poised to go someplace else, not to mention the cloudy statuses of Mebane and Rubin, the Seahawks must address their defensive front seven. The team doesn't necessarily have to bring in a linebacker to fill Irvin's pass-rushing void, though. End Chris Long — whom the Rams released this month — is a possible fit in that regard, per Kapadia. However, the eight-year veteran isn't the imposing force he was in his earlier days, having totaled just four sacks over the previous two years while battling injuries. Moreover, PFF gave him an especially poor grade last season (98th out of 110 qualifying edge defenders).
The Seahawks were in the Greg Hardy sweepstakes last offseason, but they backed out after weighing the defensive end's price tag and his poor off-field conduct (link via Mike Florio of Pro Football Talk). While Hardy's history of unbecoming off-field behavior hasn't changed, if he's cheaper as a free agent this offseason, perhaps the Seahawks will revisit the idea of adding a player with 32 sacks in his last 43 games to help make up for Irvin's loss. With Michael Bennett, Cliff Avril and Hardy, the Seahawks would have a frightening trio of edge rushers.
Seattle was also connected to run-stuffing defensive tackle Terrance Knighton last year before he went to Washington for $4MM. Knighton is set to hit the market again next month, and with Mebane and Rubin unsigned, the Seahawks might circle back to Pot Roast as a short-term solution. Nick Fairley (Rams), Ian Williams (49ers), Akiem Hicks (Patriots) and the Saints' Kevin Williams (a Seahawk in 2014) are some of the other accomplished DTs who are without contracts.
The Seahawks could also use their first-rounder to add to their front seven, and it so happens that the draft is flush with talent in that area. Leonard Floyd (edge rusher, Georgia), Robert Nkemdiche (DT, Ole Miss), A'Shawn Robinson (DT, Alabama), Shaq Lawson (DE, Clemson) and Sheldon Rankins (DT, Louisville) all seem like candidates to end up in a Seahawks uniform.
Shifting to the secondary, Seattle will have to address the cornerback position if Lane signs elsewhere. The Saints plan to cut veteran Brandon Browner, who played in Seattle from 2011-13. Though Browner was awful last season in New Orleans, he had some solid seasons with the Seahawks – whose defense he's keenly familiar with – and shouldn't come at a lofty price. The 6-foot-4, 221-pounder even said last summer that he wanted to return to Seattle eventually. Of course, that doesn't mean the team feels the same way. If the Seahawks would rather sign an established player who isn't coming off a poor season, Adam Jones (Bengals), Leon Hall (Bengals), William Gay (Steelers) and Patrick Robinson (Chargers) are a few of the many corners primed for free agency.
Extension Candidates/Contract Issues:
Two of the Seahawks' most valuable defenders, aforementioned end Michael Bennett and safety Kam Chancellor, haven't hidden their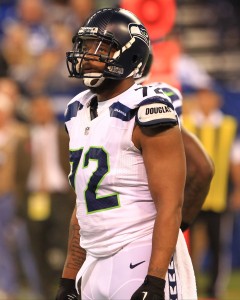 dissatisfaction with their current contracts — both of which expire after the 2017 campaign. The Seahawks are now discussing a new deal with Bennett, so it looks as though they're on the road to appeasing him.
Bennett, who recently switched agencies from Rosenahus Sports to Relativity Sports, has accrued 25.5 sacks since joining the Seahawks in 2013. A career-high 10 of those sacks came last season, when he graded out as a top-five edge defender at PFF. While Bennett isn't exactly playing for the league minimum, ranking 12th at his position in both total value ($28.5MM) and yearly average (~$7.13MM), and 15th in guarantees ($10MM), he has outperformed his contract. If the Seahawks award Bennett a raise, a pact worth upward of $10MM per year could be in the offing. That would put him in the elite tier of 4-3 ends in terms of compensation.
Chancellor took a less diplomatic approach than Bennett last year when he skipped all of training camp, the preseason, and then the first two games of the regular season in hopes of earning a raise. That method backfired, though, as the Seahawks didn't budge and Chancellor eventually admitted defeat (temporarily, anyway). Chancellor's failed power move cost him upward of $2.1MM thanks to fines, signing-bonus forfeiture and lost salary.
Chancellor, a top-10 safety in total worth (~$28MM) and per-year value (~$7MM), was seeking at least $9MM annually during his holdout. The soon-to-be 28-year-old isn't suddenly content with his situation, notes Corry, who expects the four-time Pro Bowler to monitor what fellow safety Eric Berry signs for in the coming weeks. Earl Thomas, Chancellor's teammate, is the league's highest-paid safety on a yearly basis at $10MM – a number Berry has a realistic chance to top, and one Chancellor wants to approach.
While Bennett and Chancellor are still under Seahawks control for two more seasons, wideout Doug Baldwin and kicker Steven Hauschka are heading into contract years. Thus, the Seahawks could explore extensions for either or both of them in the coming months.
Baldwin was a quality target for the first four years of his career, averaging 49 receptions for 689 yards and roughly four touchdowns per campaign from 2011-14, but he experienced a significant breakout last season. The 5-10, 189-pounder tied for the lead among wideouts in TDs (14, tied with Brandon Marshall and Allen Robinson) and piled up career bests in receptions (78), targets (104) and yards (1,069). As a result, the 27-year-old should at least be in line to join the financial company of other late-20s receivers like Torrey Smith and Michael Crabtree. Both are non-star players who signed for $8MM or more annually in the last 12 months, placing them in the top 20 at the position in total value and yearly mean.
Hauschka has been consistently great during his five years in Seattle, nailing nearly 89% of his field goal attempts (142 of 160). In two of the last three seasons, Hauschka has connected on well over 90% of tries – including his 29-of-31 output in 2015 (93.5%). Hauschka also hit on all six of his attempts over 50 yards, making him 11 of 13 from that distance since 2013. Further, the 30-year-old was respectable on kickoffs, ranking 11th in yards per kick (64.5) and touchbacks (47). He did struggle in the first year of the 33-yard extra point, however, finishing with the league's fifth-worst success rate (90.9%).
Despite his PAT issues, Hauschka is set up for a raise over his $2.85MM annual salary if the Seahawks decide to extend him. He could land in a similar ballpark to the Patriots' Stephen Gostkowski, who signed a four-year, $17.2MM extension at the age of 31 last summer. Gostkowski, second among kickers in total money, yearly average ($4.3MM) and first in guarantees ($10.1MM), had gone a combined 102 of 113 (90.3%) on field goals in the three seasons before his extension. Hauschka has been equally effective during his last 48 games (93 of 103, 90.3%), and the $12MM increase in cap since last year should help his cause in obtaining Gostkowski-type money.
Overall Outlook:
The Seahawks have an all-world core group and one of the premier rosters in the league in place, so John Schneider won't have to do anything drastic this offseason to keep the team in Super Bowl contention. With the cap space and draft picks he has at his disposal, the seventh-year GM will likely spend the next several months mostly focusing on the Seahawks' lines as he plots to dethrone the Cardinals in the NFC West and the Panthers in the conference.
Information from Over The Cap was used in the creation of this post. Photos courtesy of USA Today Sports Images.
Follow @PFRumors