Pending free agents:
Top 15 cap hits for 2016:
Notable coaching/front office changes:
Draft:
Other:
Overview:
Any season that ends with a team firing its head coach is usually regarded as a failure for that club, but the Buccaneers took steps toward relevance during the 2015 campaign. The Bucs improved from 2-14 to 6-10, bettered their point differential by 58, and may have found a legitimate franchise quarterback for the first time in their history.
Tampa's progress wasn't enough to save head coach Lovie Smith, whom general manager Jason Licht sent packing after the team closed the season with three straight losses. Even though Smith went an ugly 8-24 in his two seasons at the helm, his firing came as somewhat of a surprise. Conversely, the Bucs didn't shock anyone by choosing Smith's offensive coordinator, Dirk Koetter, to take over his ex-boss' job.
The 57-year-old Koetter worked as the Buccaneers' OC for just one season, but the unit made clear strides on his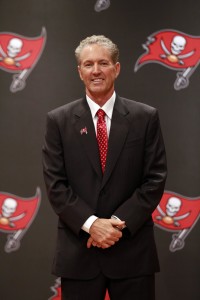 watch. After finishing 29th, 30th and 32nd in points, yardage and DVOA in 2014, the Bucs rose to 20th, fifth and 18th in those three categories last season.
Koetter, whose only previous head coaching experience came in the college ranks (he went a combined 66-44 at Boise State and Arizona State from 1998-2008), also helped guide rookie quarterback Jameis Winston to a terrific showing. Last year's first overall pick started all 16 of the Bucs' games, tossed 22 touchdowns against 15 interceptions, and became the youngest QB in NFL history (21) to eclipse the 4,000-yard mark.
Koetter will continue to call the offensive plays in Tampa, but he'll have assistance on that side of the ball from new coordinator Todd Monken. Like Koetter, Monken has experience as a college head coach, having spent the last three seasons in that role with Southern Mississippi. Monken's familiarity with Koetter undoubtedly helped lead to his hiring — the two were on the Jaguars' staff from 2007-10 (Koetter was the offensive coordinator, Monken the receivers coach).
Koetter also has prior ties to newly hired defensive coordinator Mike Smith, who was the Falcons' head coach from 2008-14. Koetter ran the Atlanta offense during the final three years of Smith's tenure, and the two were also on Jacksonville's staff together in 2007. Smith will take over a Bucs defense that finished last season under his predecessor Leslie Frazier as a top-10 unit in terms of yardage allowed, but just 18th in DVOA and 26th in points.
While Licht and the Koetter-led coaching staff obviously hope to break the Buccaneers' eight-year playoff drought next season, the organization won't do anything rash in an effort to better its chances. Licht said last week that the Bucs will be "selective and strategic" in free agency, adding that "the best way for us to go is to draft and develop players."
If Licht is to be believed, that means the Bucs won't splurge this offseason with the nearly $50MM they currently have in cap space. However, they should still be able to add some useful veterans and further bolster their roster through the draft, in which they have the ninth overall selection and two more picks in the top 75.
Key Free Agents: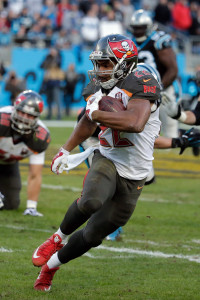 Running back Doug Martin is far and away the most significant pending free agent Tampa has. In theory, the Bucs could've avoided this predicament by picking up Martin's fifth-year option for 2016 last offseason, but it appeared at the time they did the right thing in declining it. The franchise made its decision when Martin was coming off back-to-back subpar seasons, so it looked as if his explosive rookie year (1,900-plus total yards, 12 touchdowns) was a fluke.
To virtually everyone's surprise, Martin returned to his first-year form last season, eclipsing the 1,400-yard rushing mark for the second time while establishing a new yards-per-carry high (4.9) and adding seven TDs. Martin also made his second Pro Bowl and earned first-team All-Pro honors, and he'll now look to cash in as a 27-year-old. If Martin has it his way, his next deal will come from the Bucs.
"I love Tampa and Tampa loves me," he told Mike Florio of Pro Football Talk. "I've got a house out there so I do wish I'll go back to Tampa."
The club has had "great discussions" with Martin's camp, Licht told the Tampa Bay Times' Rick Stroud, who reports that the league's reigning second-leading rusher is "hoping to hit the jackpot." Martin could indeed hit the jackpot, as Roy Cummings of the Tampa Tribune wrote in January that his bounce-back effort might lead to a contract similar to the five-year, $42MM deal Philadelphia signed DeMarco Murray to last offseason.
With the franchise tag price of just under $12MM perhaps too steep a total, it's fair to say the Bucs' best chance to keep Martin from exploring the free agent market on March 9 is by way of a long-term accord. The question is: Are they confident enough to give that kind of a contract to a player who has had such a a boom-or-bust career? If anyone can afford to take a gamble of that caliber, it's a cap space-rich team like the Bucs.
Aside from Martin, Tampa isn't exactly overflowing with notable free agents-to-be. The best of the rest are on defense, where cornerback Sterling Moore leads an unspectacular unrestricted class that also features tackle Henry Melton and safety Chris Conte. All three signed one-year deals to join the Buccaneers last winter.
Moore started in nine of 16 appearances and led Bucs corners in defensive snap percentage (64.9) and pass breakups (six), and added three forced fumbles and a pick. Whether the 26-year-old will stay in Tampa could depend on how he feels about the new coaching staff.
"I came here because I felt comfortable in the system, so that's obviously something that goes into things, but it's all about the coaching staff and where I feel comfortable," he told Rick Brown of ESPN.com before the team fired Lovie Smith.
Melton played under Smith in Chicago from 2009-12 and made the Pro Bowl in their last season together with the Bears, but he hasn't been the same player since. As a reserve lineman last season, the 29-year-old finished as Pro Football Focus' 101st-ranked interior defender (123 qualifiers). The site (subscription required) graded him below average among interior pass rushers and toward the bottom as a run defender. If the Bucs let him go, he shouldn't be hard to replace. Should they keep him, look for another one-year pact, but a lower cap hit than last season's $3.75MM would be expected.
Like Melton, Conte was an ex-Bear who reunited with Smith last season. Unlike Melton, Conte fared well for the Bucs, starting 13 of 14 appearances and totaling 79 tackles, three interceptions and two forced fumbles. Although Conte's output netted him a solid 32nd-place ranking out of 88 qualifying safeties at PFF, Licht doesn't sound fully committed to re-signing him as he goes into his age-27 season.
"Chris Conte did some good things for us and he has a familiarity with (fellow secondary coach) Jon Hoke, who was his coach in Chicago,'' Licht said, according to Stroud. "We will be discussing the possibility of bringing him back, but we still like Bradley McDougald, who we think has upside and we still have Major Wright under contract and we liked what Keith Tandy did in his role for us last year. But it can't hurt to bring in competition.''
It's worth mentioning that two of the players Licht named, McDougald and Tandy, aren't currently under contract. McDougald, who started 15 games last season but didn't grade out nearly as well as Conte (65th), is a restricted free agent, so the Bucs shouldn't have much trouble bringing him back. Tandy is unrestricted, though re-upping him won't cost much after he played just 25.9 percent of the Bucs' defensive snaps last season.
Possible Cap Casualties:
When combining the Bucs' abundance of spending room with Licht's acknowledgment that they're not necessarily looking to use much of it, there isn't a crying need for the team to ax anyone for cap reasons. Still, it's worth noting that 12 Bucs whose cap hits range from $1.33MM to $7MM can all be cut without the team incurring any dead money in 2016.
The least expensive of the group is kicker
Connor Barth
, whose job doesn't appear safe. The Bucs worked out four kickers Friday, Greg Auman of the Tampa Bay Times
tweeted
, so it looks as though they're searching for an upgrade. Barth, who was a Buc from 2009-12, rejoined the team when it released
Kyle Brindza
in October. In 12 games, Barth hit 23 of 28 field goals (82.1 percent, which ranked 23rd out of 32 qualifying kickers) and 25 of 26 extra points.
Jackson will definitely return,
per Stroud
, and Licht
told Pewter Report
in January that Verner will get a chance for a fresh start in Mike Smith's defense.
Positions Of Need: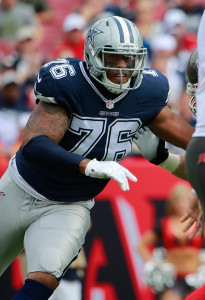 Defensively, Tampa could look to augment both its pass rush and secondary. The Bucs were middle of the pack in sacks last season with 38, but none of their edge rushers had more than seven.
If the team addresses the area through free agency, one name that comes to mind is a controversial one: Greg Hardy. While the soon-to-be 28-year-old's off-field behavior has been abhorrent, the fact is that he's a quality pass rusher many teams would covet if not for his character issues.
As a Cowboy, Hardy recorded a decent six sacks in 12 games last season – which wasn't as prolific as his 11- and 15-sack totals with Carolina in 2012 and '13 – and ranked No. 28 among 110 edge defenders at PFF.
Considering the baggage that come with Hardy, he shouldn't get either a long-term deal or an overly expensive one, which would work in the Buccaneers' favor if they were to pursue him. The Bucs were in the Hardy sweepstakes a year ago, with ESPN's Adam Schefter reporting that they went so far as to draw up a contract structure for him (Twitter link via Stroud), so there's already a built-in connection between the two sides. Granted, Hardy went on to become a headache for a Cowboys team that won't re-sign him, meaning there's no guarantee Licht will have interest in him this time around.
Licht could, however, have interest in Mario Williams, who will be on the market soon if the Bills release him. That's expected to happen, as the 31-year-old didn't fit into Rex Ryan's defense last season and is set to count an exorbitant amount against the Bills' cap in 2016 if they don't cut ties. Williams, who is one season removed from a career-best 14.5-sack performance, is a good bet to land with a team that uses a 4-3 scheme. If he comes at a reasonable rate, it's conceivable that team could be the Buccaneers.
If the free agent pass-rushing market doesn't intrigue Licht, he'll turn to the draft for help. In his latest mock draft, Matt Miller of Bleacher Report has the Bucs taking Eastern Kentucky's Noah Spence in the first round. Spence comes with off-the-field red flags, but Miller calls him "the most talented edge rusher in this year's class."
The Bucs allowed the fourth-most TD passes (31) and the second-highest passer rating (101.2) in the league last season, which points to weaknesses in their defensive backfield. With the possibility of losing Moore, Conte, Tandy and fellow UFA Mike Jenkins, the need for the team to strengthen its secondary is further magnified. The door hasn't closed on a Conte comeback, and Licht is a fan of McDougald, Wright and Tandy, so it's not a sure thing that he'll bring in outside safety help. Corner should be a different story, however, regardless of whether the team re-signs Moore, Jenkins or both.
In the event the Bucs are willing to open their wallets for the short term, the likes of Adam Jones (Bengals), Leon Hall (Bengals) and William Gay (Steelers) could be names to watch. Unlike those three 30-somethings, Prince Amukamara (Giants) and Patrick Robinson are still in their 20s, and either would improve the Bucs' secondary without the club having to fork over huge money.
As far as the draft goes, if Licht is open to grabbing a corner at No. 9, Clemson's Mackensie Alexander and Florida's Vernon Hargreaves III are surely on his radar. Miller currently projects the two to go eighth and 12th, respectively, right in the vicinity of Tampa's selection.
On the offensive side, the Bucs should find themselves in the market for running back help if Martin departs. They do have Charles Sims waiting in the wings, though. Sims, who will turn 26 in September, averaged 4.9 yards per carry on 107 attempts and put up impressive receiving numbers (51 catches, 11.0 yards per reception, four touchdowns) last season.
It's possible the Bucs are more comfortable with Sims as a third-down specialist than as a workhorse. If so, a pending free agent he might serve as a good complement to is the Jets' Chris Ivory, a bruiser with a career 4.6 YPC. Ivory is coming off his first thousand-yard season, one in which multi-threat Bilal Powell spelled him on third downs (as Sims would do in Tampa), and is expected to carry a much lower price tag than Martin.
Elsewhere, nothing really stands out as a gaping short-term hole in the Bucs' offense. The line allowed the fourth-fewest sacks in the league last season (27) and helped lead Martin, Sims and the rest of the team's runners to a league-best 4.8 per-rush average.
The unit has two over-30 tackles in Cherilus and Demar Dotson, but it also has a 22-year-old, Donovan Smith, who was a second-rounder in 2015 and started all 16 games as a rookie. Guard Ali Marpet was also a second-rounder last year, and he started in each of his 13 appearances. Marpet is entrenched as a starter going forward, but the other guard spot could become an issue if the highly effective Logan Mankins retires, which he's considering. However, there won't be any shortage of above-average stopgaps available in free agency if Mankins does walk away. Richie Incognito (Bills), Evan Mathis (Broncos) and Chris Chester (Falcons) are among the possibilities.
The Bucs like their receiving corps, according to Scott Reynolds of Pewter Report, but will add at least one more for depth purposes. That suggests they'll look for a low-cost wideout in free agency or use a mid-round pick on one.
As mentioned earlier, the Bucs don't seem content with their kicking situation. The market is unlikely to offer many definite upgrades over Barth, however. Josh Brown (Giants), Mason Crosby (Packers), Justin Tucker (Ravens) and Adam Vinatieri (Colts) are the best of the pending free agent lot. While all are superior to Barth, none are great bets to become free agents. Tucker, for one, won't hit the market, with the Ravens planning to either sign him or tag him (Twitter link via Jeff Zrebiec of the Baltimore Sun). The Colts, meanwhile, intend to keep Vinatieri.
Extension Candidates/Contract Issues:
The Buccaneers could make adjustments to the contracts of Vincent Jackson and Logan Mankins, if he doesn't retire, per Stroud. Jackson will count ~$12.21MM against the club's cap next season, while Mankins will bring a $7MM hit.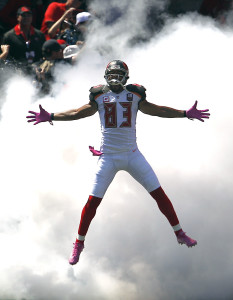 Although he missed six games last season and only caught 33 passes and three TDs, Jackson still averaged 16.5 yards per reception – his highest mark since 2012 – and might merit a short-term extension.
A comparable the Bucs could look to if they do try to get something done with Jackson is Andre Johnson, who signed a three-year, $21MM contract with the Colts last offseason. Johnson's contract includes $10MM in guarantees and cap hits of $7.5MM last season and next season and $6MM in the final year. Johnson, then entering his age-34 season (Jackson is 33), experienced a decline in production before inking the deal as a free agent – he averaged 11.0 yards per catch, his second-worst career total, and pulled in 85 catches (24 fewer than the prior season).
Jackson, while still a big-play threat, was on a 53-catch pace pre-injury last season. That would've been his lowest full-season total since 2011. He amassed at least 70 receptions in each season from 2012-14.
Even though he's a backup quarterback, Mike Glennon is an extension candidate for Tampa as he goes into the last year of his deal.
"Mike Glennon is just so valuable to us right now while we have him, while he's under contract, I feel like we have two starting quarterbacks with him and Jameis," Licht told Reynolds.

To extend Glennon could cost the Bucs upward of $7MM in guaranteed money, according to Stroud. The 26-year-old was a third-rounder in 2013 and has since made 19 appearances (18 starts), completing ~59 percent of passes for 4,000-plus yards, 29 TDs and 15 INTs.
Overall Outlook:
With the conference champion Panthers occupying a place in the NFC South, the Buccaneers probably aren't going to threaten for a division title next season. However, if they're able to make some meaningful defensive improvements this offseason and Winston takes another step forward in 2016, the franchise's first .500-plus campaign since 2010 wouldn't be an unreasonable expectation.
Information from Over The Cap was used in the creation of this post. Photos courtesy of USA Today Sports Images.
Follow @PFRumors