MONDAY: Manning is unlikely to make a retirement decision this week, according to James Palmer of NFL Network (Twitter link). Palmer also backs up various weekend reports that Manning will meet with Elway and head coach Gary Kubiak sometime this week.

SUNDAY, 8:16am: Mike Klis of 9News.com confirms that Manning and the Broncos will, in fact, meet next week, but according to Klis, a source close to Manning says that it's unlikely the five-time MVP will finalize his decision on whether to retire at that time. No one expects Manning to play for the Broncos next season, of course; it is imply a matter of whether he will retire or if Denver will be forced to release him. In fact, Klis goes on to say that it's possible a deal with Osweiler could be in hand the minute after Manning's decision is known.
In a separate tweet, Klis says that the two sources that gave rise to the original Denver Post article reporting that Manning would acknowledge his intention to retire by the end of this week have since "disappeared from the story."
SATURDAY, 7:50pm: Manning hasn't informed the Broncos of his decision, and the the team expects to talk to him again this week, per Pro Football Talk (Twitter link).
SATURDAY, 7:26pm: Broncos quarterback Peyton Manning will acknowledge his intention to retire by the end of this week, sources tell Woody Paige of The Denver Post. Whether Manning retires or elects to return for his age-40 season, the Broncos are operating as if he won't be part of their plans going forward, according to Alex Marvez of FOX Sports.
As Marvez writes, the Broncos are planning to use the $19MM of spending space they'll have without Manning around next season as a way to pay some of their other players. Manning's $21.5MM cap number and $19MM salary for 2016 will become fully guaranteed if he isn't off the Broncos' books by March 8, so the expectation all along has been that he'll either retire or get his release by then.
If Manning does indeed walk away, he'll leave the NFL as a two-time Super Bowl champion, and the league's all-time leader in total wins by a QB (200), passing yards (71,940) and passing touchdowns (539). He also holds the record for most single-season TD tosses (55, set in 2013). Additionally, the No. 1 overall pick of the 1998 draft has racked up 14 Pro Bowl bids, seven first-team All-Pro selections and five MVP awards on the heels of a stellar career at the University of Tennessee.
The 2015-16 season campaign was the least productive of Manning's pro career from a statistical standpoint, as he appeared in 10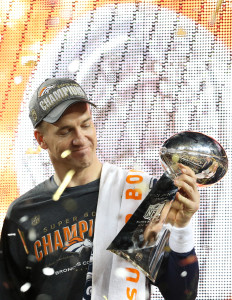 regular-season games and compiled his second-lowest completion percentage (59.8%) – not to mention personal worsts in touchdown passes (nine, against 17 interceptions) and QB rating (67.9). Manning was out of action for the second half of November and all of December because of a foot injury, but he relieved a banged-up Brock Osweiler in Week 17 and never relinquished the starting job. Manning worked in a game manager role during the postseason, when the Broncos' defense dominated its way to wins over the Steelers, Patriots and Panthers en route to a Super Bowl title.
Prior to the Broncos' playoff run, the December release of a documentary by Al-Jazeera America led to allegations of HGH use by Manning. In the documentary, ex-Guyer Institute pharmacist Charlie Sly claims the Indianapolis-based anti-aging clinic supplied Manning and his wife with HGH as he was recovering from a serious neck injury in 2011. Manning subsequently denied any wrongdoing, calling the accusations "complete garbage" and even threatening legal action.
That neck injury led to the end of Manning's long tenure with the Colts, with whom he starred from 1998-2010. Manning was remarkably durable in that time frame, starting 16 regular-season games all 13 years and guiding the Colts to 11 playoff berths. After several years of playoff disappointment, Manning won the first Super Bowl of his career – a 29-17 triumph over the Bears – to conclude the 2006-07 season. The Colts got back to the Super Bowl one more time during Manning's tenure, but they dropped a 31-17 decision to the Saints in February 2010.
After Manning missed the entire 2011 season, ending his streak of 227 straight starts (playoffs included), the Colts released him to pave the way for the Andrew Luck era. Manning then joined the Broncos on a five-year, $96MM deal in March 2012 and helped them to a sterling 38-10 regular-season record from 2012-14, throwing 131 touchdowns against 36 interceptions. Those three seasons ended poorly, though, as the Broncos went one-and-done in the playoffs twice and fell, 43-8, to the Seahawks in a disastrous Super Bowl XLVIII performance in between. Ironically, in Manning's only subpar statistical season in Denver, the club finished atop the mountain, winning its third championship. The Broncos' first two titles were won in the 1990s with current general manager John Elway at quarterback.
Along with Elway and his brother Eli Manning, who has also won a pair of championships, Peyton Manning is one of 12 QBs with multiple Super Bowl victories to his name.
Photo courtesy of USA Today Sports Images.
Follow @PFRumors