NFL commissioner Roger Goodell said Friday that the league wants to keep the Raiders in Oakland, but that isn't stopping owner Mark Davis from exploring other options. The Raiders, of course, are in a standoff with Oakland regarding a new stadium, and Davis is looking around at other cities. He met late last month with Nevada businessman Sheldon Adelson about the possibility of moving the Raiders to Las Vegas. Adelson's development company, Las Vegas Sands, subsequently tweeted that he and Davis "had a great visit."
On Friday, Davis spoke highly of Vegas as an NFL-caliber city, according to Janie McCauley of The Associated Press.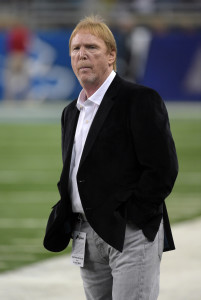 "It's absolutely an NFL city," he said. "It's an international city, it's a global city. The Raiders are a global brand, so it's got potential."
On the other hand, Davis shot down the notion of relocating the Raiders to Santa Clara, where they'd share Levi's Stadium with the 49ers.
"Again, I just don't think it fits the Raiders," he said. "The Raiders on game day, if you're around our stadium, if you see our parking lot before the game, the tailgating, it's probably the largest non-denominational gathering on a Sunday morning that you'll ever find, and I'm not going to give that up. That's just part of the Raider game day experience. I just can't give that up."
Before his death in 2011, former Raiders owner Al Davis – Mark's father – participated in discussions about joining the 49ers in Levi's Stadium, which was built with the capability of housing two NFL teams, Santa Clara Mayor Jamie Matthews told USA Today last week. Mark Davis doesn't seem willing to mimic his father in entertaining Levi's Stadium as an option, so – barring a drastic change of heart – his club won't be headed there.
For now, the Raiders' lease at O.co Coliseum in Oakland expires on Feb. 17 and they're in talks to extend it for another year, McCauley writes.
In response to Goodell's stated desire for the Raiders to stay in Oakland, Davis said, "I believe he's going to do whatever he can. I'd love to. We're the Oakland Raiders right now, that's where it's at."
While it appears Davis' franchise will remain in Oakland this year, Los Angeles and Las Vegas are both potential landing spots beyond that. Whether the Raiders end up in LA will depend largely on what happens with the Chargers, who will spend the next year trying to work out a stadium deal with San Diego. If that proves successful, it could open the door for the Raiders to follow in the Rams' footsteps and return to LA, where the Raiders played from 1982-1994. Should the Bolts' bid to stay in San Diego fail, they'll be the ones teaming up the Rams and it's unclear what that would mean for the Raiders.
Photo courtesy of USA Today Sports Images.
Follow @PFRumors