NFL commissioner Roger Goodell received $34.1MM in compensation for the 2014 NFL season, reports Darren Rovell of ESPN.com. According to Rovell, that $34.1MM figure is the amount listed on a tax filing that the league submitted today.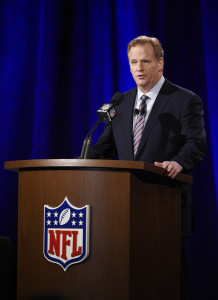 While Goodell's base salary was a relatively modest $3.5MM, he also received a bonus of $26.5MM, $3.7MM in pension, along with other deferred benefits and "reported compensation."
The $34MM+ compensation figure applies to the 2014 calendar year. During that time, Goodell dealt with – and arguably botched – a pair of off-field incidents involving running backs Ray Rice and Adrian Peterson.
Despite the blemishes on his résumé, Goodell didn't see his salary take a significant hit from what he earned in previous years. The NFL commissioner earned just over $35MM for 2013, as we detailed last February. The year before that, Goodell was paid $44.2MM, though that figure included more than $9MM in deferred pay, meaning his salary was once again in the $35MM range.
Daniel Kaplan of SportsBusiness Journal, who pegs Goodell's 2014 compensation at $34.2MM, notes (via Twitter) that much of the commissioner's pay for that year was set in 2013, prior to 2014's domestic violence scandals. Kaplan also points out (via Twitter) that this will be the last time the NFL has to publicly disclose Goodell's salary, since the league surrendered its tax-exempt status in 2015.
As Rovell tweets, Goodell has now earned more than $180MM in total compensation during his first nine years as the NFL's commissioner.
Photo courtesy of USA Today Sports Images.
Follow @PFRumors