Having initially expressed disappointment in Randy Gregory over his four-game suspension, Cowboys executive VP Stephen Jones said today that the team wants to avoid the risk that "four becomes more" for the defensive end. In other words, the Cowboys want to ensure that there are no more failed tests for their 2015 second-round pick, since that would result in an even longer suspension.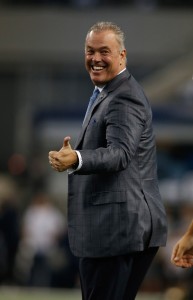 With Gregory out for the first four games of the season, targeting pass rushers in free agency and/or the draft will become an even greater priority in Dallas. Jones spoke to Jon Machota of the Dallas Morning News about that topic, Gregory's ban, and more. Here are the highlights from the Cowboys' executive:
On Gregory's four-game suspension:
"It's disappointing, but at the same time, sometimes these things don't get fixed overnight. Anybody who has ever been involved in this type of situation knows that sometimes it takes time. We're there, but he's going to have to buckle down, which he is. He's working hard at it, but he's got to get over the hump here.
"You have to be concerned. That's the risk you get when you go there. It's all about that risk-reward deal, but at the end of the day, we got the infrastructure in place to continue to help him. We think he's utilizing it, but at the same time, it's disappointing that we had this go far enough that it resulted in a suspension."
On the possibility of re-signing Greg Hardy:
"[We are] still not finalized with where we're going to come down on that."
On upgrading the pass rush:
"We've just got to do everything we can. Obviously we tried hard last year. That will continue to be a focus. At the end of the day, that's a big part of a successful football team, getting pressure on the passer. We've got some good players that can do it. We just need a couple more to go with [Demarcus] Lawrence and [Tyrone] Crawford and those guys."
On the possibility of the Cowboys pursuing their first real big-money free agent since Brandon Carr:
"You never say never. You never know what player is going to be out there and how we feel about them. Obviously we've slowed down our spending in free agency. I think Brandon's been a solid player, but at the end of the day, I've always thought that that's what you end up doing in free agency, paying solid players like they're All-Pro players. That's the negative about the good ones in free agency, you tend to overpay because you're competing. It's a tough deal."
Photo courtesy of USA Today Sports Images.
Follow @PFRumors