Based largely on the strength of their defense, the Texans were able to earn a playoff berth last season, winning the AFC South before losing to the Chiefs in the Wild Card round. But the club knows it can only go so far with mediocre play at quarterback, and owner Bob McNair indicated today that Houston will look to upgrade the position this offseason.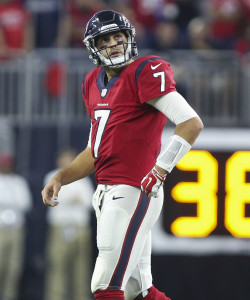 "We need to have reliable play at quarterback," McNair told Aaron Wilson of the Houston Chronicle. "We don't need a superstar there, but it needs to be reliable play that won't take anything away from us."
The Texans finished 24th in offensive DVOA last season, and while it's hard to place all the blame for that ranking on the shoulders of Brian Hoyer (and in fact, Houston's passing attack actually rated better in DVOA than did its running game), there's no question that Hoyer can be improved upon. Given that the Texans' defense ranked eighth in DVOA, the club is likely to contend for the division once again in 2016, but they remain the proverbial "quarterback away" from becoming a legitimate threat.
But it should be noted Hoyer wasn't awful last season, as he completed about 61% of his passes for 17 touchdowns against just nine interceptions. That Houston DVOA rating isn't all his fault, either, as he only started nine games — poor play from other quarterbacks (Ryan Mallett, T.J. Yates, Brandon Weeden) helped drive that rating down, as well. But Hoyer did finish 20th in Football Outsiders' DYAR metric, so it's hard to question that Texans looking for an upgrade, possibly through the draft.
"There are a number of quarterbacks out there, college quarterbacks coming out and I think we have a good chance at getting one of them," McNair said. "There are four or five of them who look like they have enough talent and size and athletic ability. I don't know any reason why we wouldn't be able to do it."
The Texans own the 22nd pick in the first round, so it's hard to imagine them being in a position to select the top-rated quarterbacks in this year's class — Cal's Jared Goff, North Dakota State's Carson Wentz, and Memphis' Paxton Lynch. However, Wilson does report that Houston met with Wentz at the Senior Bowl, and have "made inquiries" into Lynch, and a trade up can't be ruled out. Connor Cook of Michigan State and Christian Hackenberg of Penn State (Texans head coach Bill O'Brien's former charge) could both be available at pick No. 22.
If the Texans do draft a young quarterback, it's possible that Hoyer will remain on the roster and act as something of a bridge quarterback, per Wilson. Hoyer, 30, is entering the second year of a two-year deal, and while he has a base salary of $4MM, none of it is guaranteed. Given that his gameday roster bonuses would also be cleared out, Hoyer's release would save Houston nearly $5MM in cap pace.
McNair didn't discuss the concept of targeting a quarterback in free agency or trade, but if that does end up being an avenue for the Texans, there are several intriguing options who might be available. On the open market, the Eagles' Sam Bradford is not expected to franchise-tagged, but he could come at a hefty cost, likely $15MM+ yearly. The Broncos' Brock Osweiler will likely replace Peyton Manning (though a bidding war for the fourth-year, and largely unproven, signal-caller would certainly be interesting) but Washington's Robert Griffin III will be available after his club releases him (and we recently explored the idea of RG3 to Houston via our new Instagram account). One other, completely speculative on my part, option could be the Chiefs' Chase Daniel, who has spent the past three seasons as a backup in Kansas City.
On the trade market, the Texans could conceivably inquire on 49ers quarterback Colin Kaepernick, who despite appearing to be a fit for Chip Kelly's new offense, is reportedly not happy with the club's front office (and the feeling is mutual). Elsewhere, Houston could target a project like the Titan's Zach Mettenberger, or sacrifice a (likely relatively high) draft choice for a backup like A.J. McCarron.
Follow @PFRumors