Two days away from being free to negotiate with other teams, Brock Osweiler now has more to consider about staying in Denver.
The Broncos have reportedly upped their offer to Osweiler, submitting one that's worth more than $45MM over three years, according to Mike Klis of 9News.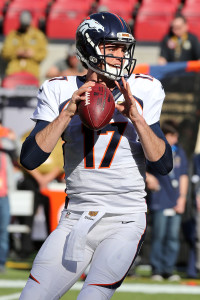 Previously, we heard Osweiler's top offer from the Broncos was for more than $12MM per season. This latest development looks like John Elway is serious about keeping the fifth-year quarterback off the market.
Elway noted at the Combine he would approach these negotiations with the 25-year-old Osweiler with the idea his second contract would be the one where he'd have the opportunity to prove he's worth established-starter money, which is around $16MM. Twenty quarterbacks earn that on average, with most of the starters not beyond that salary still playing on their rookie deals.
Osweiler's previous offer was in line with what Nick Foles signed for with the Rams last year, but this one's closer in AAV to Andy Dalton's $16MM pact. Of course, without knowing how much guaranteed money's involved, it's difficult to compare.
Klis hears this offer has incentives and is uncertain about how much of this deal would be fully guaranteed. The Texans, Jets, Browns, Rams and 49ers have uncertainty at quarterback and could be among the suitors for the 2012 second-round pick if he reaches the market.
With Sam Bradford now back with the Eagles and Kirk Cousins signing his franchise tender with Washington, Osweiler and Ryan Fitzpatrick have ascended to the top of the prospective free agent market. This could entice Osweiler to at least gauge his worth beginning Monday, when the NFL's soft free agency period begins and runs until the market official opens Wednesday afternoon.
In a solid-yet-unspectacular audition that concluded with a 61% completion rate and a 10-to-6 touchdown-to-interception ratio, Osweiler went 5-2 as a starter last season for the Super Bowl champions after making no starts in the previous three campaigns.
Peyton Manning, meanwhile, still hasn't informed the Broncos of his plans. The team is expected to move on from Manning, who, according to Klis, will get an update from the 39-year-old signal-caller on Monday or Tuesday.
Photo courtesy USA Today Sports Images
Follow @PFRumors