6:10pm: ESPN's Andrew Brandt has several details on Bradford's new deal (all via Twitter). $22MM of that $26MM in guaranteed money is fully guaranteed. The quarterback will make $18MM ($11MM bonus, $7MM salary) of that money in 2016, but that number could be increased to $20MM with playoff wins. With $7MM in salary and $5.5MM in pro-rated bonus, that means the quarterback's cap hit will be worth $12.5MM for this upcoming season.
$4MM of Bradford's 2017 salary is fully guaranteed, with another $4MM guaranteed for injury. His base salary for 2017 is worth $13MM, tweets USA Today's Tom Pelissero.
As Brandt notes, the $22MM in fully guaranteed money is $2MM more than Bradford could have received via the franchise tag (not including the playoff incentives). Meanwhile, the Eagles essentially get a second-year option worth only $4MM.
3:24pm: The Eagles didn't use their franchise tag on Sam Bradford today, but it seems the team did get a new deal done with the quarterback right around the same tag as the franchise-tag deadline. The club announced (via Twitter) that it has agreed to terms on a two-year contract for Bradford.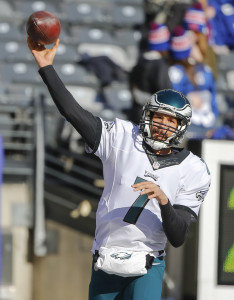 [RELATED: PFR previews the Eagles' offseason]
According to ESPN's Adam Schefter (via Twitter), Bradford's new two-year contract is worth $36MM overall, including $26MM in guaranteed money. It'll be interesting to see the full breakdown of the deal, since on the surface, it looks very solid for Bradford, particularly if that $26MM is fully guaranteed.
If he had been franchised, the former No. 1 overall pick would have been in line for a salary just under $20MM. By the looks of it, he'll average $18MM for the next two seasons instead, though Rand Getlin of the NFL Network suggests (via Twitter) that the new contract could max out at $40MM, via incentives. That would mean matching this year's franchise-tag salary in terms of average annual value, so it's clear that figure was a point of reference in negotiations.
Bradford, acquired a year ago by Chip Kelly's Eagles in a trade with the Rams, had his ups and downs in 14 starts for Philadelphia in 2015, but his overall numbers were solid. The Oklahoma product set new career-highs with a 65.0% completion percentage, and 3,725 yards passing. He also tossed 19 touchdowns and 14 interceptions, leading the club to a 7-7 record in his starts.
While there was some skepticism when Kelly was fired that the Eagles would make a significant effort to lock up their incumbent quarterback, reports in recent days have suggested the team was pushing hard to make it happen. It's been a productive offseason so far in Philadelphia, with the club finalizing extensions with safety Malcolm Jenkins, offensive tackle Lane Johnson, defensive lineman Vinny Curry, and tight ends Zach Ertz and Brent Celek, in addition to Bradford.
Meanwhile, with Bradford locked up and Kirk Cousins getting the franchise tag earlier today, the quarterback market looks less appealing than it did 24 hours ago for QB-needy teams. Ryan Fitzpatrick, Brock Osweiler, and Chase Daniel are among the signal-callers still on track for potential unrestricted free agency next week, while Robert Griffin III and Colin Kaepernick are candidates to be released or traded.
Photo courtesy of USA Today Sports Images.
Follow @PFRumors