Russell Okung's new five-year deal with the Broncos has been one of the most-discussed free agent contracts during the second week of the 2016 league year, and there are a number of reasons why it has been such a topic of interest.
If Okung plays out the entire contract, it would be worth well over $50MM, making it one of the most valuable overall deals in 2016 free agency, and we rarely see contracts that big signed more than a week into the league year. Additionally, the structure is somewhat unique, since it's essentially a one-year pact with a four-year option.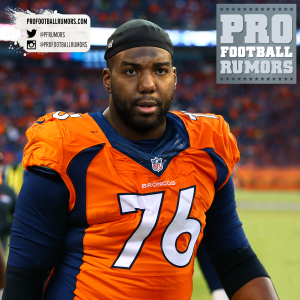 Ultimately though, the interest in Okung's deal comes down to two factors:
It features no guaranteed money.
He negotiated it himself.
It's easy to conclude that those two factors are related, and suggest that Okung's lack of an agent – and his lack of experience in contract negotiations – resulted in him agreeing to a team-friendly deal. That's a point that's hard to refute. Very few free agents who have signed contracts within the last week and a half have inked fully non-guaranteed deals — even minimum-salary players often receive guaranteed $80K signing bonuses.
Although he retained former NFL team cap analyst Jimmy Halsell, Okung was unable to talk to teams during the 52-hour legal tampering period before free agency officially begun. As many agents agreed to deals for their players during those two days, Okung was forced to wait, putting him behind the eight-ball from the start. Throw in the fact that he had never negotiated a contract for himself before, the odds of Okung landing a player-friendly deal weren't great.
But just how unfavorable is Okung's new deal? Let's take a closer look. Based on various reports to date, here's what the breakdown of the contract should look like:
2016:
$1MM workout bonus
$2MM base salary
$2MM roster bonus if he spends one game on the 53-man roster
Up to $3MM in playing-time incentives ($1.5MM for 80% of snaps, $3MM for 90% of snaps)
$1MM option that must be exercised before the first day of the 2017 league year. If exercised:
2017:
$2MM base salary (fully guaranteed)
$8MM roster bonus (fully guaranteed)
Up to $1.5MM in per-game roster bonuses
2018:
$9.5MM base salary (fully guaranteed)
Up to $1.5MM in per-game roster bonuses
2019:
$8.5MM base salary
$2MM roster bonus
Up to $1.5MM in per-game roster bonuses
2020:
$9MM base salary
$2MM roster bonus
Up to $1.5MM in per-game roster bonuses
This breakdown may not be entirely comprehensive, but it's a pretty close approximation of what Okung's deal looks like, and it shows how significantly he's betting on his health. In January, the longtime Seahawks lineman contacted teams to let them know he was undergoing surgery to repair his dislocated left shoulder, an injury he suffered during Seattle's divisional-round loss to Carolina. Okung said in his message that he expected to be fully cleared in five months, which would put him on track to participate in training camp.
While Okung may be on track to fully participate in training camp, he likely won't be healthy in time to do the same for offseason workouts this spring, which makes the $1MM workout bonus in his contract somewhat interesting. Injured players can still collect workout bonuses as long as they report for duty and participate in whatever activities they're able to, so the only way Okung won't earn that $1MM is if the Broncos are so discouraged by his recovery process that they cut him before – or during – their offseason workouts. The odds of that happening seem slim, unless Okung suffers a major setback in the next several weeks. If Denver was that concerned about his health, it's unlikely the team would have signed him at all.
The real test for Okung will come in training camp and the preseason. If the Broncos don't like what they see at that point, it would make sense for the team to cut its losses and avoid paying the left tackle $4MM in salary and bonus money. That total would become fully guaranteed if he's on the roster for Week 1.
Being released during preseason roster cutdowns would probably represent the worst-case scenario for Okung on this deal. He'd only collect his $1MM workout bonus, and would be looking for work around the time when most teams already have their rosters set for the season. It's possible – even likely – that there would be other teams desperate enough for a starting tackle that they'd roll the dice on Okung, despite Denver's unwillingness to pay him, but he'd probably have to settle for a one-year deal at that point.
If that's the worst-case scenario for Okung, what does the best-case scenario look like? Well, there's a possibility that this deal could work out pretty well for him if he fully recovers from shoulder surgery and plays well in 2016.
Let's say he makes the Broncos' roster, and stays healthy all season, collecting an extra $3MM in incentives for playing 90% of Denver's snaps. At that point, he'll have earned $8MM in 2016, and the Broncos will be faced with a tough decision to make — do they commit to Okung for at least two more seasons, fully guaranteeing him another $20MM or so? If they choose to decline his option, he'll have the opportunity to hit the market again, and a year removed from his shoulder injury, he could land a much better contract than he did in 2016.
Okung's new deal certainly isn't one of the most player-friendly agreements we've seen this month, but it's not necessarily a total disaster. Considering he's not even healthy at the moment, it's not a huge surprise that Okung's contract doesn't look a little better. After all, Kelvin Beachum, another left tackle coming off a major injury (ACL tear in October), agreed to a similar contract with the Jaguars — it's reportedly a one-year, $4.5MM deal with a four-year, $40MM option. The full details on Beachum's pact haven't been reported, and – unlike Okung's – it probably includes some guaranteed money, but those guarantees are unlikely to be significant.
As was the case when he decided to hit the open market without an agent, Okung is betting on himself with this contract. In this case, he's betting on his ability to get healthy and to return to his previous form. Given what we know about the 28-year-old's injury history – he has never played a full 16-game season – it's a move that could easily backfire, and won't give him much of a security blanket if it does. If he has a strong 2016 season though, Okung will be in a position to earn a huge chunk of guaranteed money a year from now, when most of his fellow 2016 free agents will start to see the guarantees on their new contracts dwindling.
Photo courtesy of USA Today Sports Images.
Follow @PFRumors