The deadline for Thursday NFL roster moves has come and gone with no news on Colin Kaepernick, which means he'll remain on the team's roster for April 1, fully guaranteeing his $11.9MM base salary for 2016. A source tells Jason Cole of Bleacher Report (Twitter link) that the NFLPA believes Kaepernick's salary will become officially guaranteed at midnight, but it seems that point will be moot, since the team doesn't plan to cut the quarterback.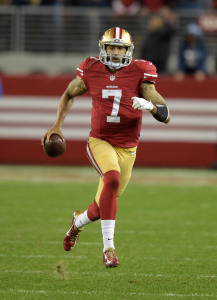 The fact that Kaepernick's 2016 salary is now fully guaranteed doesn't significantly affect the likelihood of a possible trade — the Niners could still move him, and he could still agree to work his deal in the event of a trade. But now that he has a fully guaranteed salary for this year, Kaepernick regains a little leverage.
Of course, we did hear earlier this week that the possibility of Kaepernick being dealt to the Broncos seemed to be losing some momentum, and Mike Klis of 9NEWS and Jason Cole of Bleacher Report (Twitter link and video link) provide some reasons why.
Klis reports that the Broncos would want Kaepernick to accept a pay cut to accommodate a trade to Denver, while Cole hears that the Broncos want to reduce his pay to approximately $7MM for the 2016 season. Cole adds that Kaepernick isn't all that interested in taking a significant pay cut, which isn't particularly surprising. He's set to make more than $14MM this year if he gets his $400K workout bonus and stays healthy enough to earn up to $2MM in per-game roster bonuses.
Kaepernick may be the most invested party in keeping his salary where it is, but his agents – Scott Smith and Jason Bernstein – also aren't inclined to rework his contract, sources tell Matt Barrows of the Sacramento Bee. And while it's possible that a team besides Denver may have interest in Kaepernick at his current salary, the list of potential suitors is dwindling. The Browns recently signed Robert Griffin III, and the Jets remain focused on re-signing Ryan Fitzpatrick.
At this point, it seems the most viable outcome for all parties might involve the Niners keeping Kaepernick and having him compete for the starting job. GM Trent Baalke and head coach Chip Kelly have both expressed a desire to go that route. Even though Kaepernick might prefer a trade, it's not clear if he'd be willing to drastically rework his contract to make that happen — the 49ers would also have to find a compensation package they like.
Albert Breer of the NFL Network tweets that he senses things have "thawed a little bet" between the 49ers and Kaepernick, but cautions that there's still a ways to go. If Kaepernick remains a Niner through this year's draft, the odds of him leaving San Francisco this year would decline greatly, so we should have a clearer picture of the situation within a few weeks.
Photo courtesy of USA Today Sports Images.
Follow @PFRumors