NFLPA attorney Jeffery Kessler was grilled by the three-judge panel presiding over the latest step in the Deflategate saga, according to Lorenzo Reyes of USA Today.
The two sides were presenting arguments in front of the 2nd Circuit Court of Appeals in Manhattan, and judges Robert Katzmann, Barrington Parker, Jr. and Denny Chin appeared to reverse course from Judge Richard Berman's language by directing more scrutiny toward Kessler rather than NFL attorney Paul Clement.
Neither Tom Brady nor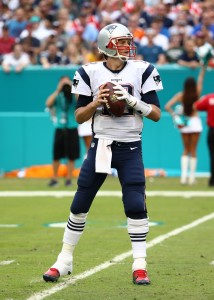 were present at the NFL's appellate hearing.
Goodell originally suspended the Patriots quarterback for four games to start last season before Berman's ruling vacated that ban. Should two out of these three judges determine New England's 17-year veteran was part of a scheme to have tampered with footballs during the 2014 season, Brady would be suspended for the first four games of this season, per Tom Curran of CSNNE.com.
If this ruling goes against Brady, he can appeal again as well, according to Jeff Howe of the Boston Herald (on Twitter).
Reyes describes the questioning directed toward Clement paled in comparison to the inquiries subsequently aimed at Kessler. Parker and Chin, per Reyes, took issue with Brady destroying his cellphone.
"You all had notice with the cell phone issue. Anybody within 100 yards of this case would have known that the cell phone issue elevates this merely from deflated balls to a serious issue of obstruction," Parker said during the 1-hour, 16-minute session.
Parker also shot down Kessler's argument for Brady's privacy-related concerns for destroying the phone by countering, "With all due respect, Mr. Brady's explanation made no sense whatsoever."
The three judges will meet for a voting conference, and Katzmann, the panel's senior judge, will appoint one to be the opinion's author.
Photo courtesy USA Today Sports Images
Follow @PFRumors