Thought to be progressing, the prospect of Roger Goodell stepping back from his role in disciplinary measures doesn't look strong at this point. The league and NFLPA have taken a "massive step back" in stripping the commissioner of these powers, according to Jim Trotter of ESPN.com.
In an email ESPN obtained from DeMaurice Smith to the union executive committee, the NFLPA executive director said the NFL communicated a "dramatic change of course" in terms of moving in a different disciplinary direction for the league this week.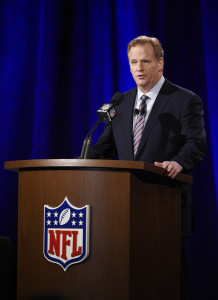 The NFLPA's three points of contention have been the use of the Commissioner Exempt List, neutral arbitration and delegation of commissioner authority, per Trotter, and the players' association viewed those as intertwined. But Smith said in the email the league doesn't view neutral arbitration as being part of this discussion, and this discrepancy appears to be one of the talking points that have set back the negotiations.
Smith's email brings up talks the sides had in October 2015 regarding the use of a panel a three former judges to serve as a disciplinary council of sorts, but the league's change of course the league looks to have nixed that idea. It goes on to say the NFL wants to "dictate and narrowly limit the scope of these collective bargaining negotiations," which is a sticking point for the union.
Smith closes with a statement that illustrates the sides' disconnect over this matter.
"It is very important to know that the NFL's current proposal does little to address the NFL's legal and ethical failings regarding the PCP [Personal Conduct Policy] that have occurred during the past year."
Goodell's constantly scrutinized authority over the disciplinary aspect of the league doesn't look to be diminishing any time soon.
Photo courtesy USA Today Sports Images
Follow @PFRumors