WEDNESDAY, 1:44pm: Having visited New England and Washington, Knighton is believed to be leaning toward signing with the Patriots, according to Anthony Gulizia of The Washington Times. It's not clear whether both teams have made contract offers.
TUESDAY, 7:43pm: It appears that Washington does, in fact, want to see what sort of shape Knighton is in. According to John Keim of ESPN.com, if the team is satisfied with Pot Roast's physical condition, he will likely return to Washington. Keim observes that Knighton has lost roughly 30 pounds this offseason, and although Washington deploys a nickel defense about 75% of the time, the team still needs someone who can play nose tackle at a fairly high level while still contributing in other packages. A slimmer Knighton could certainly be that player.
TUESDAY, 3:29pm: After meeting with the Pats, Knighton is visiting Washington, a source tells Ian Rapoport of NFL.com (Twitter link). It's a little odd that Pot Roast would be visiting the team he played for last season, particularly since there have been no changes at GM and head coach, but perhaps the team wants to get a first-hand look at what sort of shape Knighton is in.
MONDAY, 9:00am: The Patriots made an effort to sign Nick Fairley, but with Fairley heading to the Saints, Bill Belichick and the Pats aren't wasting any time moving onto other potential targets. According to Ian Rapoport of NFL.com (via Twitter), New England is hosting free agent defensive tackle Terrance Knighton for a visit today.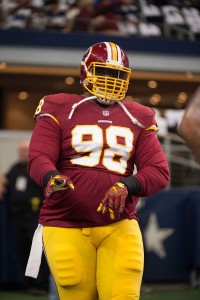 Knighton, who started his career in Jacksonville, spent two seasons in Denver before heading to Washington for the 2015 campaign. The 29-year-old has been very durable in his first seven NFL seasons, appearing in 108 total regular-season games, including 96 starts.
A nose tackle, in Washington's 3-4 scheme, Pot Roast logged 29 tackles and 1.5 sacks in 2015. Although he didn't have quite the same impact last year that he did during his final season as a Bronco, Knighton ranked in the top half of Pro Football Focus' list of qualified interior defenders, placing 58th out of 123 players. Predictably, PFF assigned Knighton a much grade as a run defender than as a pass rusher.
The Patriots don't run a 3-4 base, so if they do sign Knighton, he wouldn't play quite the same role that he did in D.C. Still, New England is in need of big bodies up front, having lost Akiem Hicks and Sealver Siliga in free agency earlier this month.
According to Rapoport (via Twitter), Washington also has interest in bringing back Knighton.
Photo courtesy of USA Today Sports Images.
Follow @PFRumors