In a tweet that should surprise no one, Ian Rapoport of NFL.com reports that the Texans and Brian Hoyer are "headed for a divorce" and that both sides are prepared for a fresh start. Hoyer's stat line from 2015 does not look half bad, as he completed nearly 61% of his passes for 19 touchdowns against just seven interceptions while appearing in 11 contests for Houston. However, he did finish 20th in Football Outsiders' DYAR metric, and it became apparent that the Texans would only go so far with Hoyer under center.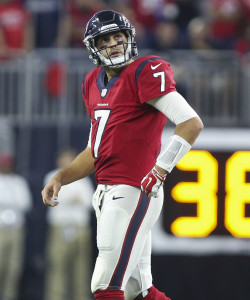 To that end, Houston signed free agent signal-caller Brock Osweiler to a four-year, $72MM deal when free agency opened, a contract that has generated a great deal of discussion among NFL writers and talking heads over the past several weeks. When Osweiler signed, Rapoport indicated that Hoyer was likely to be released, but Houston GM Rick Smith said just a couple of days later that Hoyer could well return to the team as a backup.
Of course, Smith's comments may have been nothing more than an attempt to extract some sort of trade value out of Hoyer, as the team was reportedly looking to deal Hoyer immediately after agreeing to terms with Osweiler. If the Texans were to trade Hoyer, they would probably accept a sixth-round selection in return, but if they cannot find a trade partner, they could release him and save nearly $5MM of cap space (although Hoyer is set to enter the second year of a two-year deal he signed with Houston last season, no portion of his $4MM salary is guaranteed).
Rapoport's latest report does not indicate whether the "divorce" between Hoyer and the Texans will come via trade or release, but it looks like a release is the more likely option at this point. Assuming Hoyer does receive his walking papers, the Broncos, Osweiler's former employer, would be an obvious potential landing spot, and the Jets could also be a possibility (although New York still seems more likely to re-sign Ryan Fitzpatrick than to bring in another quarterback). Hoyer would, of course, be very attractive as a No. 2 quarterback for any number of teams, but the 30-year-old will of course prefer to sign with a club that could give him a chance to start.
Photo courtesy of USA Today Sports Images
Follow @PFRumors