The Vikings are interested in bringing back wide receiver Mike Wallace and right tackle Phil Loadholt next season at reduced prices, reports Chris Tomasson of the St. Paul Pioneer Press. Both would need to take significant pay cuts in order to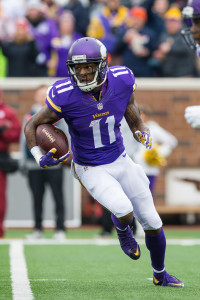 return, per Tomasson.
As of now, Wallace is due to count an unpalatable $11.5MM against the Vikings' cap in 2016, while Loadholt has a $7.75MM charge. The Vikings would incur no dead money if they were to cut Wallace, thus recouping his entire $11.5MM hit. Loadholt's release would free up $6MM for the Vikes, who are currently middle of the pack in spending room ($23.80MM), according to Over the Cap.
Wallace, whom the Vikings acquired from the Dolphins for a fifth-round pick a year ago, was supposed to provide young quarterback Teddy Bridgewater a high-caliber target last season. That didn't happen, though, as the seventh-year man had the least productive campaign of his career.
[RELATED: Vikings make offer to Mike Harris]
After five straight seasons of 60-plus receptions, 800 or more yards and at least five touchdowns, Wallace caught a mere 39 passes for 473 yards and two scores for the NFC North champions. Those numbers were all personal worsts for the 29-year-old. Nevertheless, the Vikings are fans of Wallace's locker room presence and still think he has productive football left in him, Tomasson notes.
"(Wallace) probably was disappointing from a statistical standpoint, but (there was) what Mike Wallace brought into our locker room and his buy-in and his sacrifice from a standpoint of stats and what was best for the team,'' general manager Rick Spielman said at last month's scouting combine.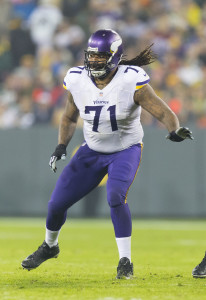 Since sitting out only one game from 2009-13, injuries have hampered Loadholt. The 343-pounder missed the final five games of the 2014 campaign because of a torn pectoral muscle and then all of last season with a torn Achilles. Loadholt, 30, hasn't played a 16-game season since 2012, but he suited up for 15 contests in 2013 and graded out as a top-five tackle by Pro Football Focus' standards.
T.J. Clemmings took over for Loadholt last season and started all 17 of Minnesota's games as a fourth-round rookie, though he ranked an ugly 62nd out of 77 qualifying tackles at PFF (subscription required).
Wallace has two seasons remaining on the five-year, $60MM pact he signed with Miami in 2013. Loadholt is entering the final season of a four-year, $25MM deal.
Photos courtesy of USA Today Sports Images.
Follow @PFRumors